Traveling in Japan
Japan is an island nation about the size of California, and is one of the most populated countries in the world. I've gone to Japan more times than any other country; right now I'm at six trips. Japan is mostly known for its advanced technology that has influenced the world as well as being one of the safest countries in the world to visit. Aside from the high tech side of Japan, the country has some very interesting history and culture, and some amazing natural beauty. So far I've made several trips to the mainland as well as the large island of Kyushu. When I return to Japan I'd love to visit Hokkaido in the north, and the distant tropical island of Okinawa.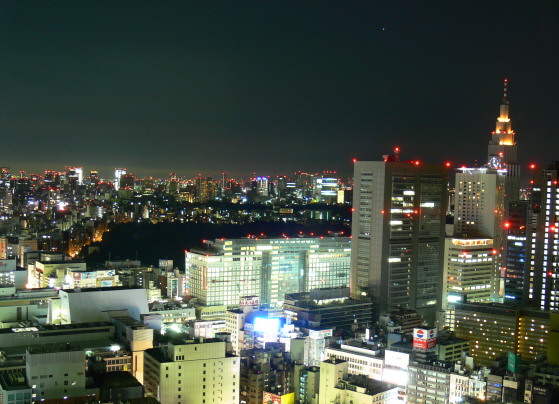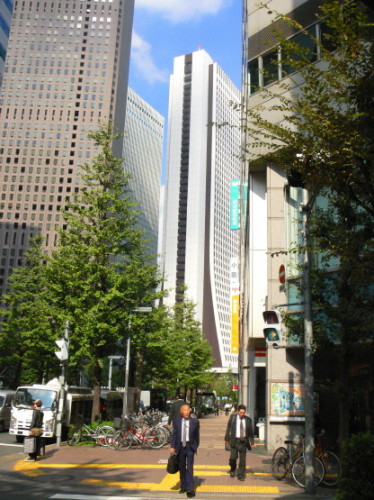 Hundreds of years ago Japan's capital was actually Kyoto, which was where the emperor lived at the time. In the mid 19th century the Emperor Meiji decided to move to change the capital to the city Edo. The emperor decided to rename Edo, and Tokyo, or East Capital, was the most creative name he could come up with. Today Tokyo has grown to one of the largest cities in the world, and currently holds the record for the largest metropolitan area. With tens of millions of peoples in a relative small area, space can be hard to find. A hotel room or apartment will likely be extremely expensive, so visiting Tokyo isn't always cheap. To conserve space and save money, Tokyo even created capsule hotels. These hotels are just what they sound like, a small capsule that has nothing more than a bed with a TV that cost about $40 a night. With not much space left in Japan, the city has no choice but to grow upwards. Above are some photos from Tokyo's denser areas.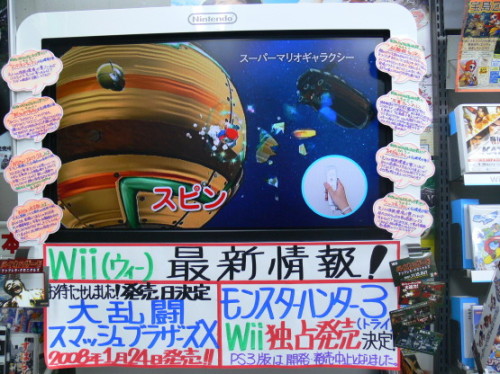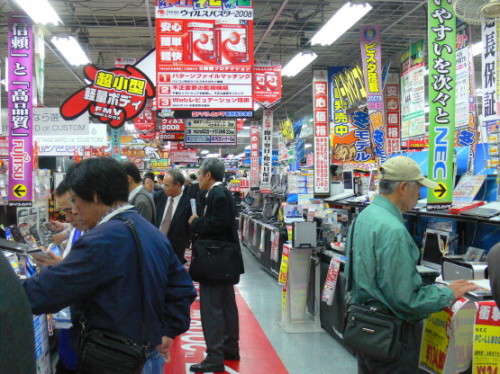 Japan's economy is largely based on technology. As many electronics and video games are designed in Japan, of course Tokyo offers some great deals on all the latest gadgets and toys. Since Tokyo is such an expensive city to begin with, I was surprised that they offered so many great deals on electronics. On the left is a photo of a video game being displayed in a game store, on the right is one of their wholesale type electronics stores in Tokyo.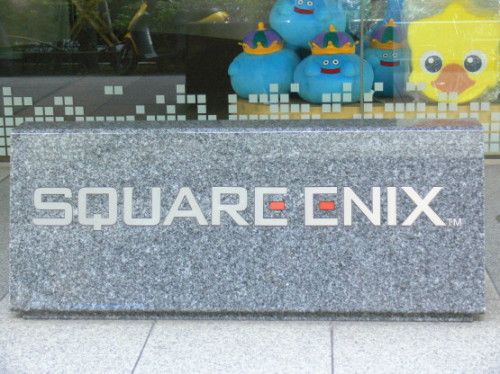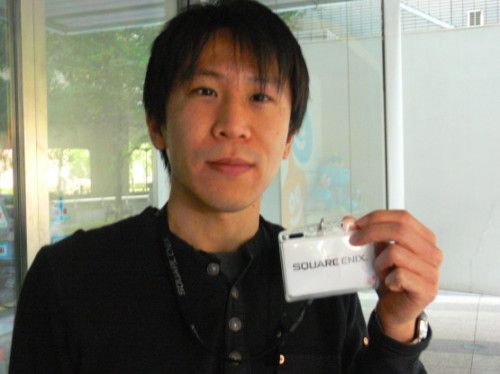 When I was in elementary and middle school my life revolved around video games. I might even go as far to say as they may have even inspired my desire for adventure in some ways! The first few times I visited Tokyo it had never occurred to me to try to visit one of the video game headquarters. On my last trip, I tried to visit Square Enix who is responsible for many popular games such as the Final Fantasy series. Unfortunately they do not offer any kind of tours, but I did get to briefly meet one of the game designers on his way to work. I've heard that Sony offers tours and even has a museum in their headquarters in Tokyo.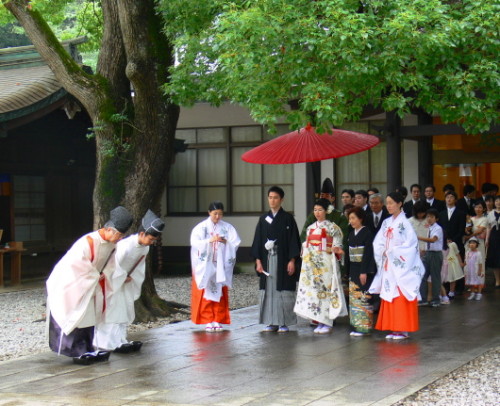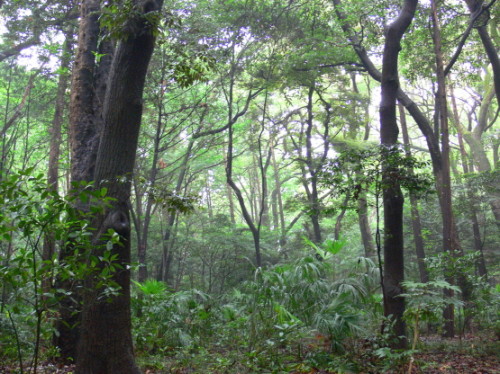 Like Central Park in New York City, Tokyo has a few acres of forest right in the heart of the city. This place is known as the Meiji Jingu Palace which was dedicated to the emperor Meiji and his wife Shoken in 1920. The palace covers roughly 175 acres with around 365 species of trees that were donated from all areas of Japan. When exploring some of the natural areas of the palace, you definitely feel in the middle of a giant forest, it's hard to believe that skyscrapers and crowds of people are only a few blocks away! Above is also a photo of a wedding taking place at Meiji Jingu Palace. The other three photos show some of the natural beauty of Meiji Jingu, which surely is a nice break for Japanese who want a quick escape from the big city!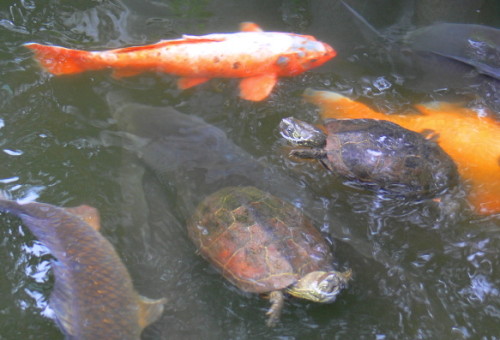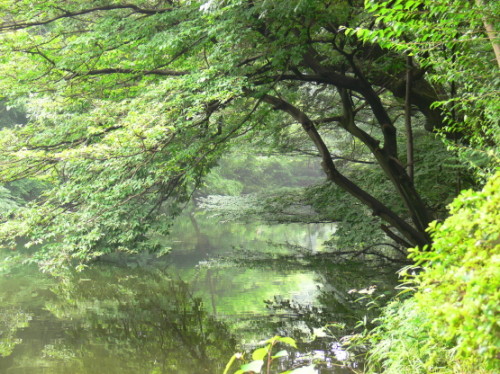 One of Japan's most famous places is the majestic Mt. Fuji. For hundreds of years Mt. Fuji has been depicted in Japanese art and stories; a tradition that is carried on today through paintings and photographs. Many Japanese as well as tourists from all over the world come to see Japan's highest and most beautiful mountain. Mt. Fuji has some great hiking trails in the warmer months and even skiing in the winter. I've always wanted to climb Mt. Fuji, but whenever I had the time I was always here outside the climbing season. The top of Mt. Fuji is 12,388′ (3,776 m), and can be climbed during the summer in a matter of hours by anyone in decent shape. On the left is a not so good photo I took of Mt. Fuji during one of my first visits to Japan. The skies were clear and I was there during the summer, but since I had other plans I wasn't able to climb. I found this large flower close to the base of the mountain.
These two photos were from the entrance to Mt. Fuji. There are lots of ancient shrines here as well as hotels, restaurants and of course souvenir shops. I was mostly interested in the traditional Japanese architecture and Shinto shrines. On the right is a traditional Torii, that is often used as an entrance to Shinto shrines or sacred places.
On my most recent trip to Mt. Fuji, I visited during the fall. The weather wasn't so great, but I was able to see the trees in their peak fall colors! The photo on the upper left was one of the first pictures I took after entering the hiking trails. As I got higher up, I could clearly see the slopes on Mt. Fuji. Some sections of the mountain were completely bare and without trees. I wasn't close enough to see if this was just because of the higher altitude, or there had been some forest fire earlier. Below are two more shots from my hike on Mt. Fuji.
I've spent a lot of time in the small city of Kofu which is a few hours west of Tokyo. From Kofu you can see Mt. Fuji on a clear day, but in the summer months the humidity is usually high so those are hard to find. On the left is Kofu city taken from a higher elevation during one of my hikes. Kofu castle existed here for centuries but was largely destroyed about 200 years ago. Its largely been rebuilt and acts more as a city park nowadays. On the right is a garden that belongs to Kofu castle.
I didn't get a good photo of the entire Kofu castle, but on the left is one of the castle walls that was once used to defend this region. The walls are pretty impressive and the castle looks almost impossible to take over due to their height and steep angle. It'd be interesting to know how many people died here trying to take over this fortification over the past few hundred years! The obelisk on the right was some type of memorial also located within Kofu castle. I'm not sure why the Japanese used a non traditional design for this or what it's for, but it must be important due to its enormous size.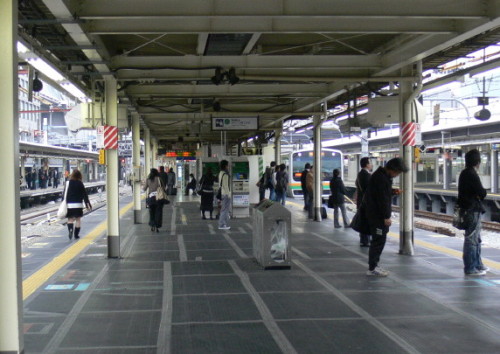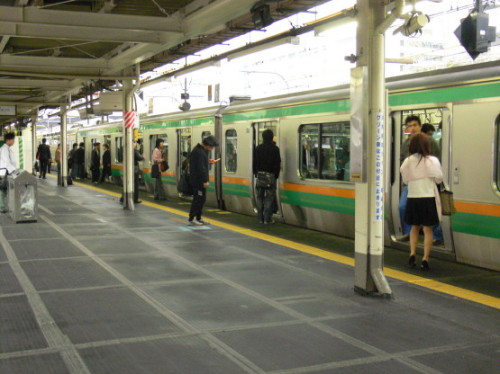 With most Japanese people not owning cars, taking the train is the most convenient and common way for domestic travel. Even a smaller town like Kofu will have a large train system with several local stops that make it easy to get just about anywhere. When I was here for work, I was able to take the train from my hotel in Kofu to the plant which was slightly out of the way. Back home in the States, there'd be almost no chance to get public transportation somewhere outside the city center! Above is an uncrowded train station in Kofu.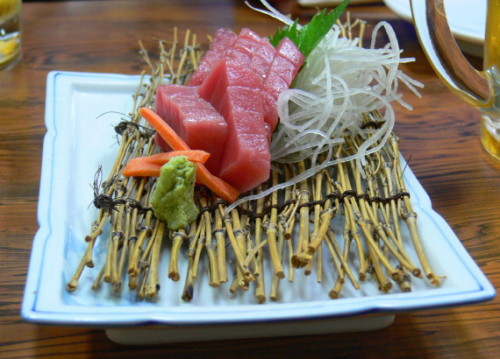 Since I came to Kofu often for work, I was able to go out with co-workers after the work was finished for the day. Beer and seafood is plenty in Japan, and we often had dinner and drinks after work. On the left is a friend of mine drinking from a huge mug of Japanese Kirin beer. On the right is maguro, which is the Japanese word for tuna. The tuna here is raw, which we tried along with raw horse meat later on in the night. Our traditional style dinner also included, fish, pork, beef, and the Japanese liquor Sake which is served extremely hot.
While I was at work in Kofu, I came across this giant praying mantis and spider one day. I really wish I had a macro lens at the time, but this was the best I could do. I found it interesting how the praying mantis could survive in such a heavily developed country. I researched this giant spider and even found out its scientific name, Nephila Clavata, known as Joro Gumo in Japan. I'm not sure if its poisonous but a normally that's what yellow indicates.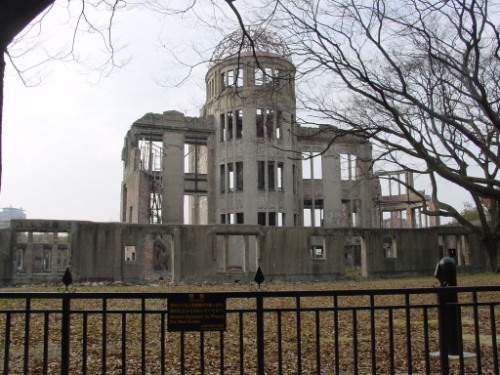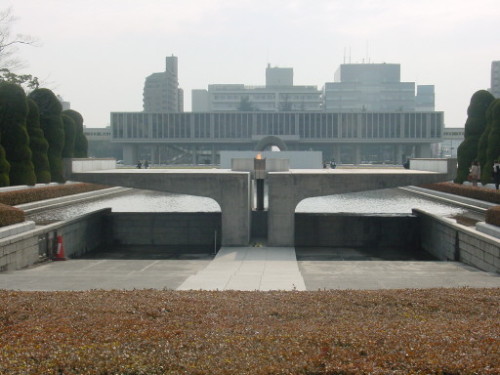 Further west of Kofu is another famous city, Hiroshima. Hiroshima is sadly known for being the site of where the United States dropped an atomic bomb to end World War II. Only two buildings were said to survive the nuclear blast in Hiroshima, and one of them is photographed on the upper right. Not too far from this building is an eternal flame in Peace Park. This is eternal flame is said to be extinguished one day when all nuclear weapons in the world are destroyed.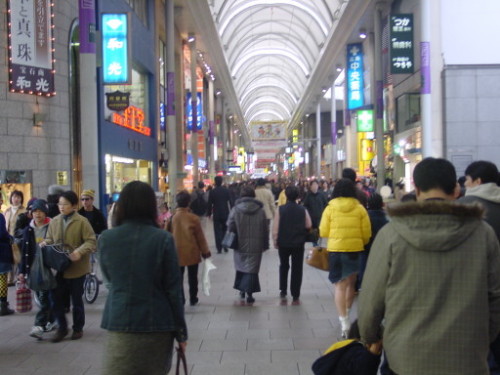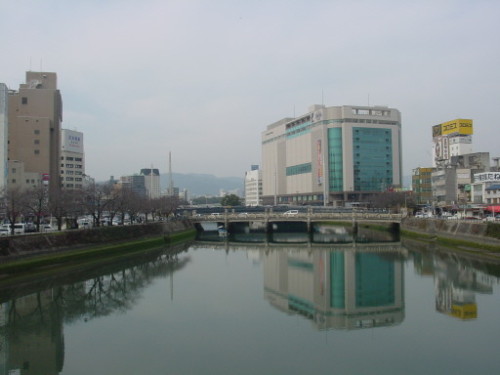 For years Hiroshima had radioactive problems as a result of the atomic bomb. You might expect Hiroshima to be deserted due to long term radiation, but today it is a thriving city that has fully recovered from the attack. It's hard to believe that this city was once completely destroyed, but by walking around Hiroshima today you'd never know what happened here unless someone told you. Above are two pictures of Hiroshima, one in a crowded shopping mall and the other of the city's downtown area.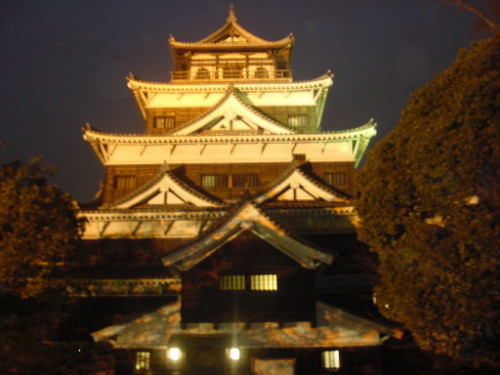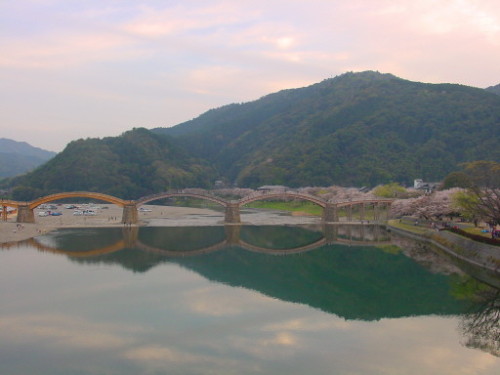 Most major cities in Japan have their own castle. Above is Hiroshima's castle, which is called Jo in Japanese. Hiroshima Jo had been destroyed during wars of the past, but has been rebuilt to its original design. Japanese warriors known as Samurai would have garrisoned Hiroshima Jo in the past. Not to far away from Hiroshima is the town of Iwakuni. Here they have a famous bridge called Kintai Bridge. Hundreds of years ago, only samurai were allowed to cross it, so it is also known as Samurai Bridge. I was here during their spring and was able to experience their Cherry Blossom Festival!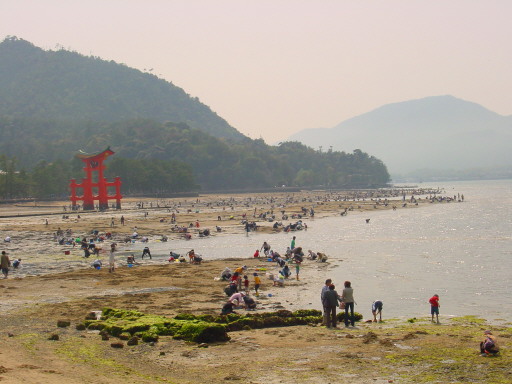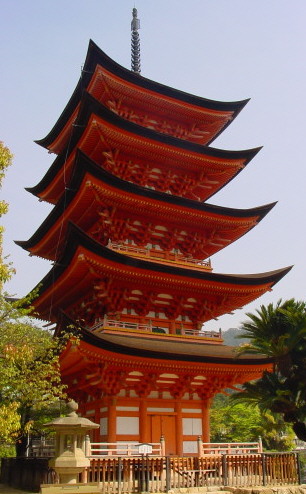 Also off the mainland of Japan is the unique island of Miyajima. This is a very popular tourist destination, especially for Japanese. The island is known for its large population of deer. As a matter of fact there were so many of them here, that as soon as I got off the train I saw one in the station! I wish I had taken a lot of photos from here, but these two are all I have. I remember lots of interesting shops and plenty of things to do. Above is the beach with a large Japanese Torii seen in the background. On the right is a pagoda from the Itsukushima Shrine.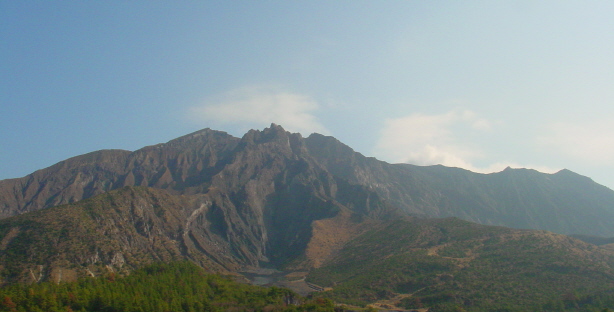 Southwestern Japan is made of up the large island of Kyushu. I visited for work again, and stayed in the middle of the island. During the weekend, I made a short journey to the very southern part of the island. Here in the city of Kagoshima, is one of the most active volcanoes in the world. The volcano Sakurajima is constantly smoking and has erupted within the past few years. Despite the loss of homes in the past, some still think it's a great idea to build a house right on the volcano, as there are many shops and homes here.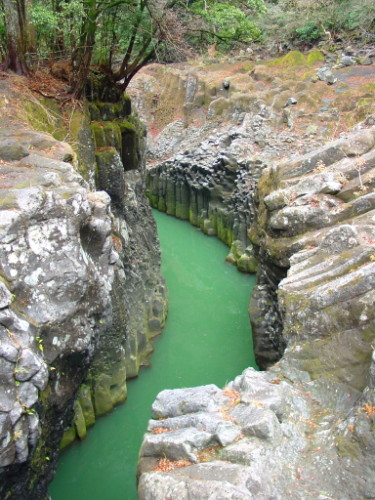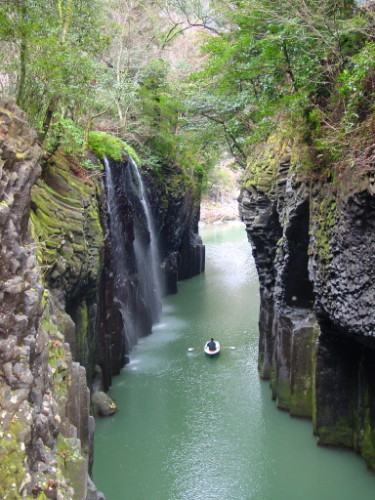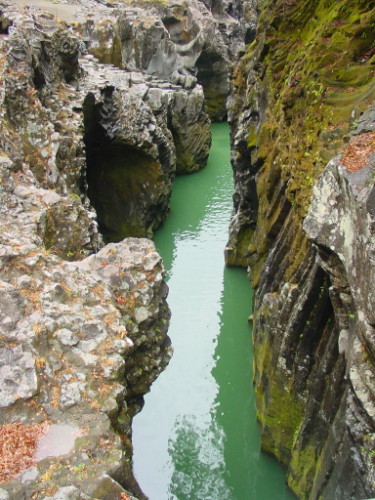 These are some photos of Takachiho Gorge found in eastern Kyushu. You can rent a small canoe and go through the gorge like the Japanese man above. The water is a very beautiful turquoise color, and the waterfalls around you make the trip very worthwhile. I think Takachiho Gorge has some of the most interesting and breathtaking scenery in the island of Kyushu. Like most natural parts of Japan, it's also a very popular place to visit during the fall time, when the trees are changing colors making the views even more dramatic.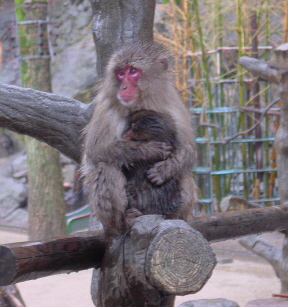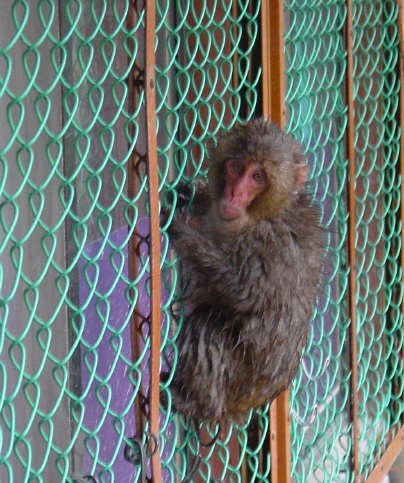 Another interesting place to visit on the island of Kyushu is Mt. Takasaki, a place where monkeys are free to live and roam around in public. If you try to get to close or play games with these guys, they won't hesitate to attack. There's even a funny warning sign posted nearby to try to stop tourists from doing anything stupid. I visited here in the middle of winter when it was raining. These guys seemed pretty miserable at the time!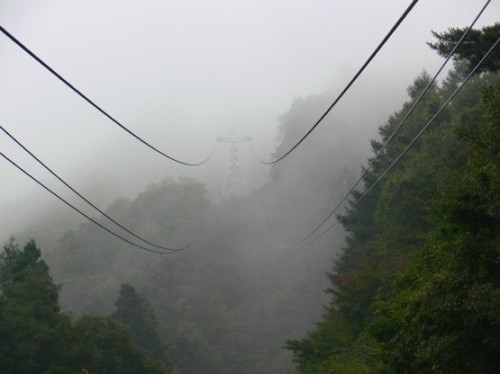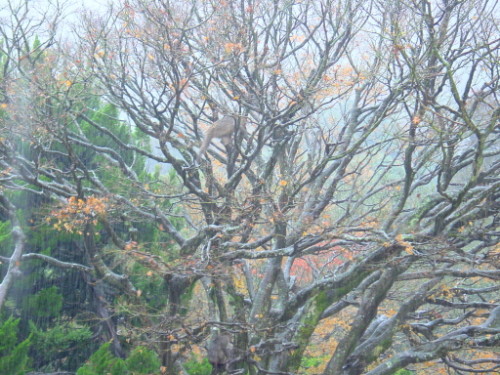 My last photos are some random scenery of Japan. On the left is a cable car taking me through a cloudy forest at high elevations in the summer. The photo on the right was taken in the middle of winter on a cold January day. It was strange to see some fall colors that have survived that long.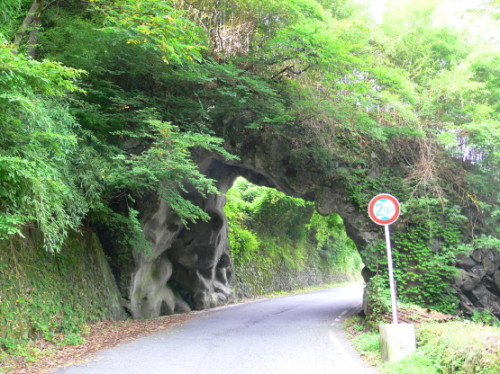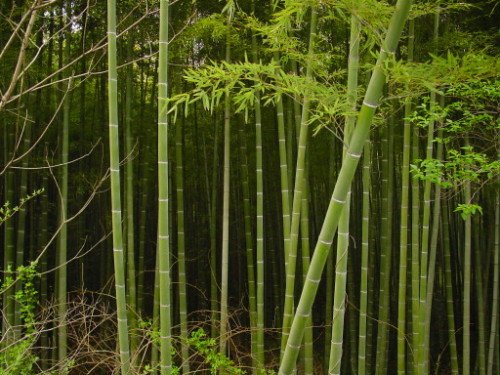 Here are two random pictures of some natural beauty from Japan. The natural bridge on the left that crosses over a street is located in Yamanashi prefecture. The bamboo forest on the right is close to Hiroshima Japan, on the west side of the island Honshu.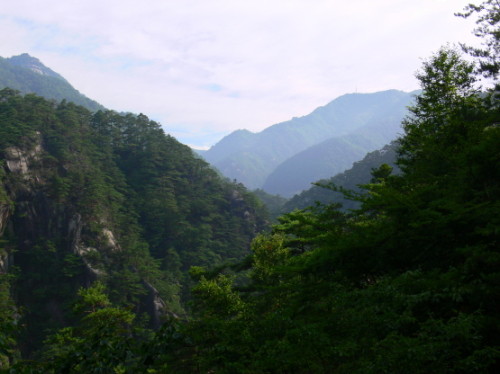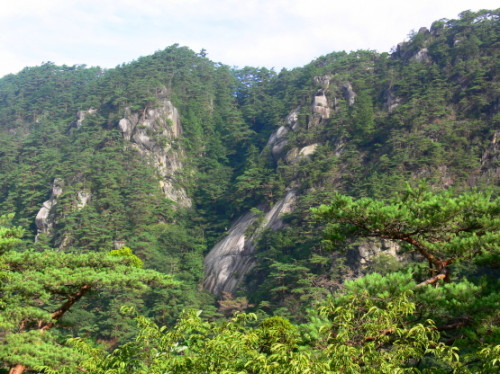 Last are four pictures from Japan's Shosenkyo Gorge. It is said to be Japan's most scenic gorge, and it is very popular to visit in the fall time when the leaves are changing color. Shosenkyo Gorge is located near the city of Kofu which is about a 2 hour ride from Tokyo's downtown area. There are some impressive sheer cliffs in Shosenkyo as well as several waterfalls and streams that pass through. The bottom left photo is of the impressive Shosenkyo face, what this park is named after.