Visiting Mt. Fuji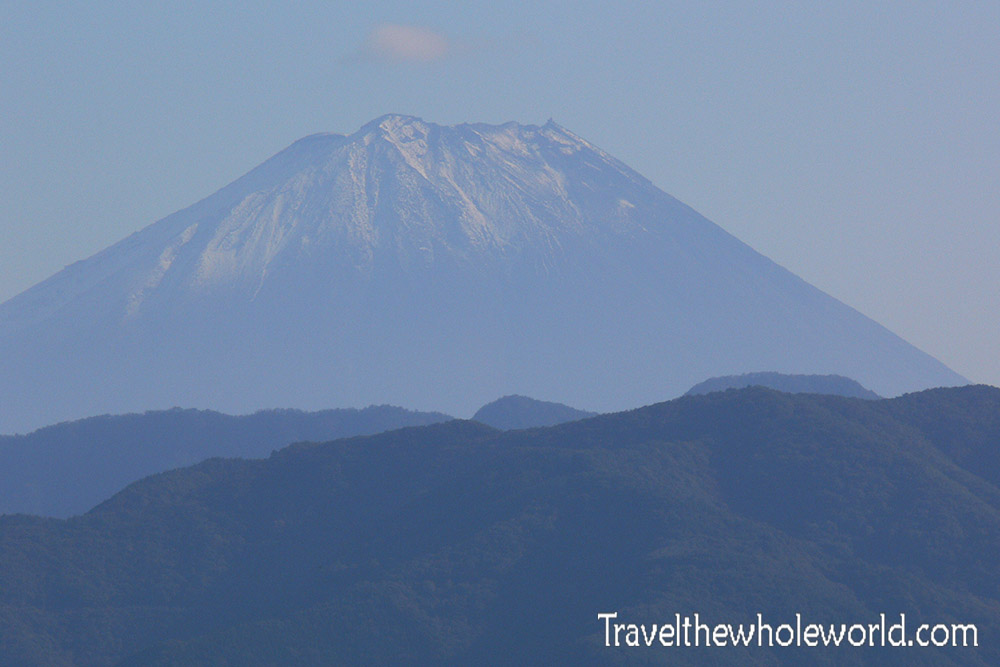 One of Japan's most famous places is the majestic Mt. Fuji. For hundreds, likely even thousands of years, Mt. Fuji has been depicted in Japanese art and folkore; a tradition that is carried on today. Many Japanese as well as tourists from all over the world come to see Japan's highest and most beautiful mountain. Beyond just a beautiful sight, Mt. Fuji has some great hiking trails in the warmer months and even skiing in the winter. I've always wanted to climb Mt. Fuji, but despite several trips to Japan I haven't had the time yet, there's just so much to do in this country!. The top of Mt. Fuji is 12,388 feet (3,776 meters), and can be climbed during the summer in a matter of hours by anyone in decent shape. All my Fuji photos are old, but this is as good as I got, no justice yet.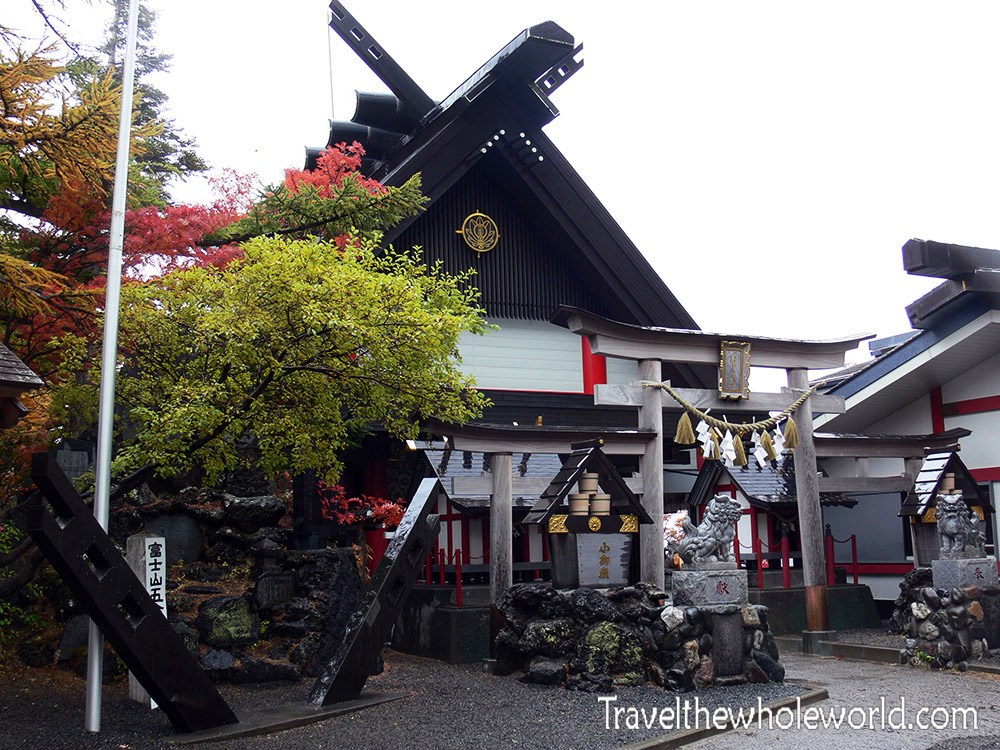 These two photos above and below are from the entrance to Mt. Fuji. There's quite a bit of infrastructure here, ranging from ancient shrines, to hotels and restaurants, and of course souvenir shops. I was mostly interested in the traditional Japanese architecture and Shinto shrines. What you see in the photo below is a traditional Torii, that is often used as an entrance to Shinto shrines or sacred places.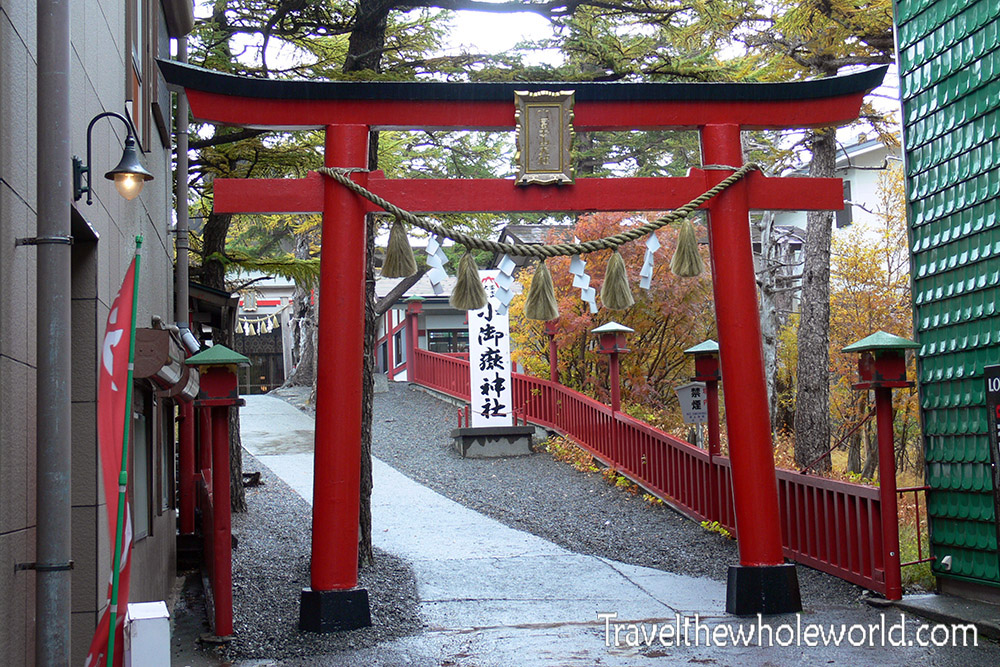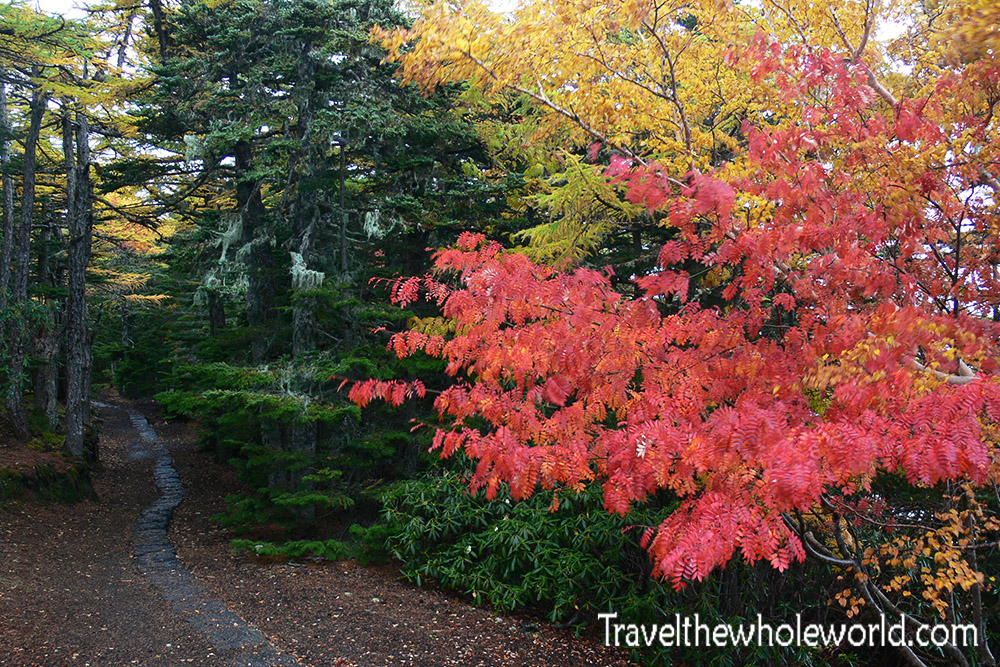 If you intend to hike to the summit of Mt. Fuji, then summer is definitely the best time to visit. Otherwise I'd say that fall is probably the most scenic, and while I didn't attempt to summit I'm happy to at least have seen some spectacular colors here. This is a photo of a hiking trail during peak foliage.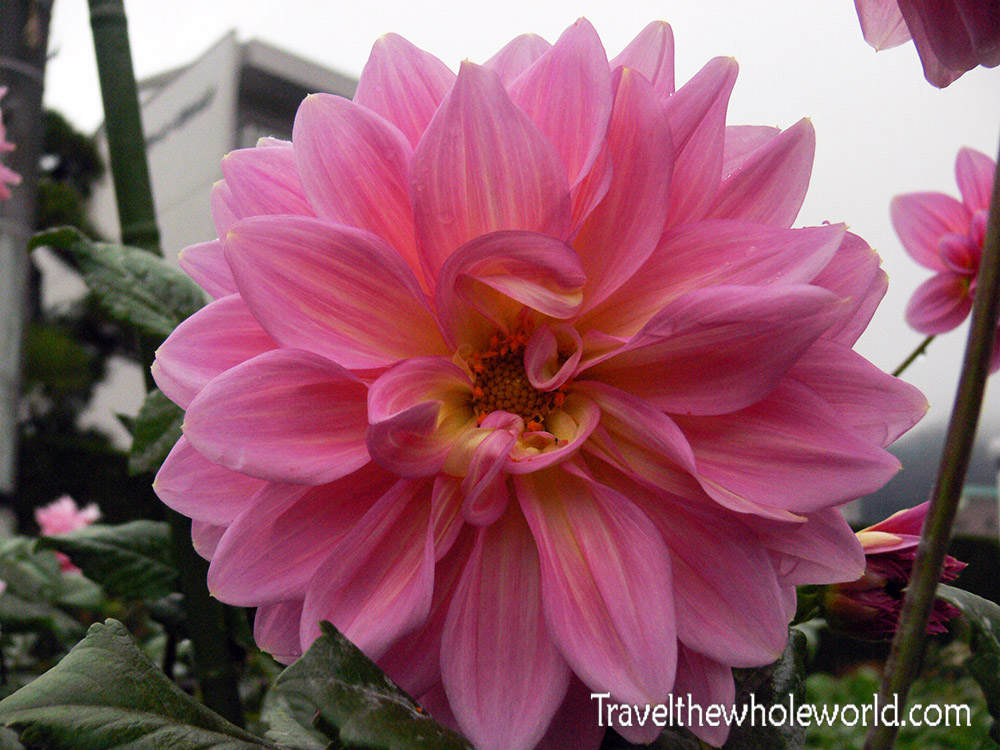 The elevation brings dramatic changes in flora and fauna. Here is a picture of a flower that I found towards the base of the mountain, where it still looked almost summer like with lots of green vegetation. Higher up on my hike, I was definitely in full blown fall with some amazing scenery shown below.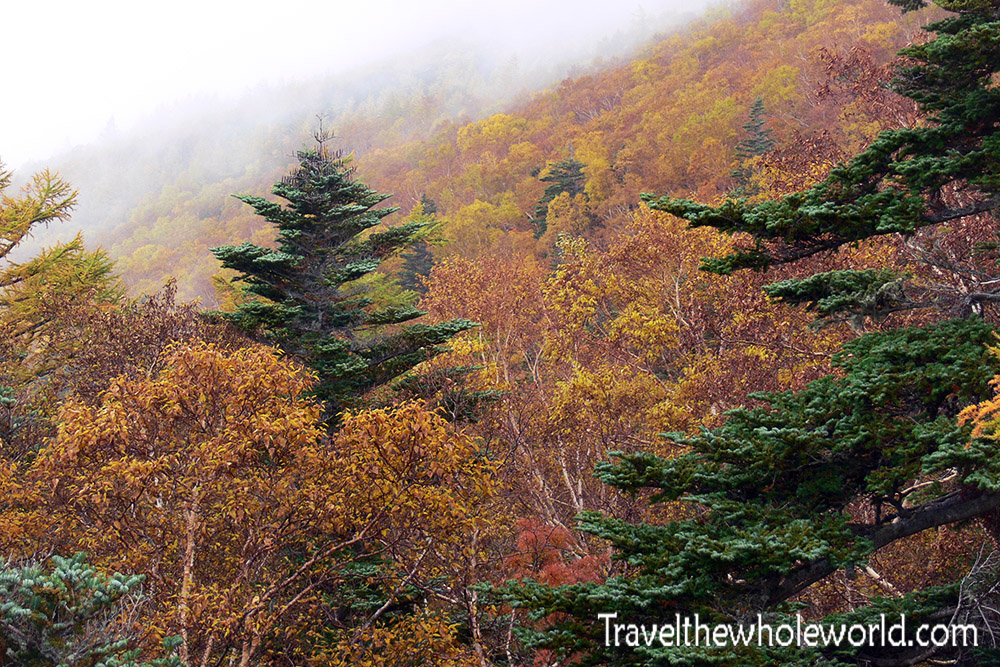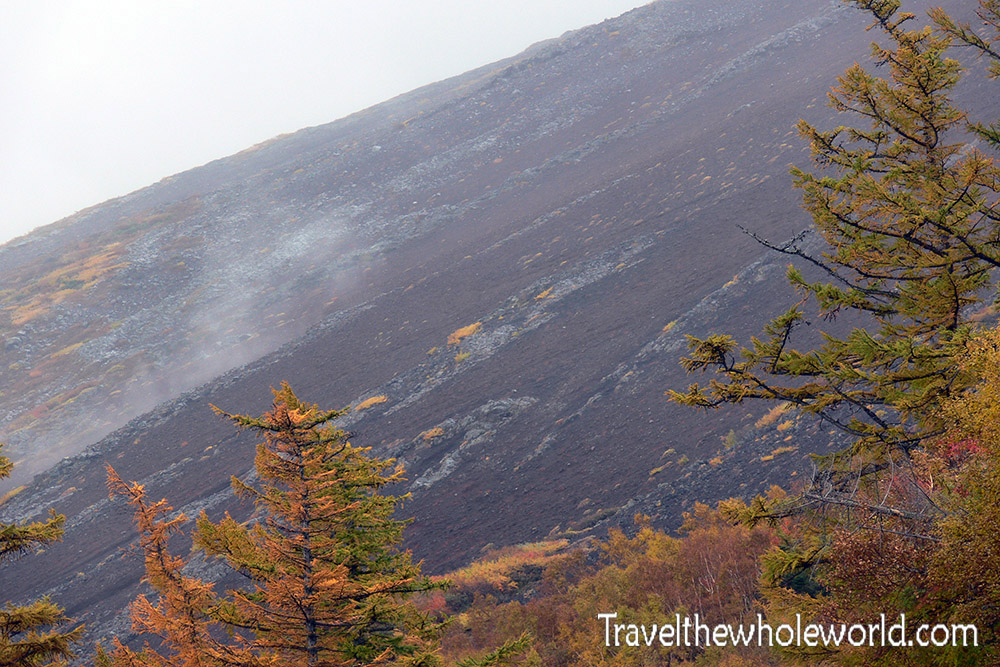 As I got higher up, I eventually got to areas where the mountain was completely exposed. I'm not sure why these slopes are bare and treeless. It's certainly not because of the higher altitude, and didn't resemble a forest fire either. My assumption is run off and erosion sweeps away some of the plants here and exposing the volcanic rocks underneath.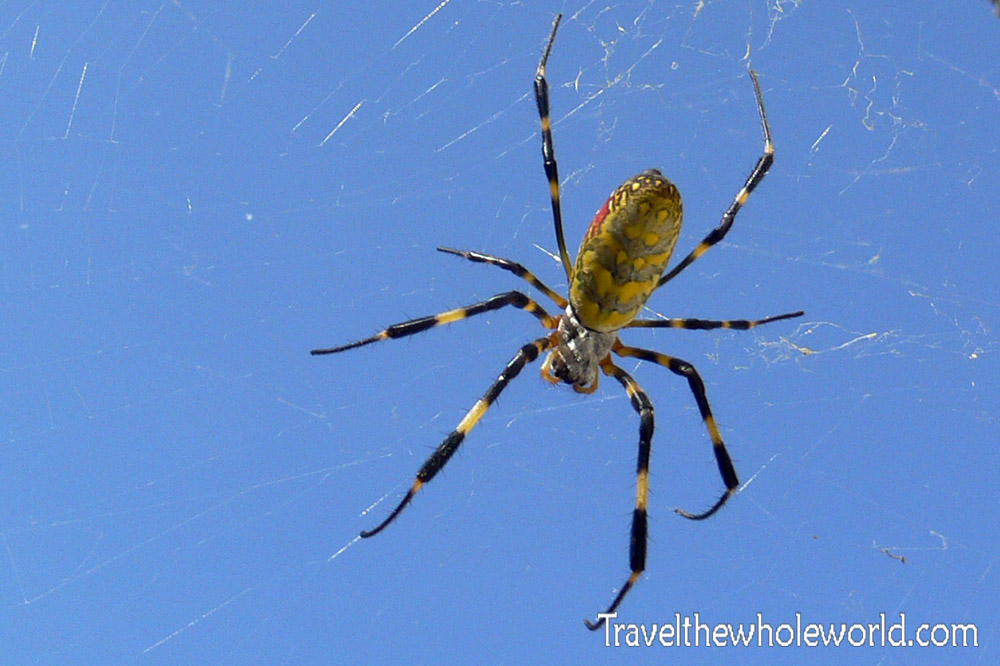 On another visit in the summer months by Mt. Fuji I came across this massive spider. I really wish I had a macro lens at the time, but considering I had a very old camera I'm happy with how this came out. I always feel like such wild life can hardly exist in such a populated country, but Mt. Fuji does offer a small sanctuary. I researched this giant spider and even found out its scientific name, Nephila Clavata, known as Joro Gumo in Japan. I'm not sure if its poisonous but normally that's what yellow and black indicates! I never would have thought this would ever have been an invasive species, but ten years after I took this photo, I read that one was spotted in the United States.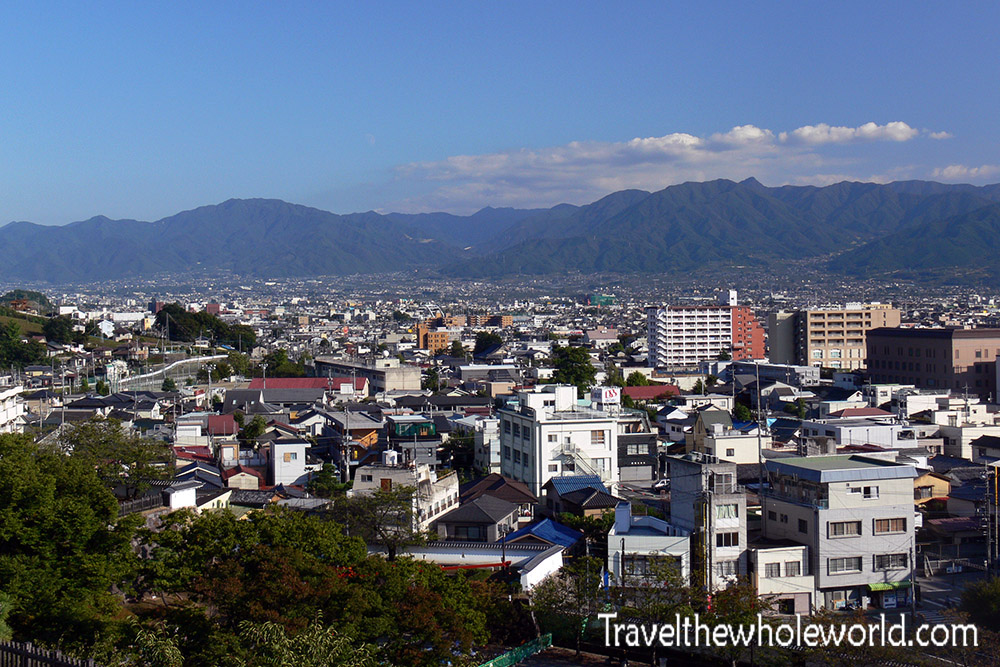 And lastly, I felt I should add a photo of Kofu to this page since I visited several times through work. By Japanese standards Kofu is a small city, but there's quite a bit to do here, from Kofu casatle, to some beautiful Japanese gardens, and a few other good hikes. The best thing about Kofu is on a clear day, you can get excellent views of Mt. Fuji. This photo below was taking from Kofu using full zoom on my camera. I definitely can't wait to return one day and climb this beautiful mountain!