Visiting the Countryside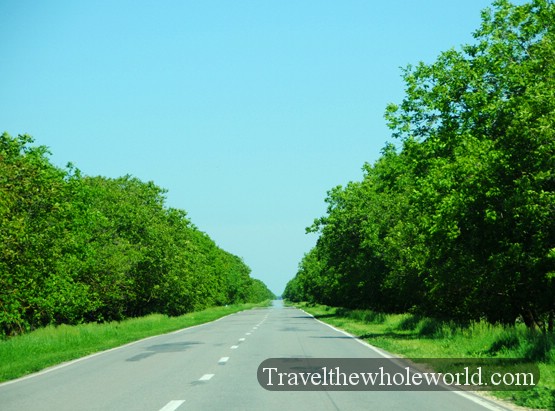 While the Gates of Chisinau were my first views of the capital, these forested country roads were my first views of the country itself after I entered from Ukraine. They seem to like lining their streets with trees. You might get the impression you're driving through some woodland but right past these trees was nothing but open fields and farms. The line of weeping willows on the right continued on for miles.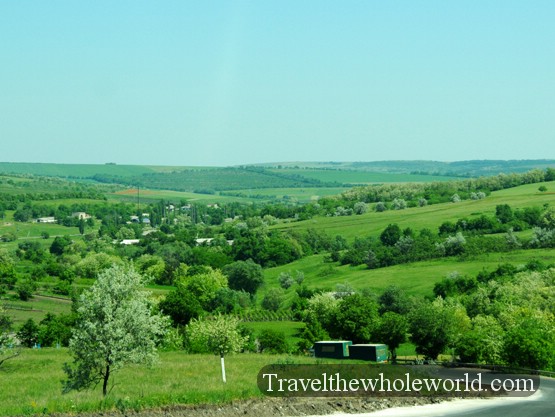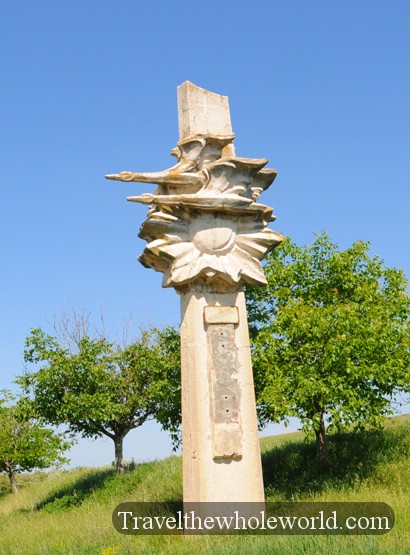 Outside Chisinau the country is made up of farmland and small villages built on rolling hills. Above is some typical scenery I saw while driving in the countryside. The post on the right marked the entrance to a very small town I went through. Most Moldovans I saw who were working in farms were doing everything by hand like these people on the lower left. I even passed by one field that had maybe 20 people working the fields with hand tools!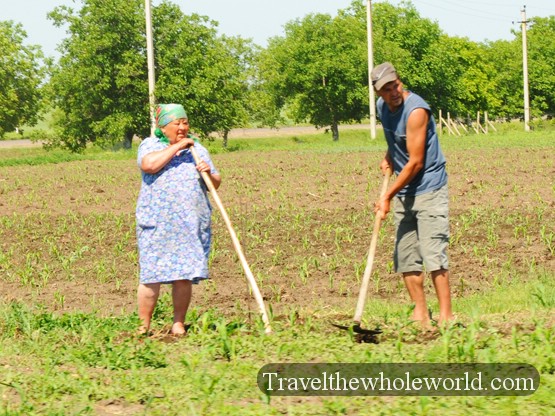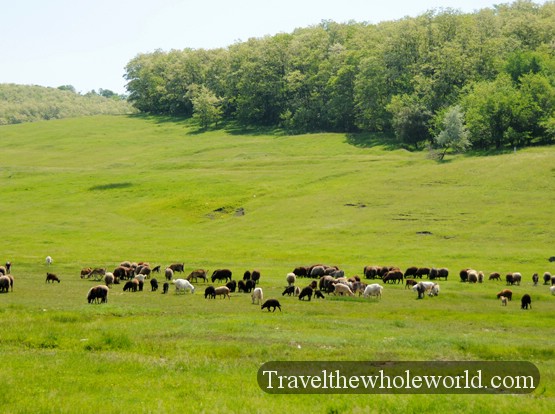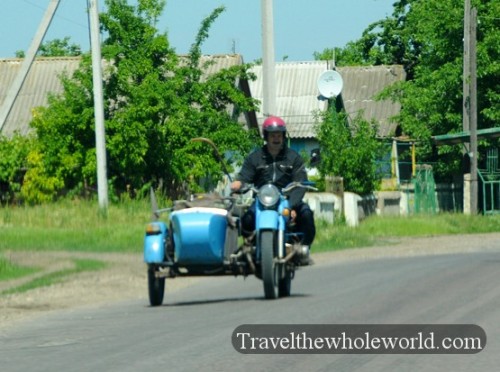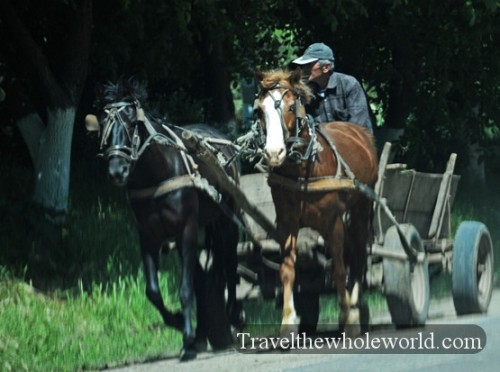 What I really loved about Moldova was the simple lives that people have in the countryside. It always makes me happy to drive around and see horses pulling chariots rather than tractor trailers or old fashioned motorcycles with sidecars rather than city buses. I hadn't seen a motorcycle with a sidecar in forever. Seriously maybe even more than 10 years! In the Moldovan country side you see them left and right, along with horses still pulling carriages. In one small town I stopped at I even saw several kids on horseback going right down the main street. I really wish I did a better job of photography here. I definitely missed out on a lot of amazing shots and I hope to redeem myself when I go back.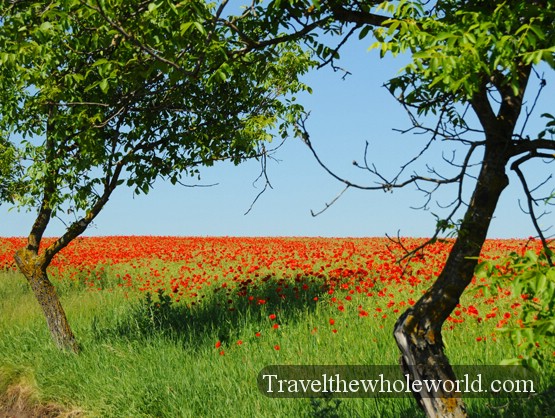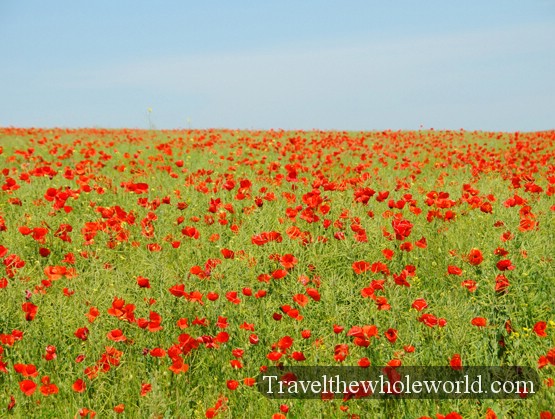 At least I took the time to stop and photograph these fields of red flowers. I have no idea what these flowers are used for but they were everywhere. Since this was a backpacking trip where I passed through several other countries I also saw these same red flowers in Romania. I'm sure they exist in parts of Ukraine and other surrounding countries but from what I saw they dominate Moldova.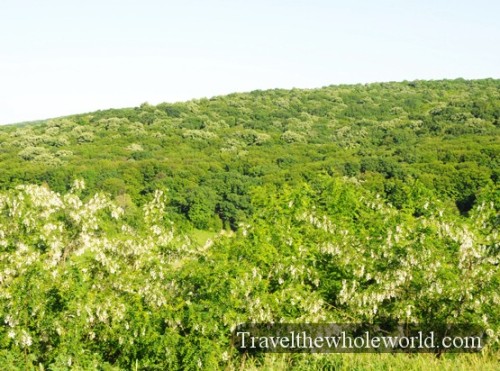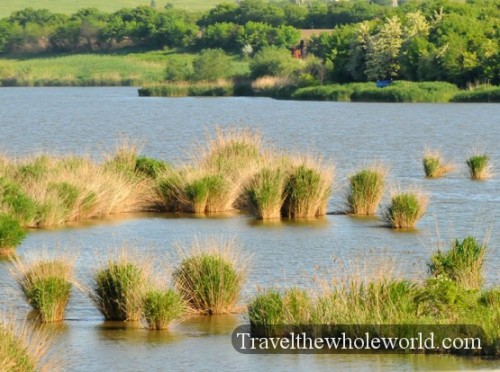 I really wish I had done some more outdoor activities like hiking or even camping in Moldova. I guess that gives me something else to look forward to when I return! One point during my trip though I was in the country side and went to the top of a large hill where forested mountains went as far as I could see. I think their must be a lot of preserved wildlife and interesting scenery here in Moldova's natural world.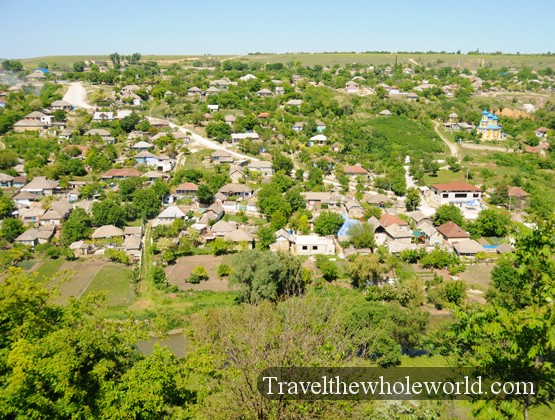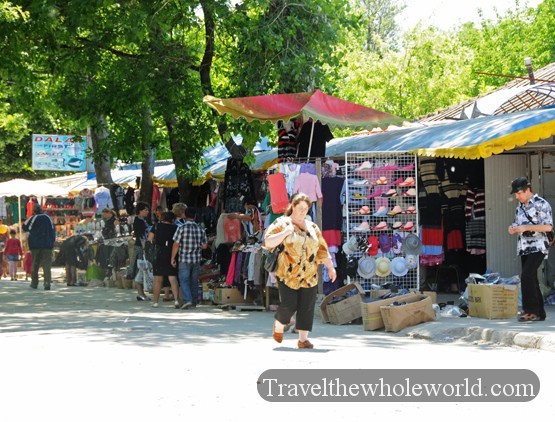 Another random place I visited was this small town above. Since this place was farther away from the capital I took a risk and rented a car. I was a bit intimidated by the idea but once I started driving around I felt comfortable and took a trip farther north. I went through this small town and somehow got lost from the main street. I pulled over and asked a group of older men for directions. They didn't speak a word of English, and likewise I didn't speak a word Moldovan. After working with them for about 10 minutes we were able to figure each other out and I was back on my way.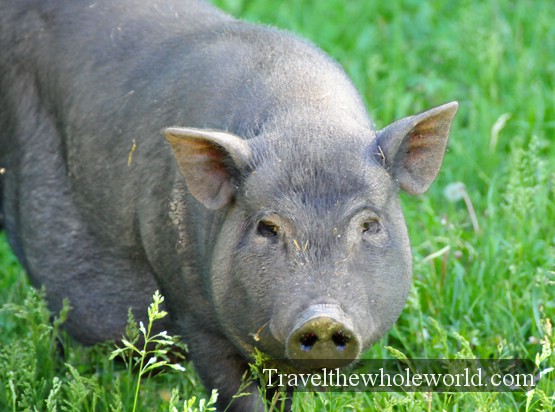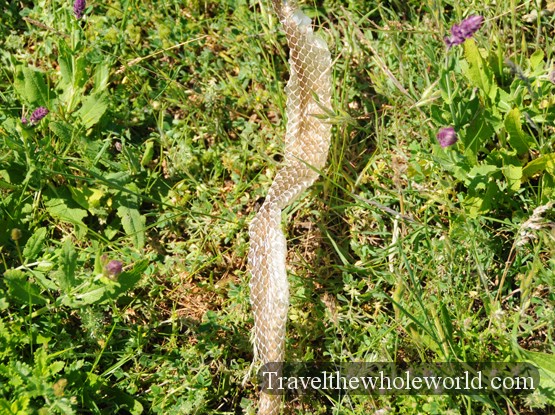 Until this trip to Europe I hadn't ever really come across wildlife in the continent. Most of my earlier trips had focused in the cities of western Europe. I'm assuming the boar above is wild since he wasn't close to any houses and definitely not in a gated area. I must have missed a large snake by a few days. By the size of his skin I'd estimate him to be about 1.5 meters in length or about 5 feet. Actually only an hour north of the capital is the highest point in the country close to 500 feet. I'd like to hike to the top as well as visit Tipova Canyon next time.