Visiting Chisinau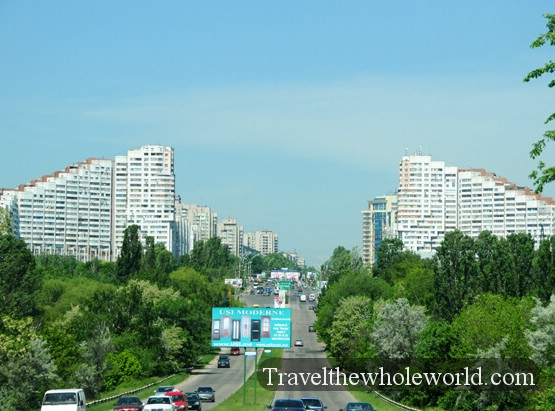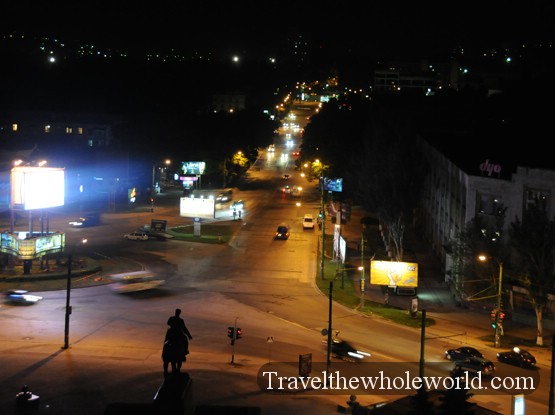 I entered Moldova by road coming from Ukraine. The photo you see on the left was my very first views of the capital Chisinau. These buildings that line up each side of the highway are known as the 'Gates of Chisinau'. The city has about two thirds of a million people mostly living in apartments. On the upper right is a downtown area of Chisinau at night.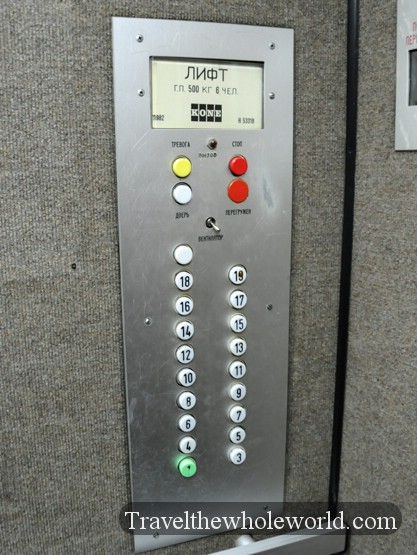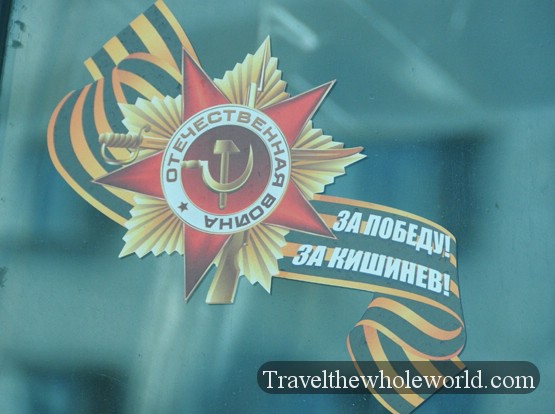 Some things in Moldova certainly aren't up to standards of western Europe while other things like the roads are in great condition. I've no idea why but one thing that always seemed to be in need of serious maintenance were the country's elevators. Every single one of them seemed to be cursed! The one in my hotel was dated 1982, nearly as old as I am and about 10 years before the collapse of the Soviet Union. When I first arrived to Moldova I found myself broke because my bank had decided to shut off my credit card after I had used it in Ukraine. Normally phone hotel rates are heinous so I went out into the city hoping to find an internet cafe with a phone center which seem to be pretty popular when I travel. I had absolutely no idea where I was going but decided to aim for some large building and ask for directions. There I found a woman by the front door who appeared to be working there. She didn't speak a word of English but when I made what I thought was the universal sign for a telephone, (mimicking a phone with my hand and holding it up to my head), she seemed very confident of what I needed. She led me into the most dangerous elevator I had ever been in all the way to the top floor. This didn't make sense to me since I figured phones would be ground level and not in a random office on a higher level. Finally she took me to a random door and flung it open where we came across a dentist operating on a patient! I never found a call center, or the stairs out of the building for that matter, so I had to take the dangerous Soviet elevator back to the floor lobby. Speaking of Soviet Union, the hammer and sickle sign seems exists all over Moldova and I saw it often when I was walking around. The picture above was taken from the window of a car. I assumed it to be some political party symbol but instead I was told it symbolized the unification of the Soviet Union, western Europe and the United States in the fight against the Nazis.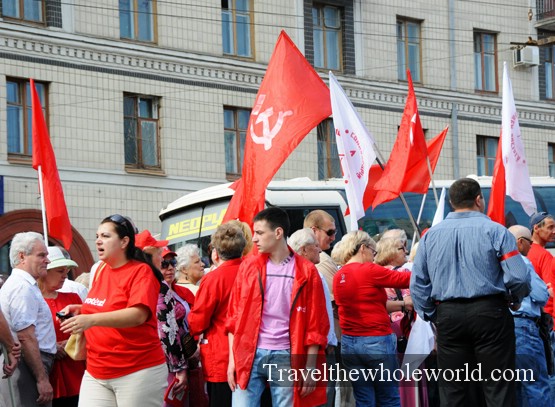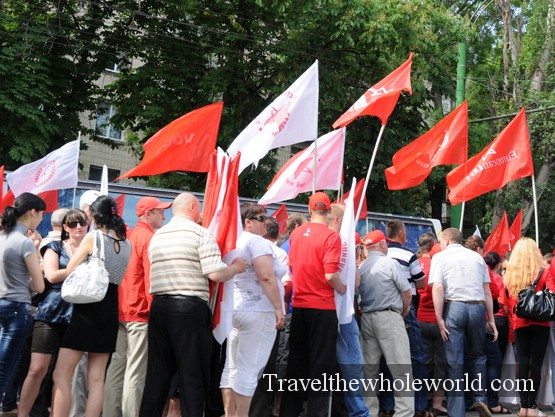 Most of this trip I didn't have anyone around me who spoke English. I'm under the assumption these photos I took above are from type of movement by a communist party since their flags fly the hammer and sickle. This is kind of surprising to me since Moldova isn't on good terms with Russia. There are thousands of Russian troops in Moldova's eastern border supporting the rebel province of Transnistria, so before I came to Moldova I would have assumed everyone would strongly be opposed to anything related to communism. There was enough of a show here to give me the impression that a significant number of people support the party.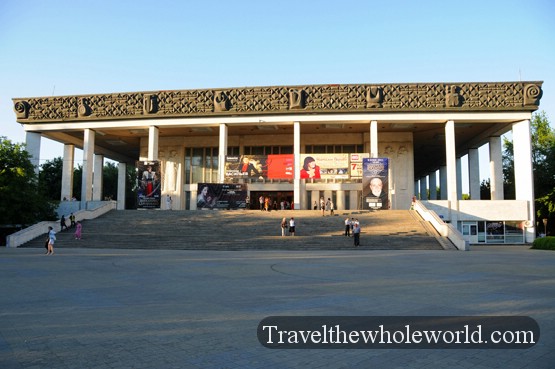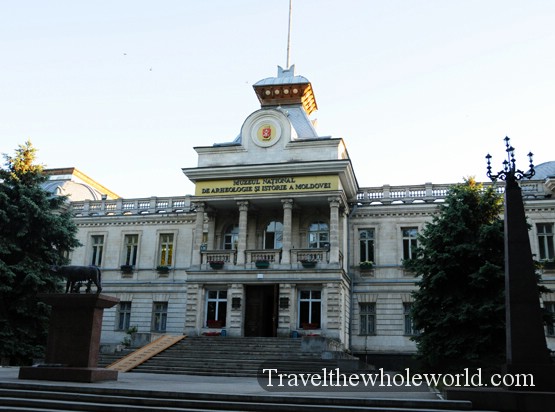 For those not wanting to participate in protests or ride scary elevators two places of entertainment in downtown Chisinau are the city's main theater on the left and their national museum on the right. Unfortunately the museum was closed on the day I tried to visit it and I never made it to a show in the theater. I did walk inside of the theater which is a beautiful building and almost everyone was dressed very well. This was slightly awkward since I was in my casual tourist clothes.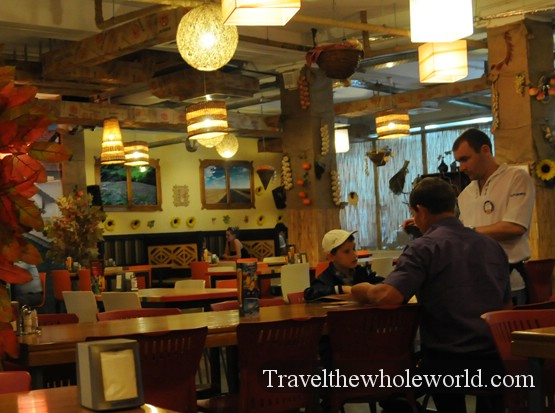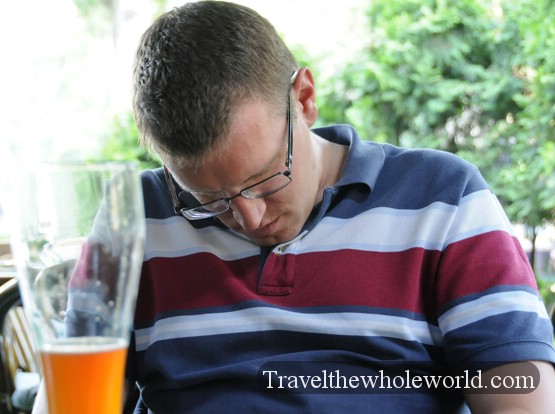 Something that is famous in Moldova regarding food is Andy's pizza. I saw these places every where, including one in Transnistria! A waiter working at Andy's explained to me, "America has McDonalds, Moldova has Andy's Pizza". On the upper left is a photo of a not so packed Andy's on a Friday night. I actually met some British guys who were also traveling through Moldova so we all went out together. On the right is the results of our wine tour, his jet lag and some beer we had at a brewery.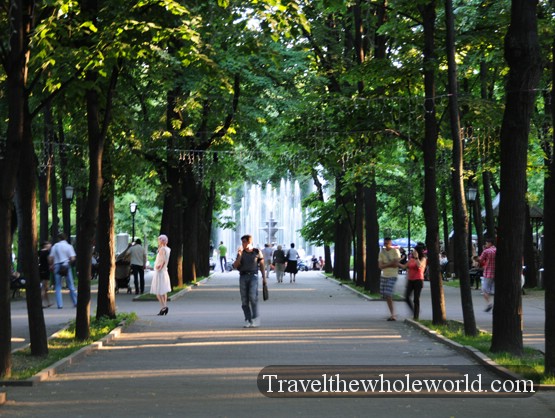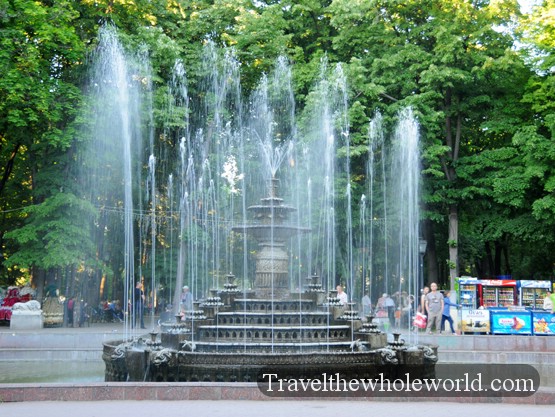 One thing I really liked about Chisinau was all their city parks. All of them were packed with families and couples enjoying the nice spring weather. Above seemed to be the center of the main city park. There were a lot of activities here, especially for children. Kids could rent small sit in cars, there were plenty of food and ice cream stands, and for some reason dozens of people were using their lap tops on the park benches.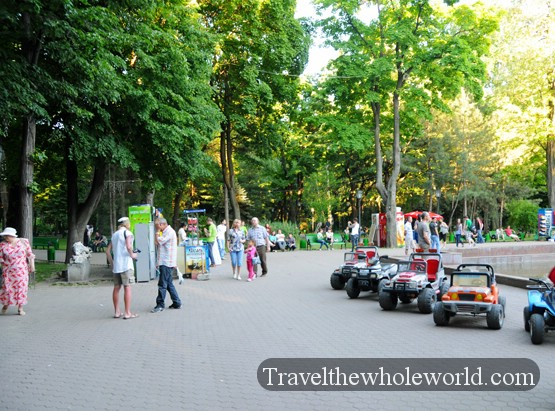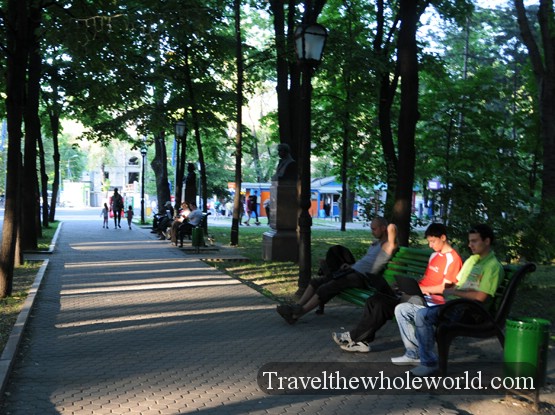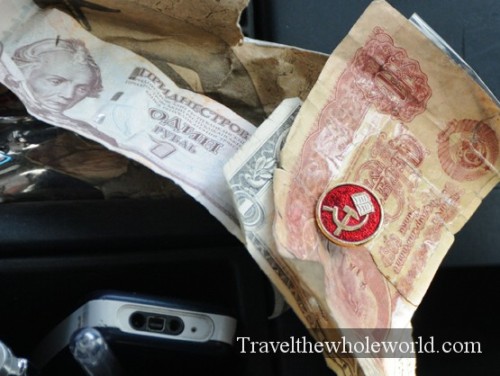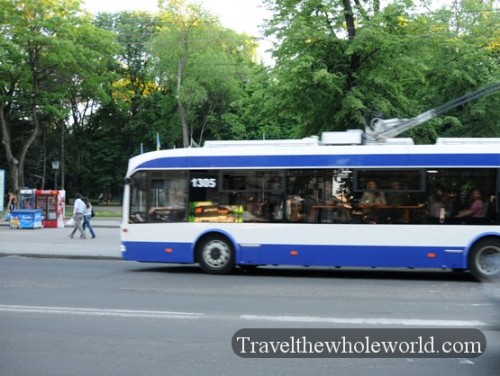 With about 600,000 people, Chisinau is a medium sized city but still small for most European capitals. The lack of annoying crowds and no traffic is always good in my book. Since taxis are pretty cheap I normally took them to different parts of the capital and even to other cities in Moldova. In one of the taxis I took the driver was using a hammer and sickle pin to secure his money, so he must be a communist! I realized I talked about this earlier, but still I found it strange to see these everywhere. I seriously thought this was something of the past and didn't expect to ever see it so widely used. My taxi driver was a good guy so I used him several times. For those travelers looking for a more local experience there is the city tram on the right which would probably damn near be free.