Climbing Mt. Stanley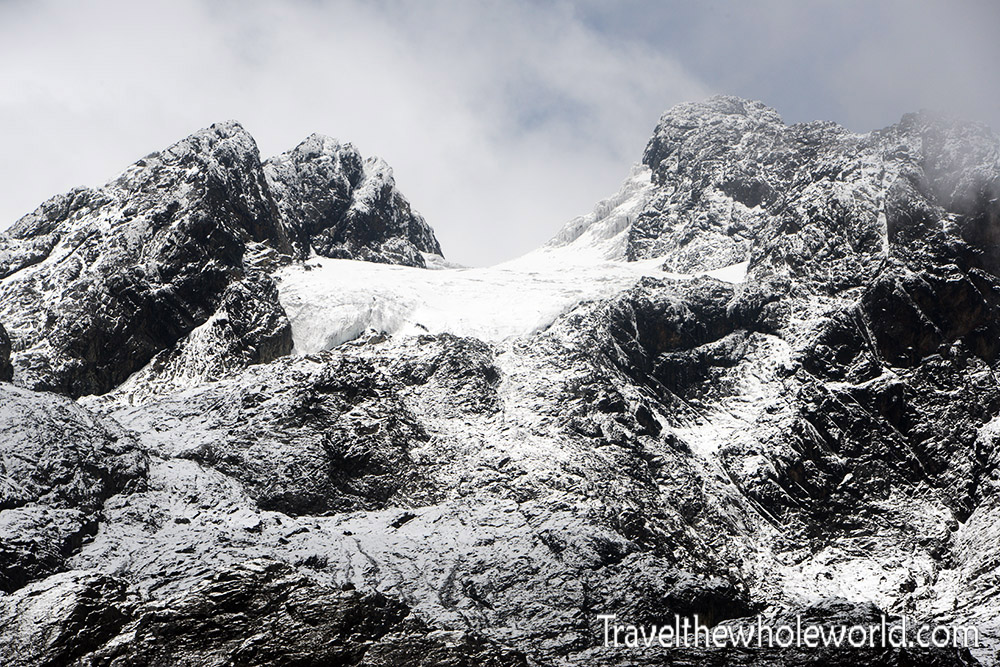 If you read my Rwenzori page where I hiked through rainforest and mosslands to reach Mt. Stanley, then this page picks up after the final bog. I had left the bog in some drizzling rain and overcast. After climbing a bit higher the clouds suddenly cleared and Mt. Stanley's twin peaks could be seen. Using my camera at full zoom, I was able to get a perfect view of the summit. Alexander peak on the left and the highest Margherita peak on the right.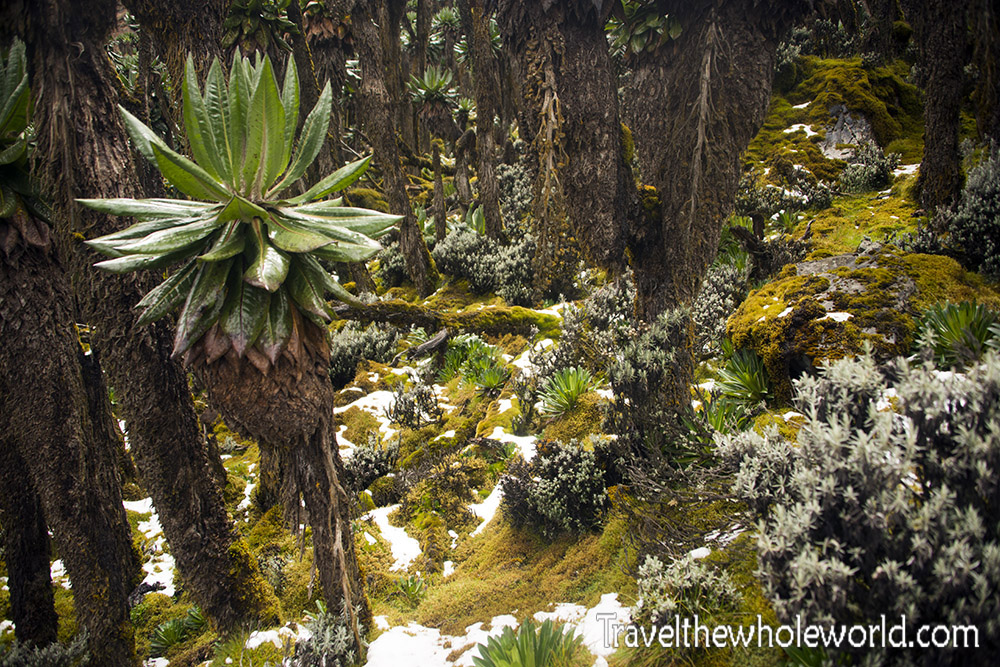 Despite the summit covered in snow and ice, from where I had taken the photo it was still relatively warm. As I continued higher I started to encounter the first bits of snow around 14,000 feet (4,260 meters). At first the snow appeared as tiny patches among the giant lobelia trees.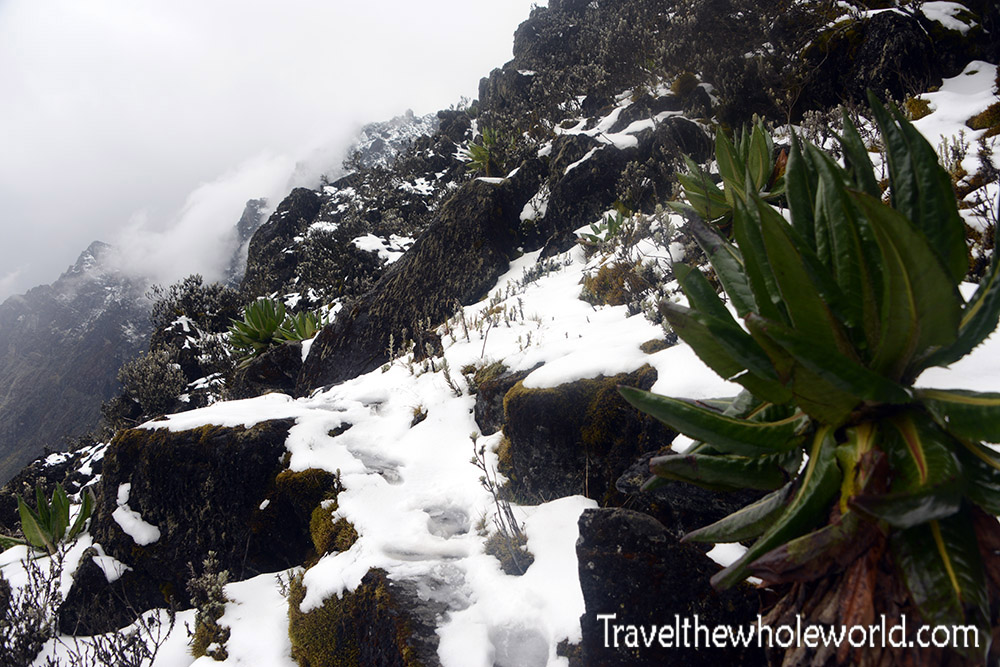 The terrain quickly changed as I got higher. The giant lobelia trees still appeared, but they were much shorter in height now. The ground was no longer soft mud and moss, but now mostly hard rock covered in wet snow. The final push to highest Camp involved a bit of a scramble as well. About 20 minutes before camp it started to snow hard.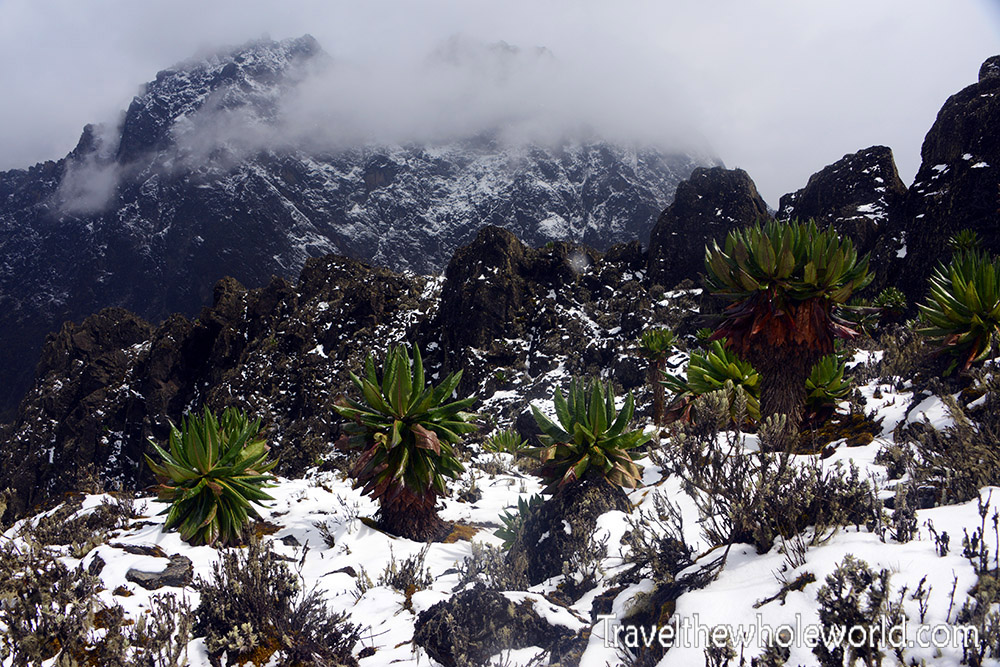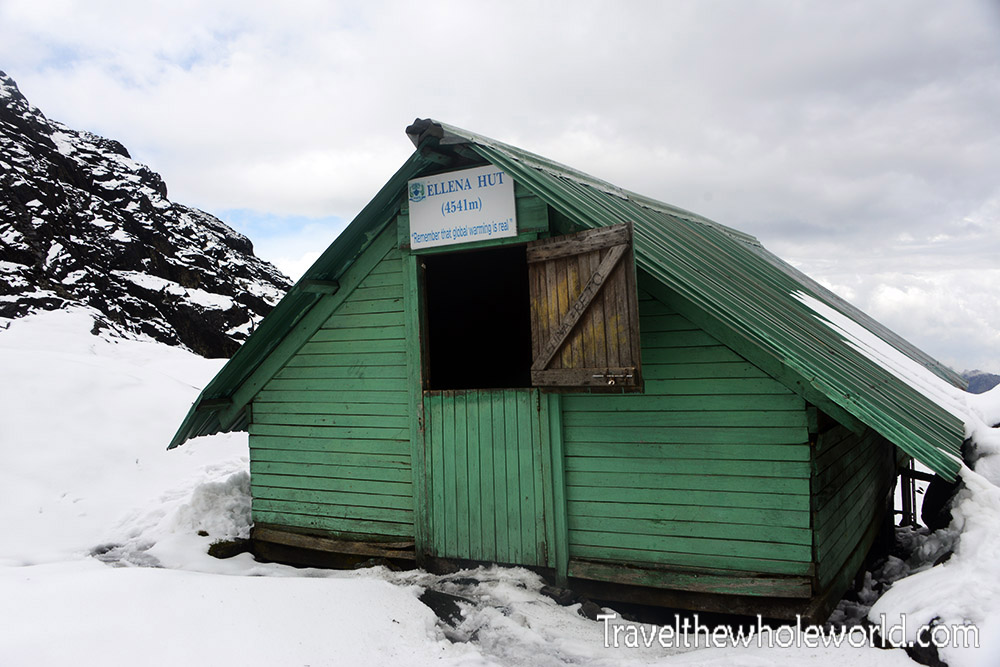 Camp Elena is located at 14,900 feet (4,550 meters). Like the other camps, there is a nice hut here that has a few beds and an outhouse. I was impressed that this hut was built so high and is of good quality. Unlike the other huts which had beds with mats on them, this one simply had mats on the floor. Regardless it was still a luxury, since I had been expecting to be sleeping in tents this entire trip!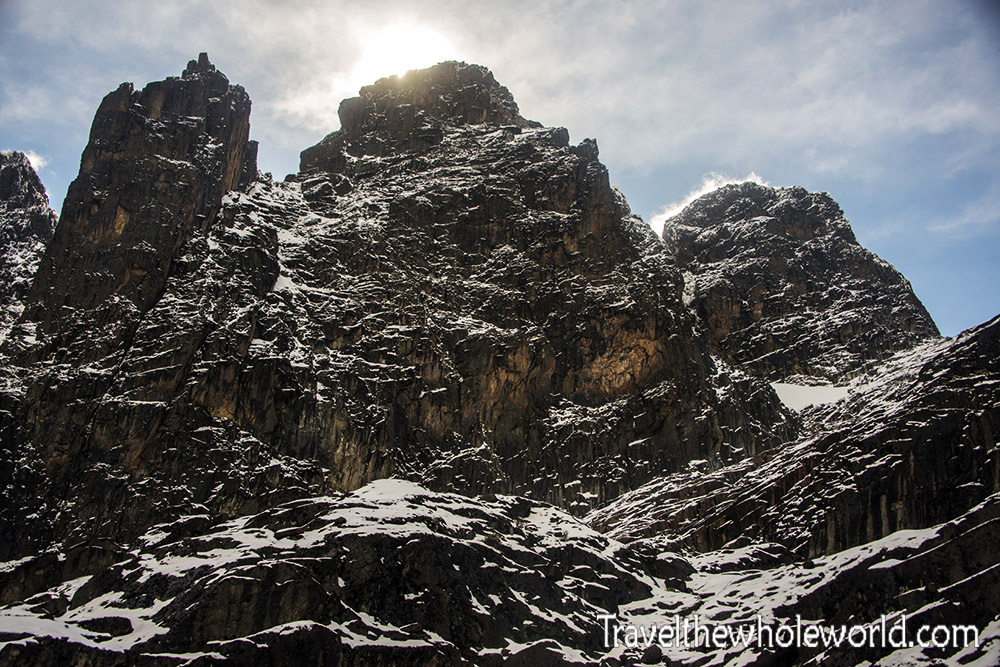 Directly in front of Camp Elena are some scraggly peaks. These looked pretty intimidating to me and would be the first challenge in the morning. Since we started at 5am, there was no light and I didn't take any photos on the beginning of the summit ascent. The first part of the day requires climbing up a steep chute that has a fixed rope. I wouldn't classify this as a rock climb, more of just an exposed class four route. The fixed rope makes it pretty easy as you top 15,000 feet (4,570 meters).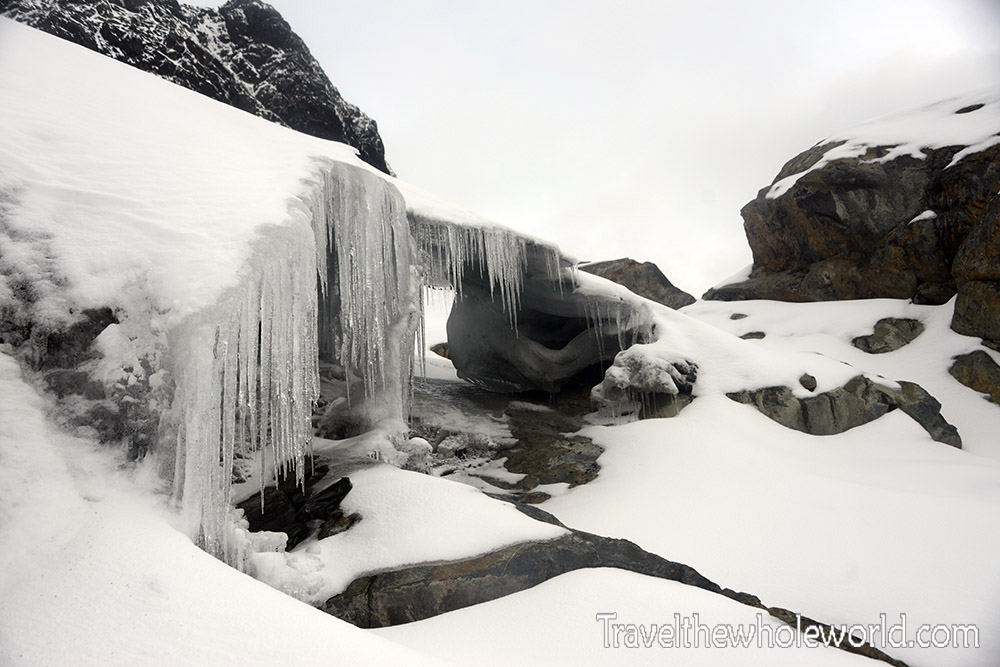 After I climbed the chute in darkness, we trekked along a glacier that slowly gained elevation. I was attempting to summit Mt. Stanley after just 72 hours on the mountain. Going from sea level to 16,500 feet (5,000 meters) that fast is never recommended. Needless to say I was most definitely not acclimatized and going up was a challenge. I had climbed to 28,700 feet (8,800 meters) previously so I was well aware of how my body reacts with altitude and knew this would be harder than it should. I was horrified to see that as we approached the summit, we had to do a 600 foot (200 meter) drop before proceeding back up towards the summit. I didn't bother taking any photos until we stopped to put on crampons and our harnesses. The icicles and natural bridge they formed were certainly not a scene you'd expect in Africa.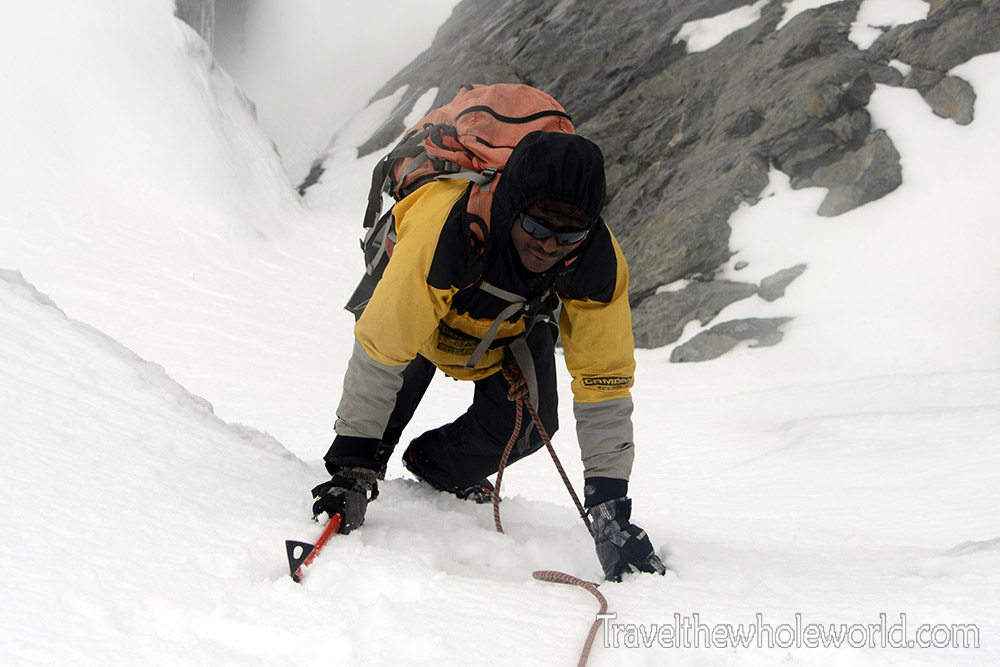 Soon after we roped up and started our steep ascent, I found myself having to use my ice ax for the first time on this trip. Because I wasn't acclimatized this was probably the most difficult section of the entire climb. Once we climbed up off the face of the Margherita glacier we ended up on a crevasse filled snowfield that continued upwards.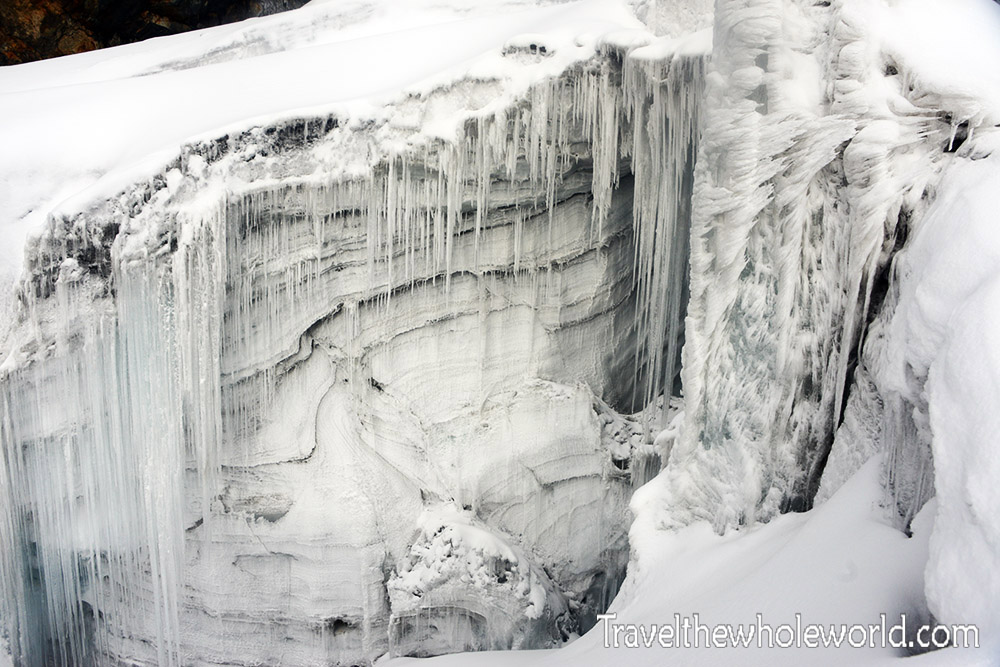 Because I'm standing right up on the lower edge of this crevasse, it looks more like a wall I photographed than a giant hole in the ground. There were several large ones that we had navigate around as we approached 16,000 feet (4,875 meters). This one was the largest.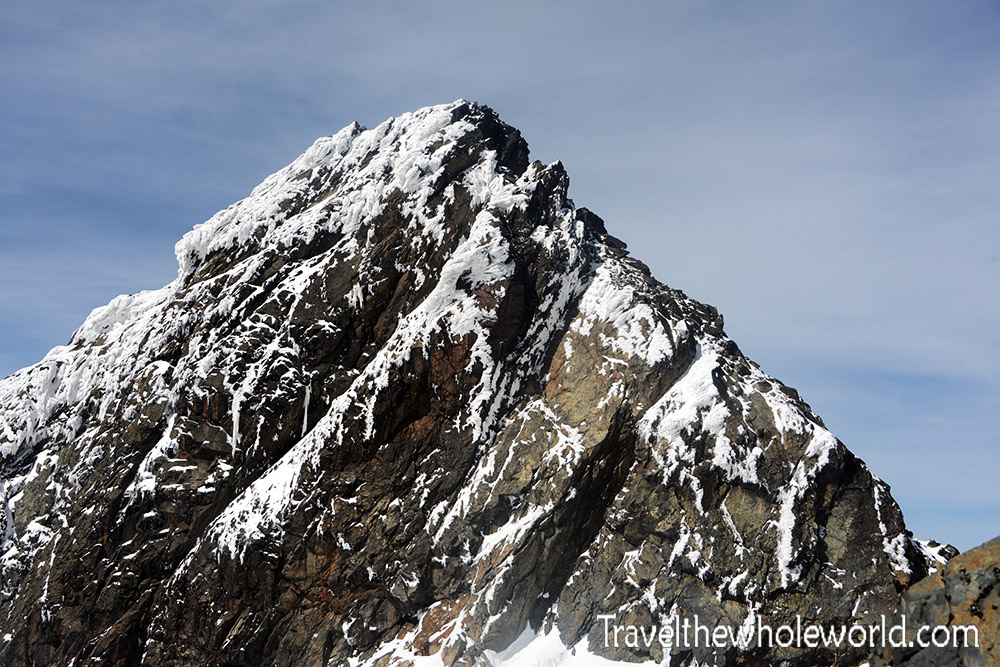 From where I was now the summit no longer seemed incredibly distant. All I had left was to cross this final glacier and do a scramble to the summit.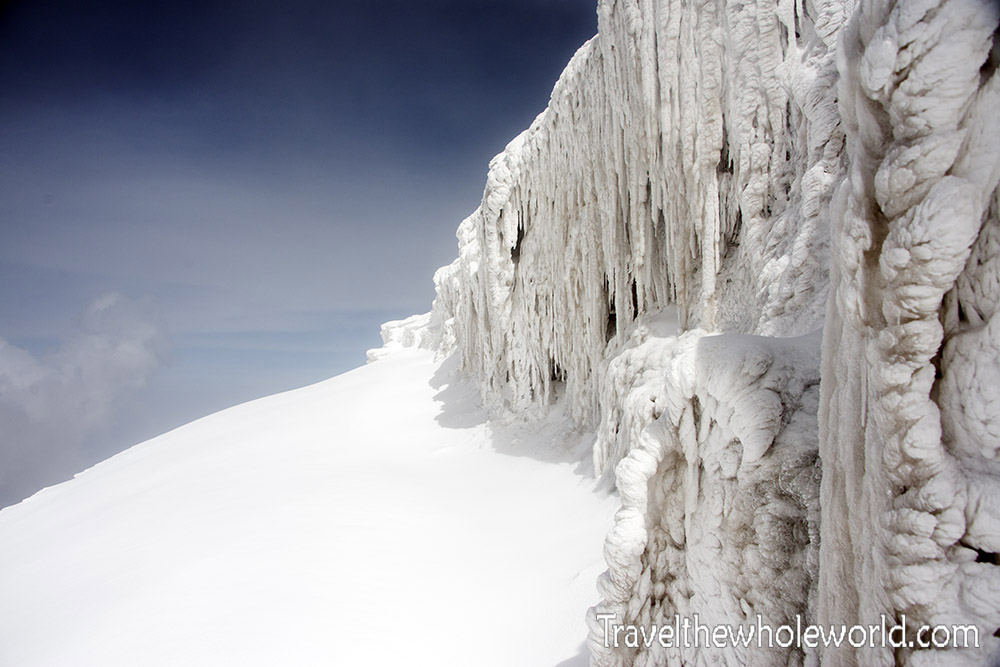 As I entered the final part of the glacier, I came across some of the most beautiful ice formations I had ever seen. Some of the built up rime ice like in the photo below was absolutely incredible. If it wasn't so difficult to reach this place, I think one could easily stay here all day and capture some amazing pictures of the ice and natural beauty here.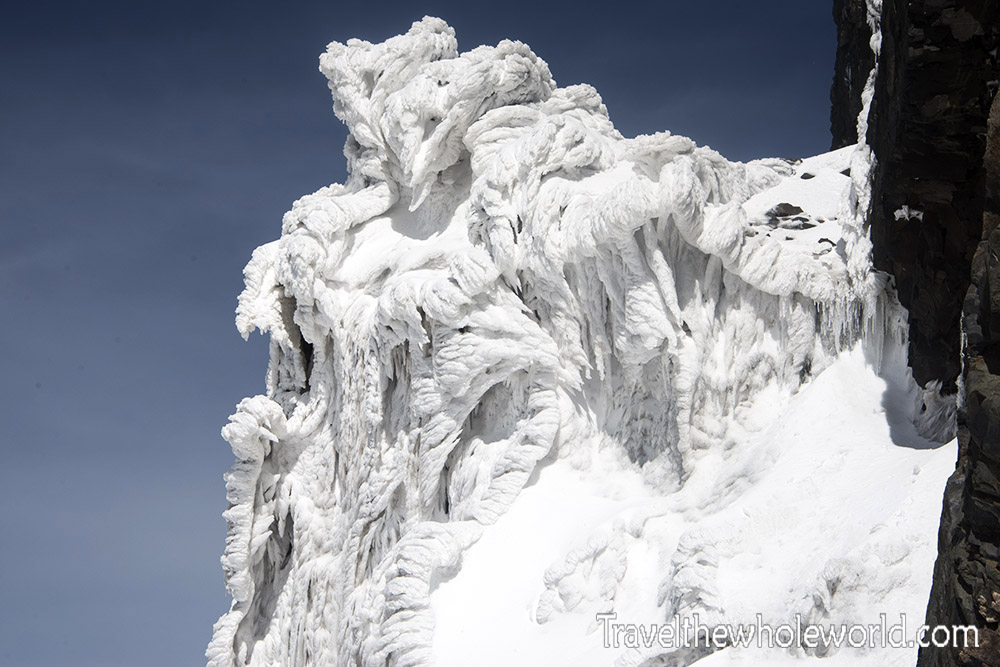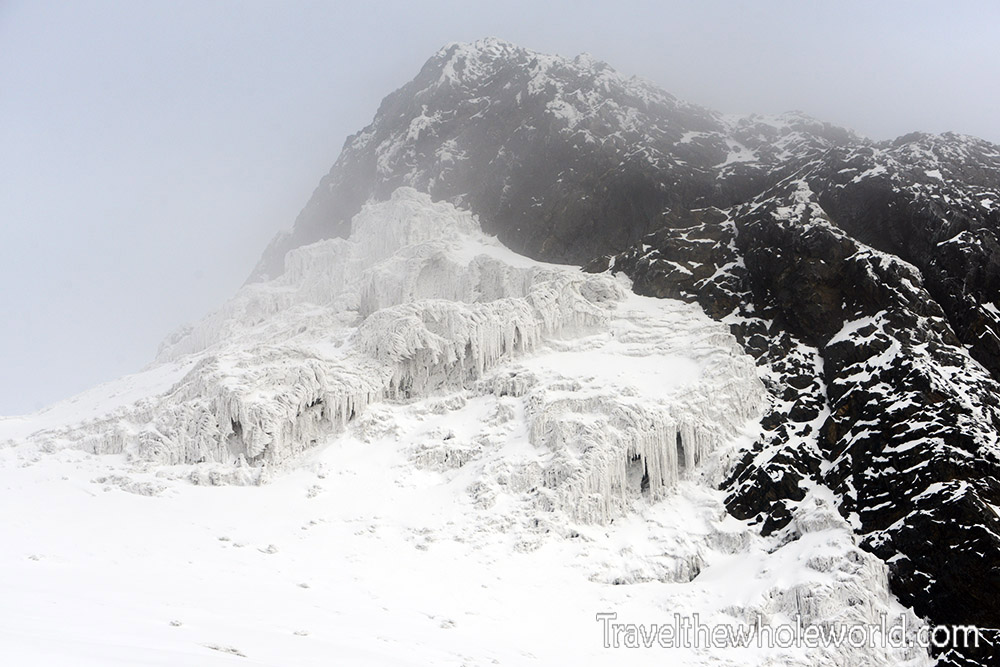 After finishing the glacier and beginning the final ascent, I was able to get some good views of Alexandra Peak photographed above. This is the lower of the twin peaks on the mountain, and Alexandra rises to 16,703 feet (5,091 meters).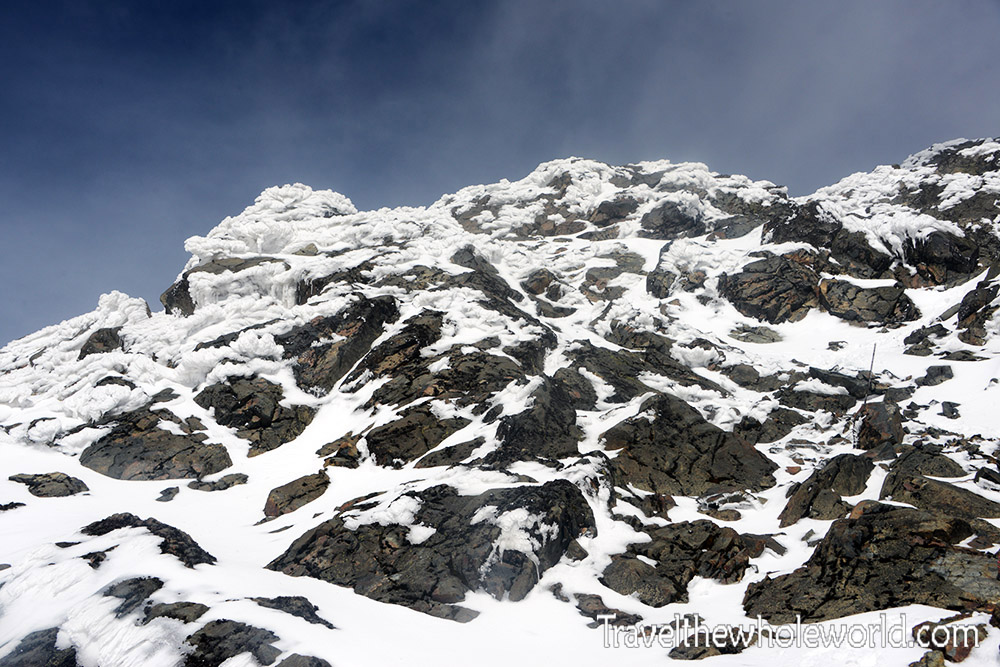 There was another technical section of climbing here, but another fixed rope made it easy. After that chute was passed the remaining climb was mostly a scramble to the summit like in the photo above.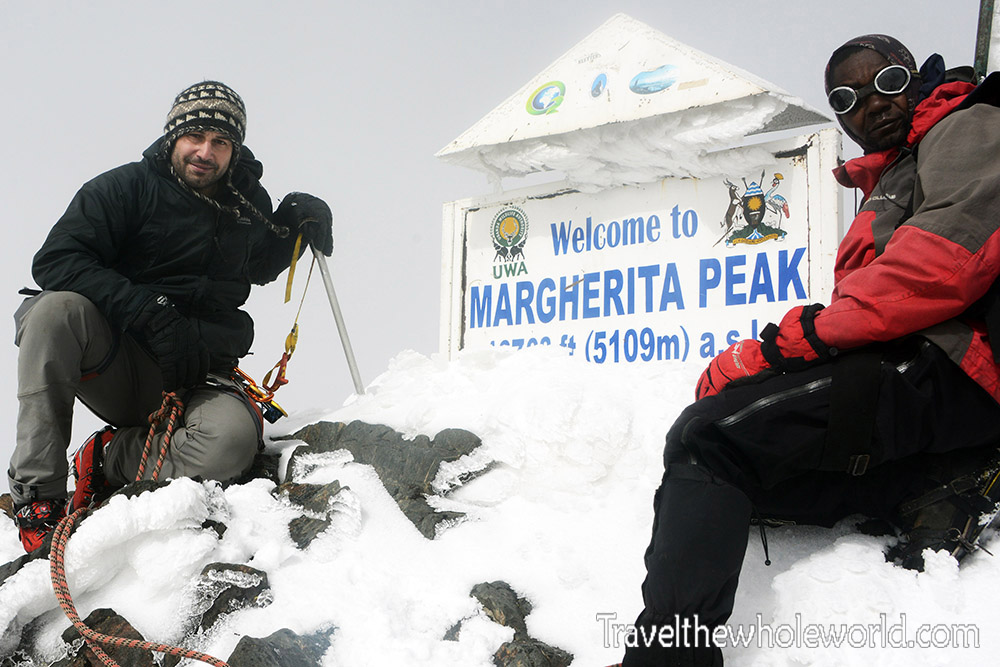 Shortly after I arrived to the top of Uganda! I was proud of myself for making the summit in only 72 hours. I hated myself for doing it, but I descending all the way back to the John Maate camp the same day! All told, I was in and out of these mountains from the entrance to the summit and back in less than 96 hours. I had come here in order to train for Mt. Everest and was proud to have done it nearly half of the 8 day average. This will probably forever be one of my most favorite mountains because of the diversity of the climb!