Visiting the White Mountains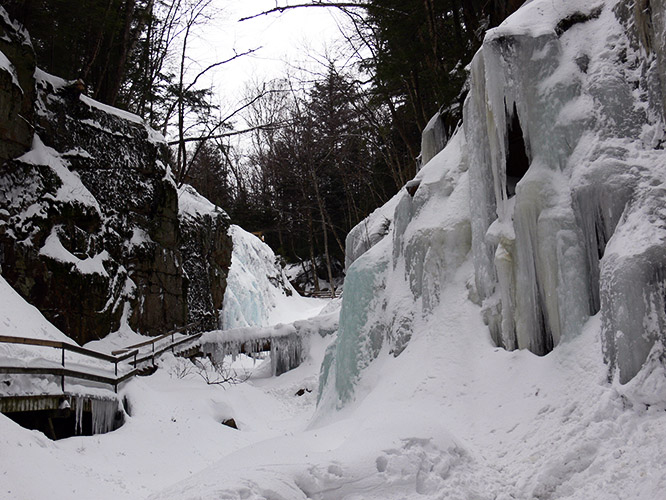 I've visited the White Mountains of New Hampshire twice now, and both times were in the dead of winter. For someone living on the east coast like myself, the White Mountains are a short flight away and a perfect training ground for bigger and better things. During my first visit to the White Mountains which was nearly 10 years before my second, I visited a popular place known as Flume Gorge. The intense waterfalls here freeze solid during the winter and provide some great ice climbing. I've never done ice climbing here myself, but would definitely be up for it if I had more time! The great thing about Flume Gorge is it's located right by the road, so if you'd like to visit you only need to do a very short hike to see this amazing scenery.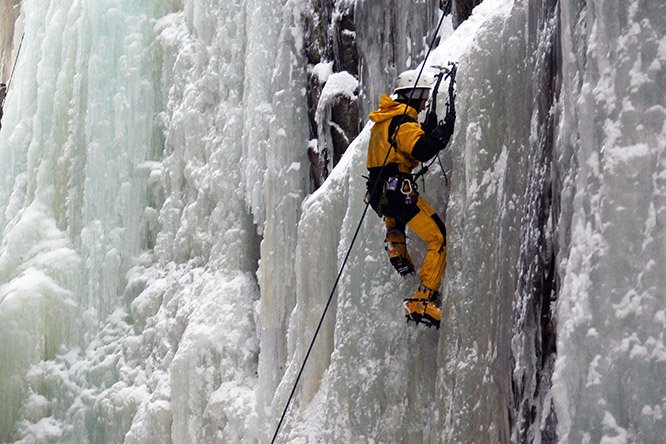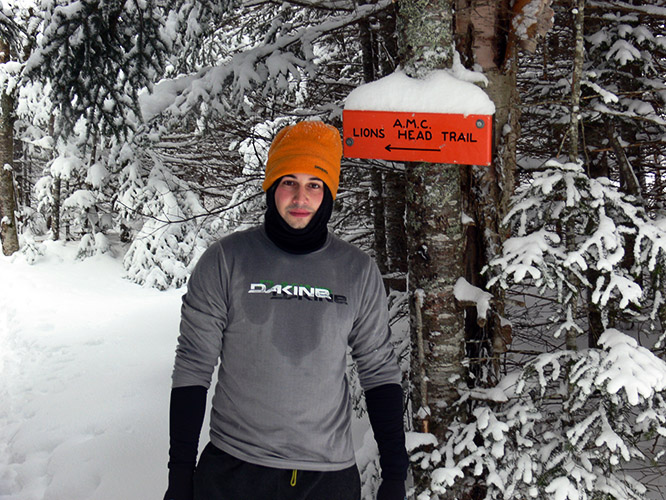 Probably my very first mountain in America started right here at the base of Mt. Washington on the Lion's Trail. You can see from the photo of me above that I made the extreme amateur mistake of allowing myself to sweat while hiking which could be deadly in colder conditions. Fortunately the first time I did Mt. Washington, the temperatures were just below freezing in the mid 20's. (-4C).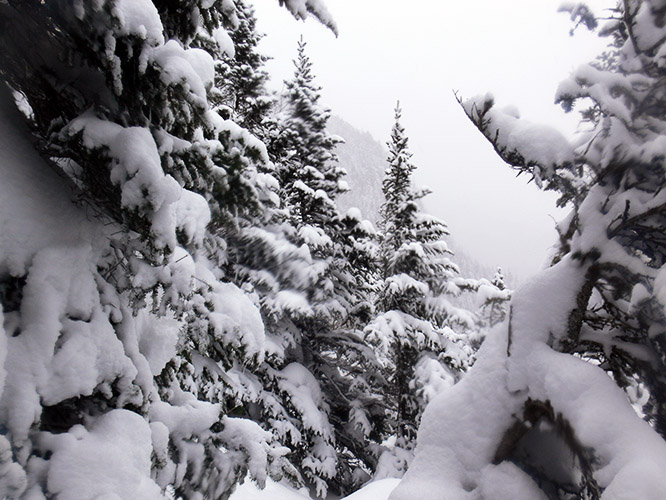 I had never hiked before in deep snow like this, and even though it's only four hours to the summit this was a great adventure for me! Knowing that Mt. Washington can seem extreme subzero temperatures I had been disappointed with our mild weather, but certainly made up for that when I returned!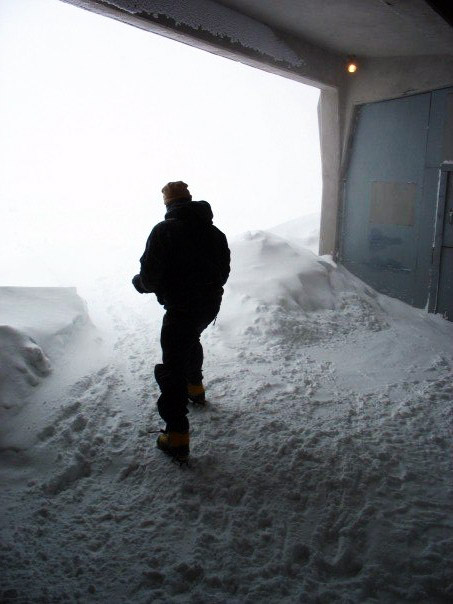 While it wasn't cold at all, the winds were on the annoying side and the visibility was pretty low because of snow we had coming in. I really had wanted to see a great view of the Observatory here that is a unique place in the world. The highest wind speed in the world's were recorded here at 231 mph (371kph)! The weather is so bad that it can reach 40 below zero and the scientists working inside have to come out every so often to chisel off rime ice that builds up on their equipment. Above is myself in an exterior part of the observatory and below is my friend and I on the summit of Mt. Washington.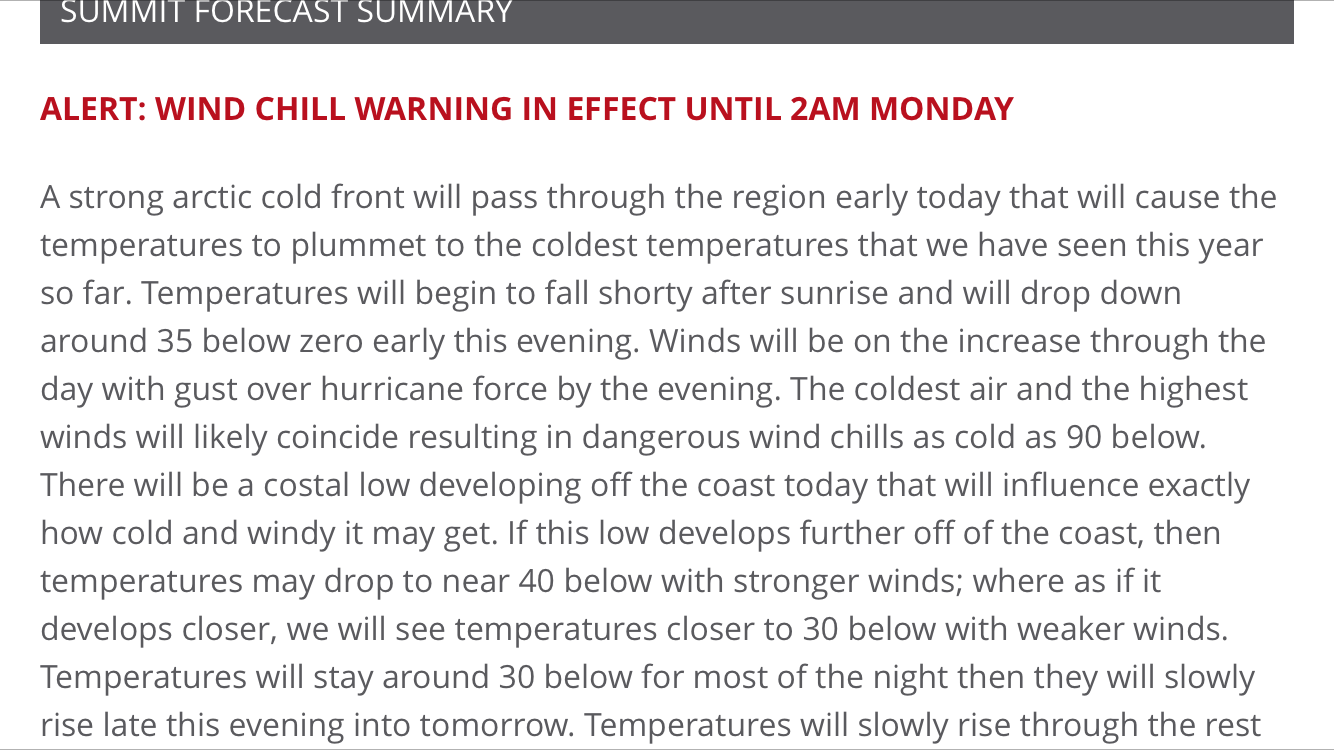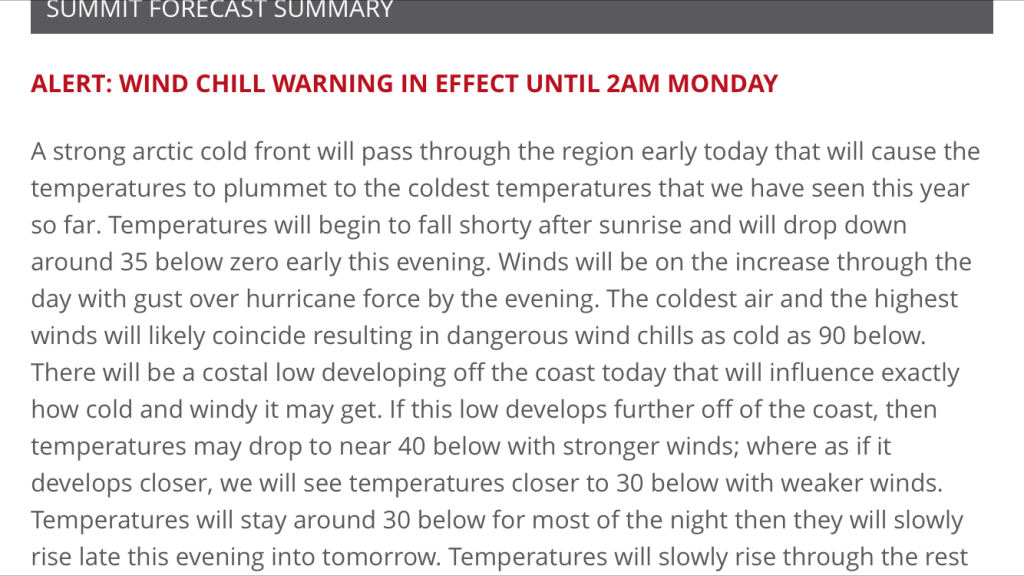 I returned to the White Mountains nearly 10 years later with the hopes of doing the Presidential Traverse in the winter time. As it just so happened, the weekend I picked had the coldest front move in since 1979! The White Mountains were going to be abnormally cold by their own standards. The forecasts predicted temperatures as low as 35 below zero and hurricane like gusts. This is my first time ever counting a screen shot as a photo. I actually always hear people casually describing 40 degrees below zero in their northern towns in the United States. That does happen once every few decades, but it's incredibly rare to encounter 40 degrees below zero. The vast majority of these times people have told me these I've looked up the weather only to see it was about 15 below zero instead. So don't take my word for the weather forecast; read the Mt. Washington Observatory's forecast above!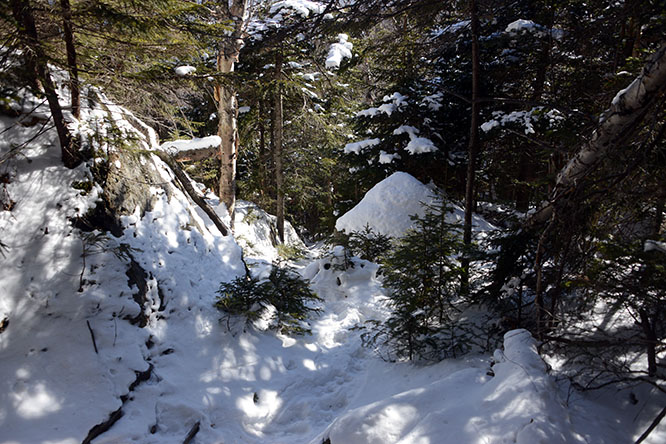 The trail started off snowing like Mt. Washington did, the temperatures were probably around 15 below zero instead of 25 above zero this time around! Above is what the trail looked like in the beginning, both myself and my friend who joined me were amazed how the trees could live out here and survive this kind of temperature.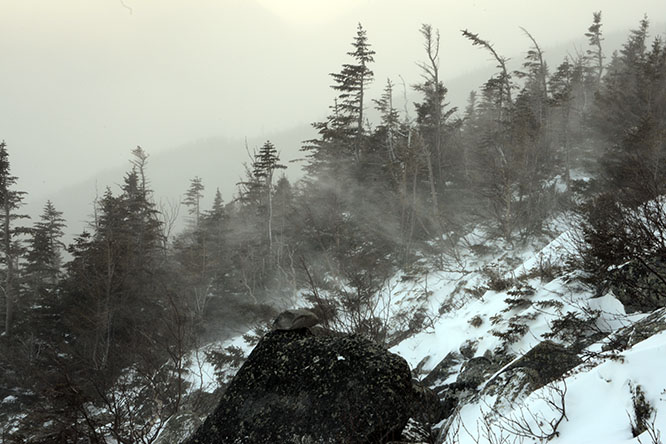 We hiked for several hours up Mt. Madison in the north. Or goal was to reach Mt. Washington and spend the night there, then finish the rest of the traverse the following day. With a late morning start and some incredibly annoying terrain like waist deep snow and sustained scrambling in horrible winds we didn't even make it up Mt. Madison on the first day!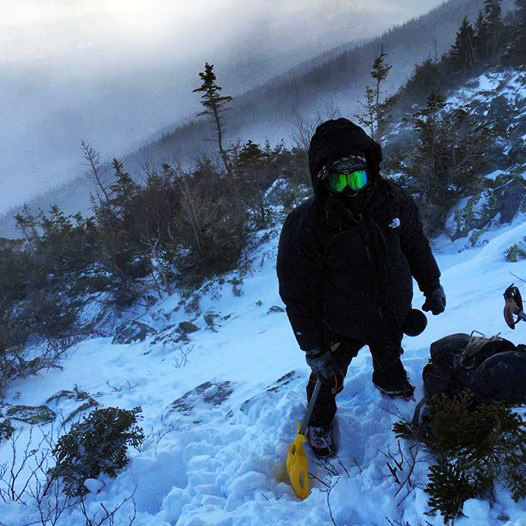 As a matter of fact conditions were so bad that we had to make a make-shift camp site on the scramble section of the mountain. The terrain here was pretty steep, but with so much snow we were able to dig out and make a level area just wide enough for our tents.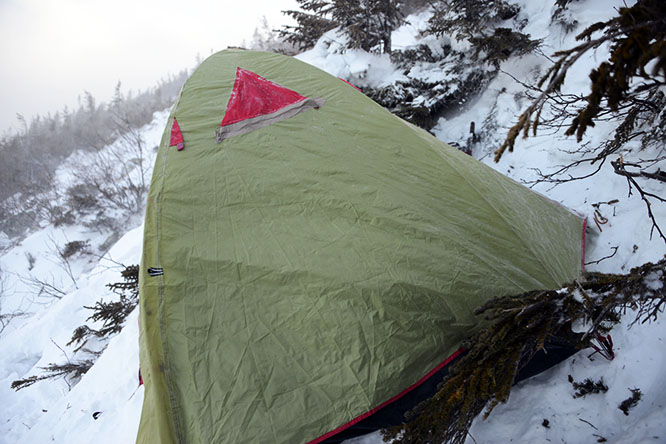 That night temperatures dropped to 30 below zero for sure. The only time I had ever experienced cold this brutal was on Denali a few years back. I knew I'd be fine in my tent, but it was certainly a long night with loud winds and bitter cold.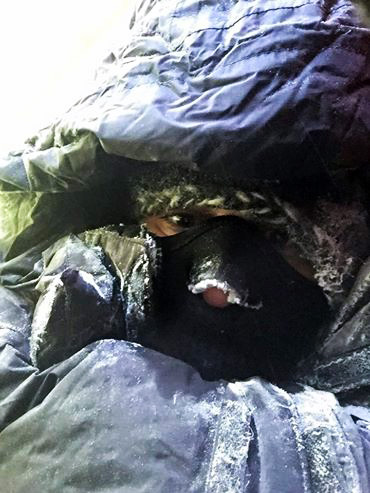 Slope Clear
The next morning the weather had really cleared up in terms of visibility, but the cold was just the same and the wind might have been even worse. Getting ready in these temperatures is the worst part of the day in my opinion but we both packed up and continued up the mountain.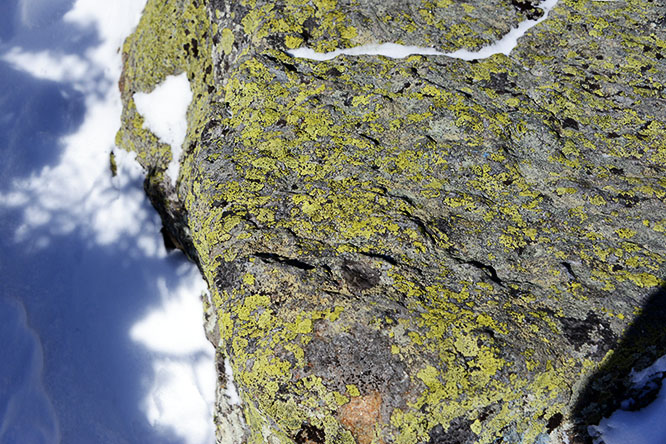 The terrain now was mostly little shrubs and rocks covered in green lichen. We still both found it amazing how any plant life could survive winters like this. The plants were also extremely annoying here because they'd act like trip wires buried in the snow. My friend actually was feeling very cold and on the way up one of his crampons broke and he was unable to continue. This was a bit depressing but the conditions were brutal and he had no choice but to stop. When we got off the mountain we found out that he actually had frostbite on his fingers and toes, but no long term permanent damage. At this point we made a risky decision and I decided to continue up alone to the summit of Mt. Madison while he descended to camp.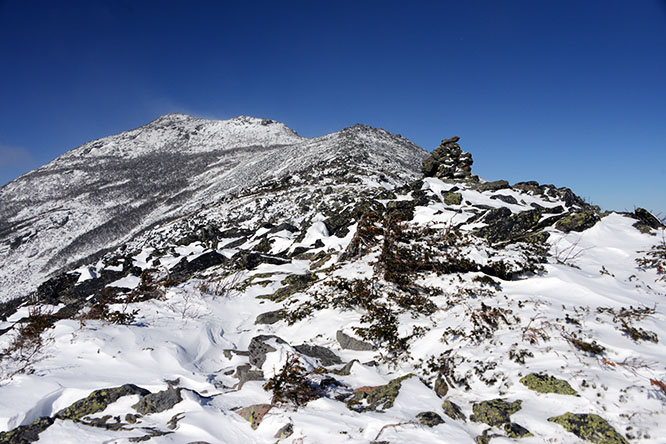 The views were absolutely amazing from the summit. You could see the entire Presidential Traverse and some of the other peaks nearby. Before we had gotten to New Hampshire we both knew Mt. Madison would be the hardest part of the trip because of the steep terrain. From this point forward, it's more gentle ups and downs and much easier to move in. The winds here were extremely powerful, and seriously knocked me down several times while I tried to take photos. It would be impossible to traverse the ridge in winds like that, so we would have had to turn down anyway at this point. No mountaineer would ever attempt to move in hurricane force winds along a ridge; especially when the ambient temperatures were 20 degrees below zero. I left a bit disappointed we weren't able to go further, but I regained the confidence of surviving in temperatures of -30F again and knew we would easily tackle this under less extreme conditions.