Visiting Boise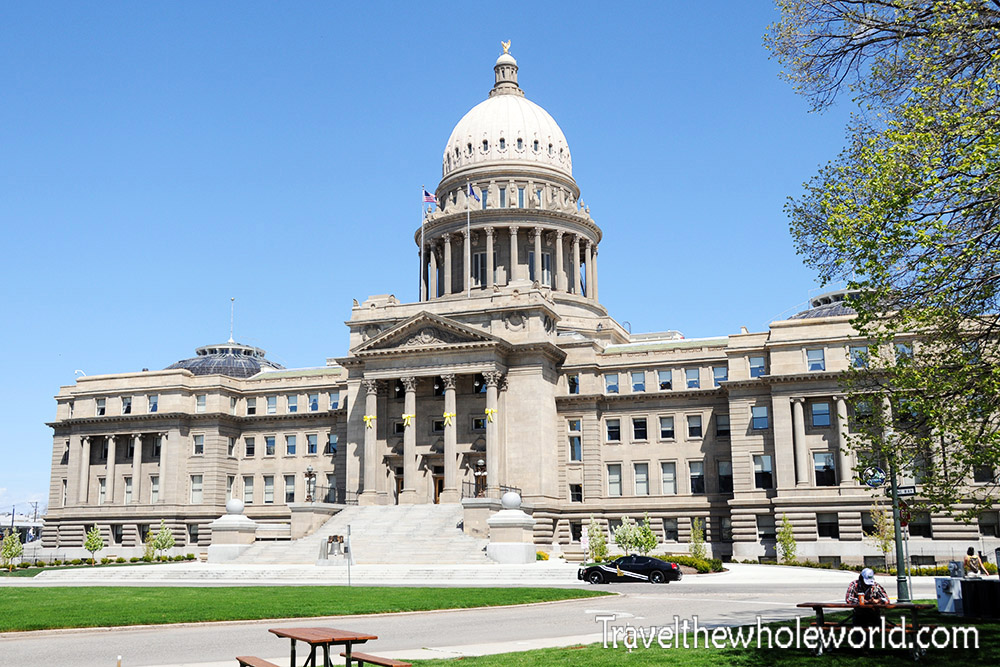 The capital of Idaho is Boise located in the south western part of the state, in a small valley surrounded by large mountains. My first photo is of the state capitol building, which is actually the third tallest building in the entire state! With a population of just 150,000 people, Boise is by far the largest city in Idaho, and as I discovered has a lot more to it than you'd think.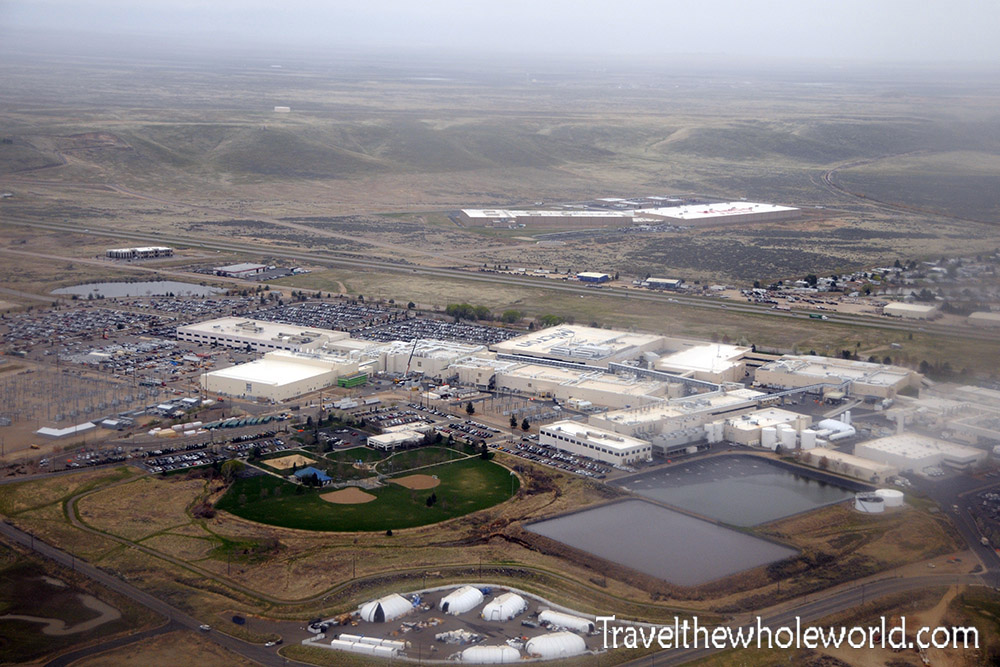 I've never been a big fan of work travel, but it was actually a business trip that first sent me to Idaho. I rarely travel for work, but of the few places they sent me, I'd say surprisingly Idaho was my favorite. When I first flew into the city, I immediately recognized this complex above as Micron Technology's headquarters, which is actually where I'd be working for the next few weeks. With companies such as Micron, Hewlett Packard, and other similar businesses located in the area, Boise has actually risen as a city known for advanced technology.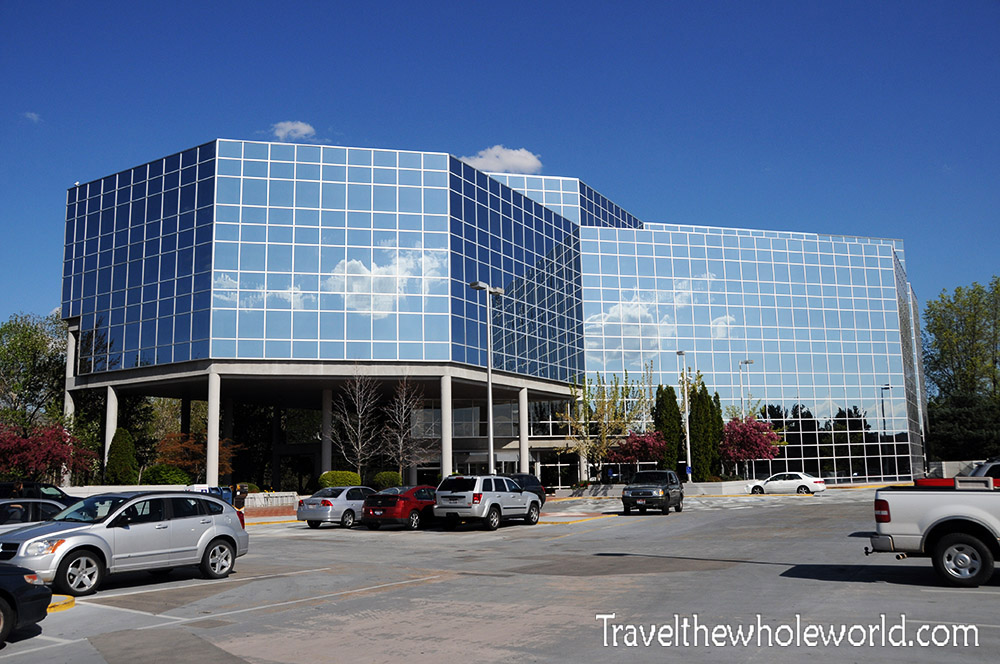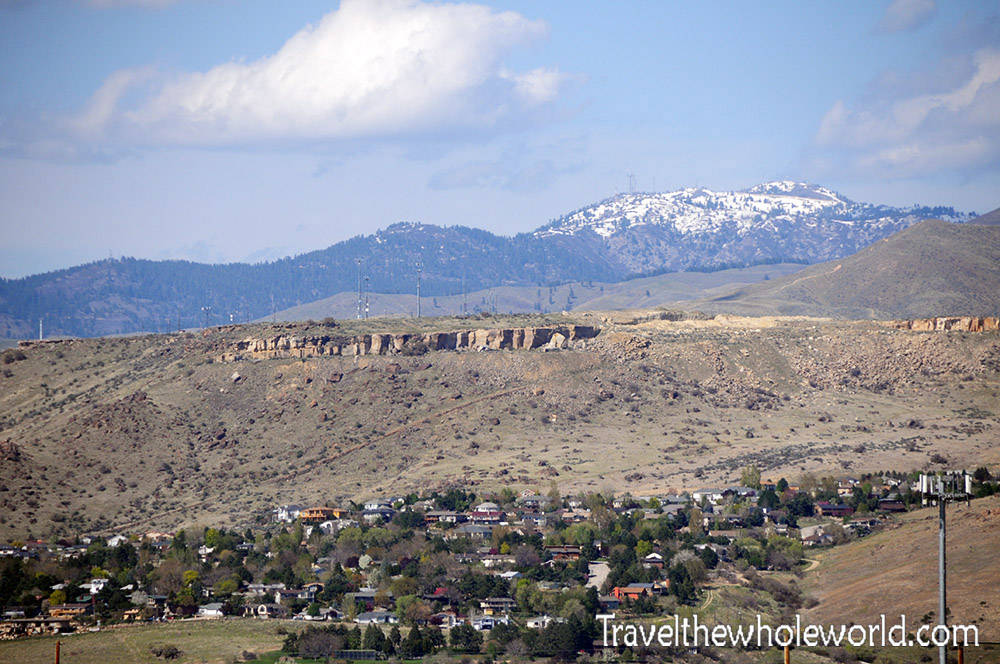 Aside from Micron, my next observation of Boise while flying in was that there were no trees! This photo above was taken on a warm April day, when temperatures were in the 80's (30C) in the valley, but as you can see there's still snow up in the mountains. The cattle grazing below were just outside Micron, and I think this gives you a good idea of what most of the terrain in the valley looks like. Since my first impression of Boise was there are no trees, I was surprised to see a sign in the airport declaring Boise to be, "A City of Trees".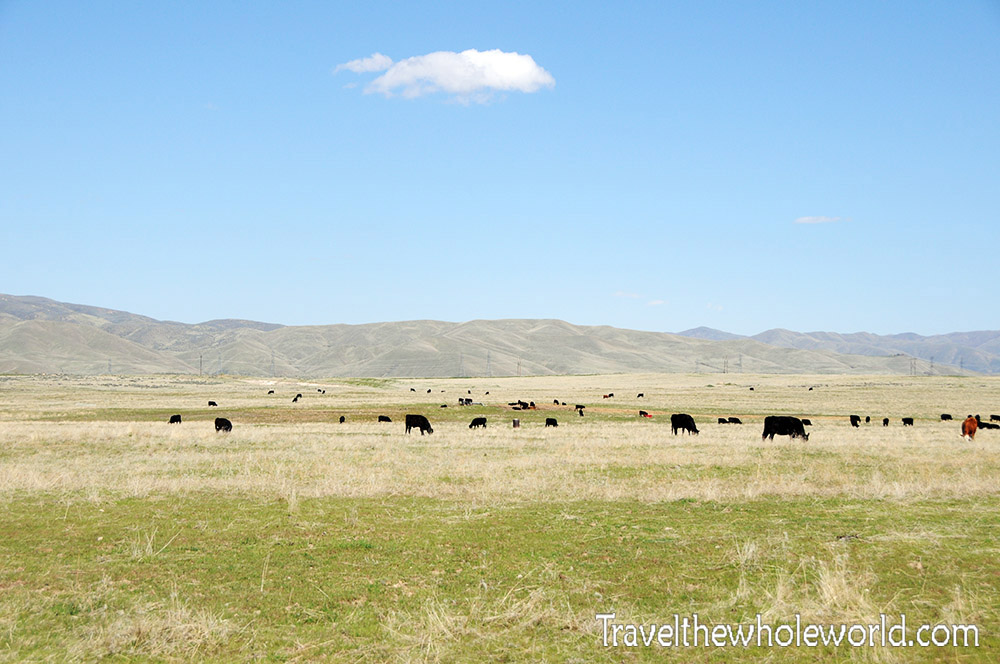 Later I found out that Boise comes from the French word Les Boise, which means trees. Supposedly some French explorers who were heading west and had seen nothing by grassland for days on end. Once they reached the tree lined Snake River, which now cuts through the city, they named the area Boise. Above is a statue I saw that showed the first Europeans meeting with Native Americans of the area.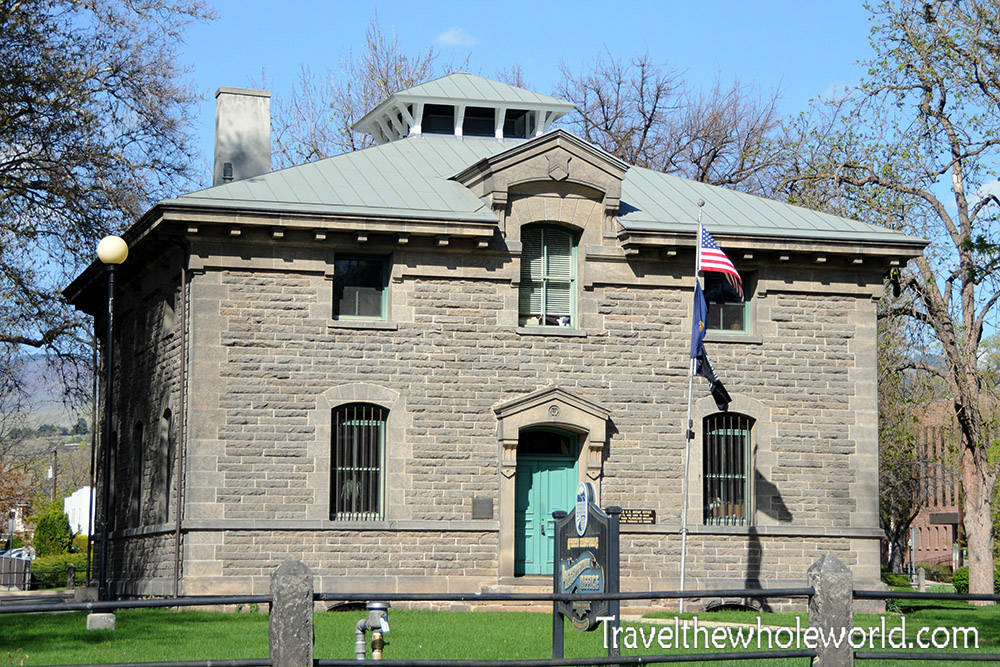 Idaho remained rural territory with a wild west environment for some time. As a matter of fact, this building was the first significant government building in the entire state, and it wasn't even built until 1871! California is most famous for the gold rush, but Idaho actually had one of the largest gold rushes in the country. In order to accommodate the rush, this building was constructed to help assay gold and minerals until 1933.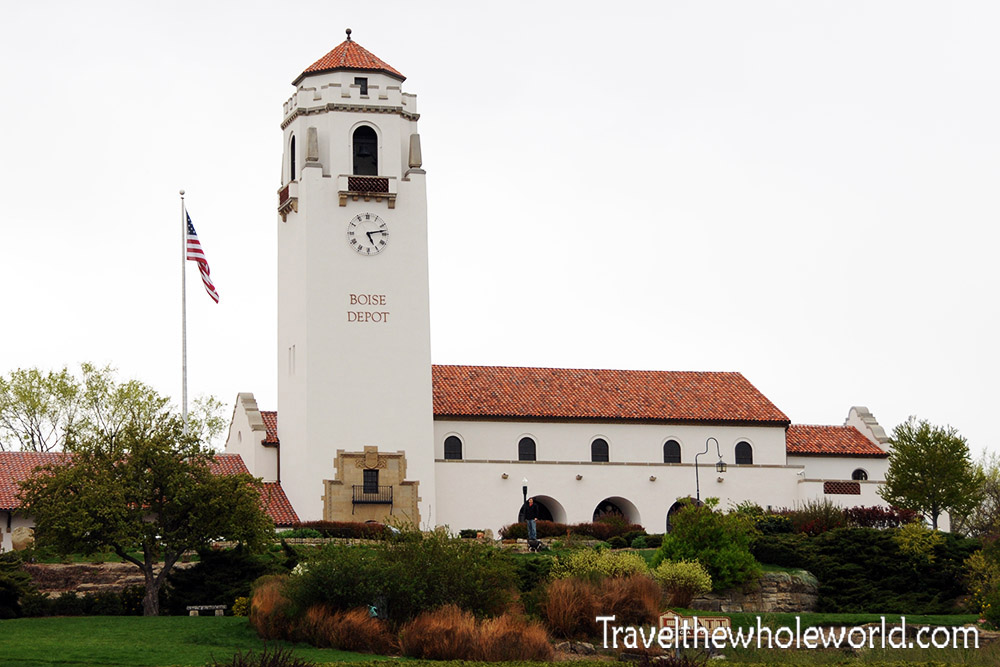 By 1900, Boise had grown significantly and had established itself as a city. In 1925, Boise added some identity to itself by having architects from New York design the Boise Depot. It serves several functions such as a wedding hall, exhibitions, and other possibilities for public use. I wish I had visited the Platt gardens which are on site, but I'll have to save that for when I return.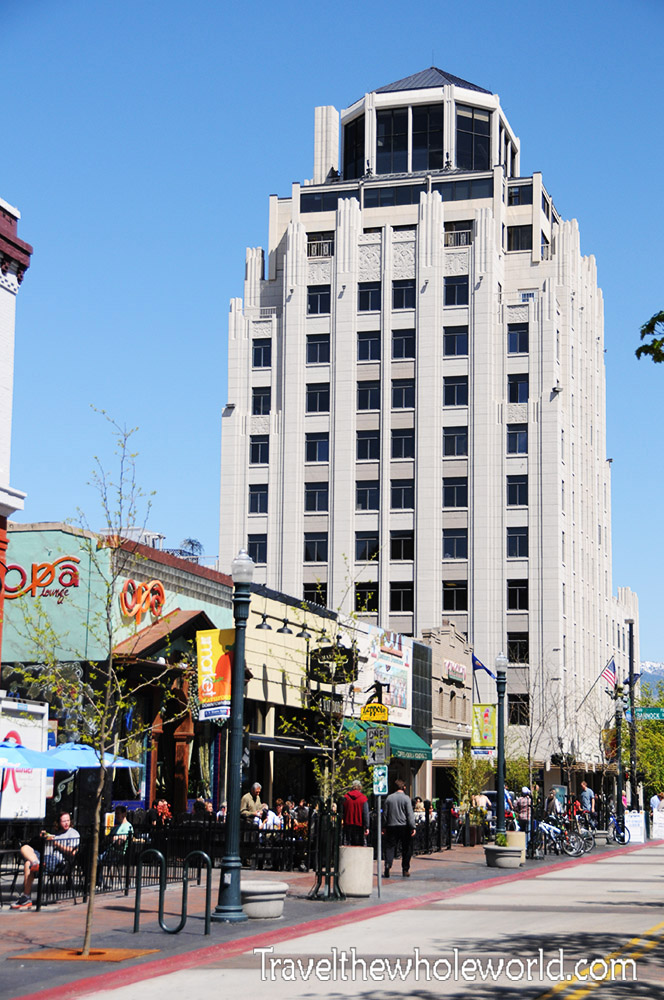 Idaho still has a rural image to it, along with the idea of vast potato farms. Luckily I have enough photos to dispel that nonsense. After visiting the capital building, I did some exploring around the downtown area. I wasn't sure what to expect, but I was surprised by how many people were out and about, and the variety of things to do here. This was probably one of the first beautiful days of the year, and almost all the restaurants and cafes were packed with people, especially ones that had outdoor seating. I even caught this mobile cycle pub that was zooming down the street.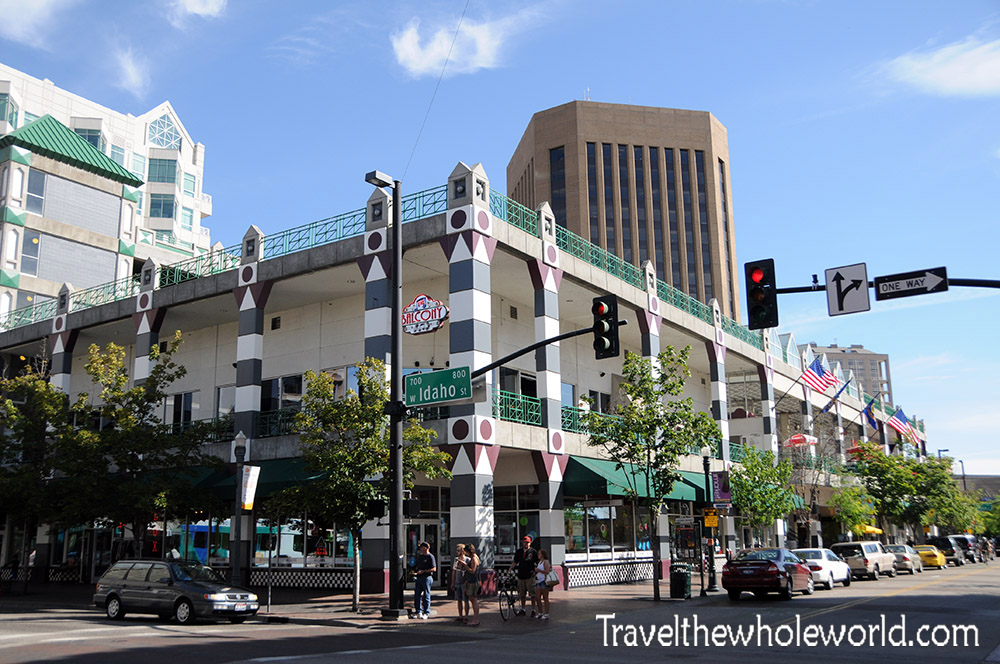 This photo shows a large mall in the downtown area called The Balcony. While walking around here I saw an older African American man wearing a suit with a cane and dyed red hair. I asked him if I could take his photograph but he declined. A short time later I showed up to a restaurant for some lunch and realized the man had actually followed me. He offered me his photo for $5 which seemed a bit ridiculous so I declined. In hindsight I think I regret it though, he definitely had an interesting stylish look to him!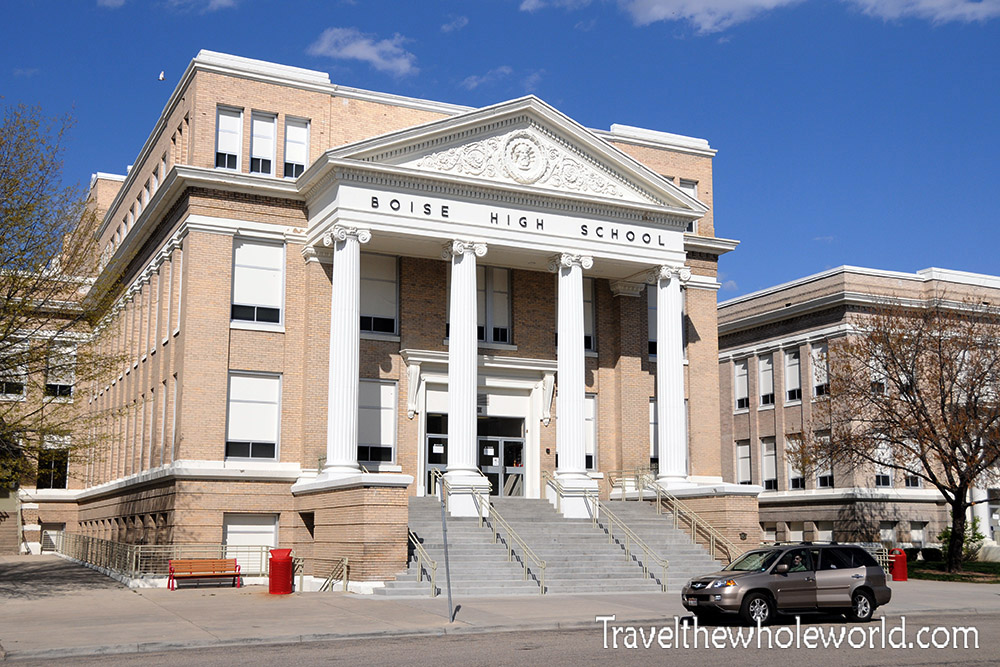 While walking around I came across this building, which I thought would have been some important government site or organization if it hadn't been labeled Boise High School on the outside. It definitely puts any high school I ever saw back home in Virginia to shame!
Next in downtown Boise I went to one of the Boise Art Museum. At the time they had an exhibition from created by artist Nick Cave. He created lost of highly decorated humanoids like the this example. I found them creative and interesting, and read that he was inspired by religious ceremonies from around the world. There's plenty of other museums in Boise, and I regret not going to the others since I definitely had the time!
Unless it's airfare, camera equipment, or outdoor gear, I generally dislike shopping. It was hard to miss some of the interesting stores here, and since I was traveling with my girlfriend I got pulled into a few. She described the area as a bit eclectic, with maybe an example being this hand made jelly fish outside. The woman inside the store told us they were created by some non profit group in an attempt to protect the world's oceans.
Like the store that was supporting non profits for protecting the oceans, Boise surprisingly seemed to have a lot of people who were driven to using renewable energies and global activism. This random building I came across proudly states that it is using natural geothermal heat as energy. Boise has the largest geothermal system in the United States, with over 20 miles of pipeline that is used to heat both buildings and homes.
In between the buildings I found some large areas of Boise that completely spray painted. Art museums cost money, but if you're on the cheaper side like me you can find all the free art you want here. What would normally be an ugly boring set of alleys filled with dumpsters has become full of creative and political murals. I'm not sure how the murals are organized as far as who gets approval to paint here, but they have a pretty diverse range. The one below was very interesting to me, I assumed it was supposed to show the liberation of women in Afghanistan, although the woman in blue looks a bit western to me!
Here are two more murals that had some inspirational messages. In addition to these murals, I saw some interesting people here. This included a group of five guys who had completely painted their face different colors. I'm not sure if they were supporting some sport team that I didn't know about, or if they were maybe trying to start their own gang in Boise.
Even though I spent a significant amount of time in Boise, there are still a lot of things I didn't do. The rest of this page is mostly random photos, except for the Birds of Prey Conservation :). Around the graffiti area of Boise I came across these two kids who had a not so creative sign. I had a quick chat with them, but didn't really ask their situation, if they were living in Boise or just hitchhiking their way west. I imagine its so cheap in Boise that they probably could have afforded to live in one of these trailers below and support themselves on panhadling!
Something I didn't know about until I arrived to Boise was that they have their own horse races at Les Bois Park. The only other horse race I've been to as an adult was the Kentucky Derby back in 2010. The race track here is a good time, with lots of food, beer, and gambling. I don't remember how I did in Kentucky, but I'm proud to say I left Les Bois Park with a 400% return! Of course I only bet one time and that was just $3, but nevertheless I felt happy leaving successful and the extra $9 will go towards the $65,000 I need to climb Mt. Everest. I took several photos here, but somehow I lost all the originals and was lucky enough to find these resized versions.
As I mentioned in the beginning of the page, Boise was built around the Snake River, which is actually the largest river in the North American continent. I visited the Snake River in the eastern part of Idaho while in Twin Falls as well. Both in the eastern and western parts of Idaho, I was surprised by how powerful the Snake River is. It might look peaceful in the photo above, but when you can get close enough, the speed at which it flows is amazing! I assume that a few days of rain combined with warmer temperatures which means melting snow in the mountains resulted in a more swollen and powerful river. In the photo below, you can see that the river appears to be overflowing and has widened enough to cover take over parts of the surrounding woods.
These pictures might look like they are outside the city, but I actually took them within Boise. The mountains are close enough to the city that you can find some wildlife without traveling far. The Prairie dog above is pretty common out west, but I don't think I've ever seen a Chukar which is photographed below before! It reminded me of Guinea Fowl that you can't miss when visiting any wilderness in Africa.
My favorite place to visit in Boise was the Birds of Prey conservation. As Idaho is is one of the densest places in the world for raptors, it made sense for the 580 acre World Center for Birds of Prey to be headquartered here. While the headquarters is in Idaho, the non-profit organization operates all over the world and is dedicated to educating people on birds, and saving them from extinction. Above and below are two stuffed birds they had in their museum. The bird above is a peregrine falcon, while below is a barn owl.
These next birds are very much alive, though I felt like some of them looked almost fake with their colors and strange blank expressions. These birds were taken in by the Birds of Prey conservatory and for various reasons. The bird above is a turkey vulture which lives across the entire United States. Below is an ornate hawk, which you'll not be able to find anywhere in the United States. I'm not sure how this guy ended up so far from home, but they are mostly native to tropical forests from southern Mexico south to Peru and Argentina.
And last, I have this California condor which I found to be the most unique of all birds here, but maybe not the most attractive! The California condor is the most endangered bird in the North American continent. When I visited, there were only a bit more than 200 California condors left in the while, but through conversation programs their numbers have been slowly growing. Even though they are named after the state of California, they have other populations established on the Utah and Arizona border, and the Sierra de San Pedro Mártir mountains in Mexico.