Climbing Mt. Whitney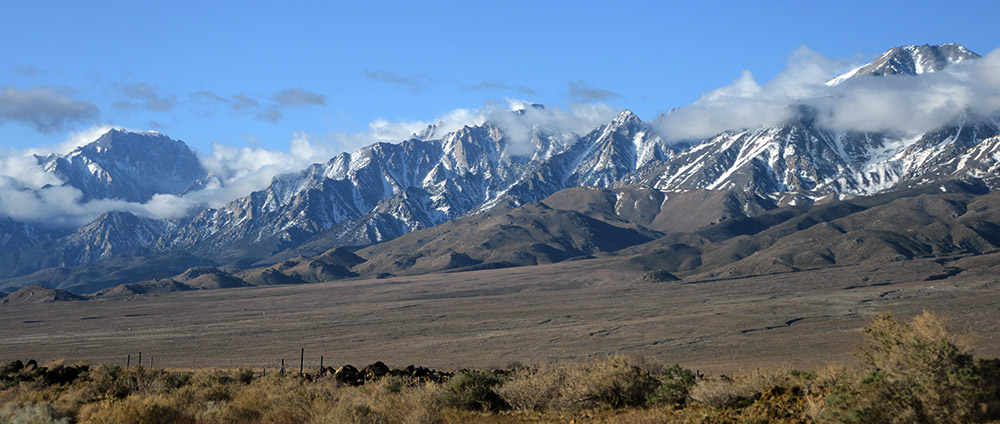 With the Rocky mountains usually dominating most American's thoughts of mountains, California's High Sierras are often overlooked. Not only does Mt. Whitney top highest point in the Rockies, but the High Sierras have a much higher vertical rise around the surrounding plains. The Rockies generally sit on a plateau at 10,000 feet (3,000 meters), while the base of the High Sierras start at around 6,000 feet (2,000 meters). Here are some fantastic views of California's biggest mountains, taken straight from the highway!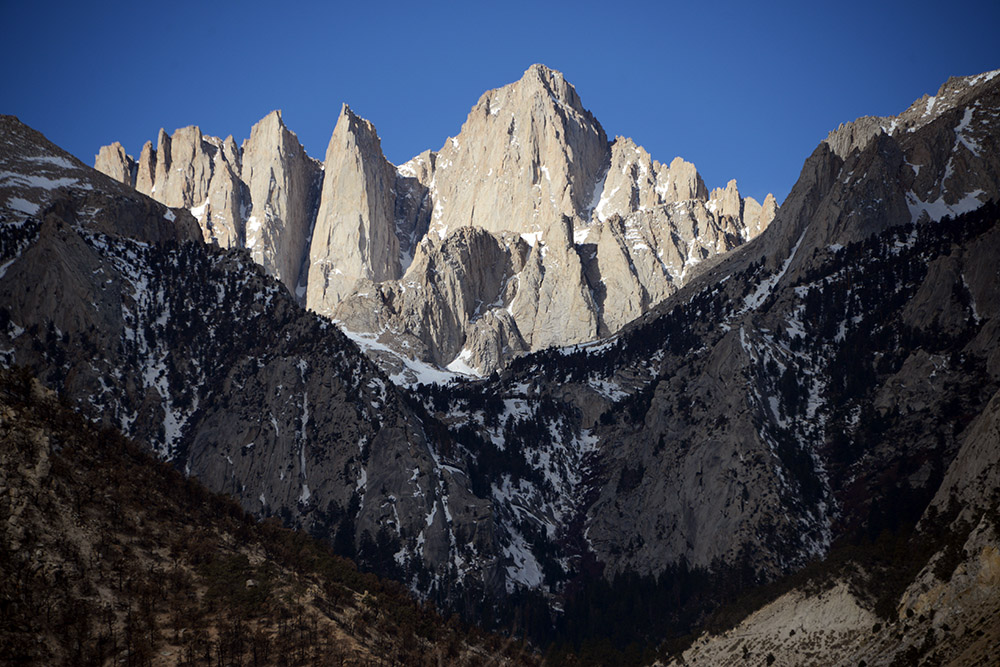 One of the best things about Mt. Whitney is how easy it is to get great views of the mountain. The high points of Montana and Wyoming for example, require days of hiking just to glimpse the peak, while Mt. Whitney is easily viewable from roads and campgrounds at the foothills of the Sierras. This photo shows its dramatic western face, which has several vertical climbing routes. The normal trail actually is a hike that wraps around the backside of the mountain, but my friend and I decided to do the mountaineer's route which goes up a steep couloir see in the shadow above.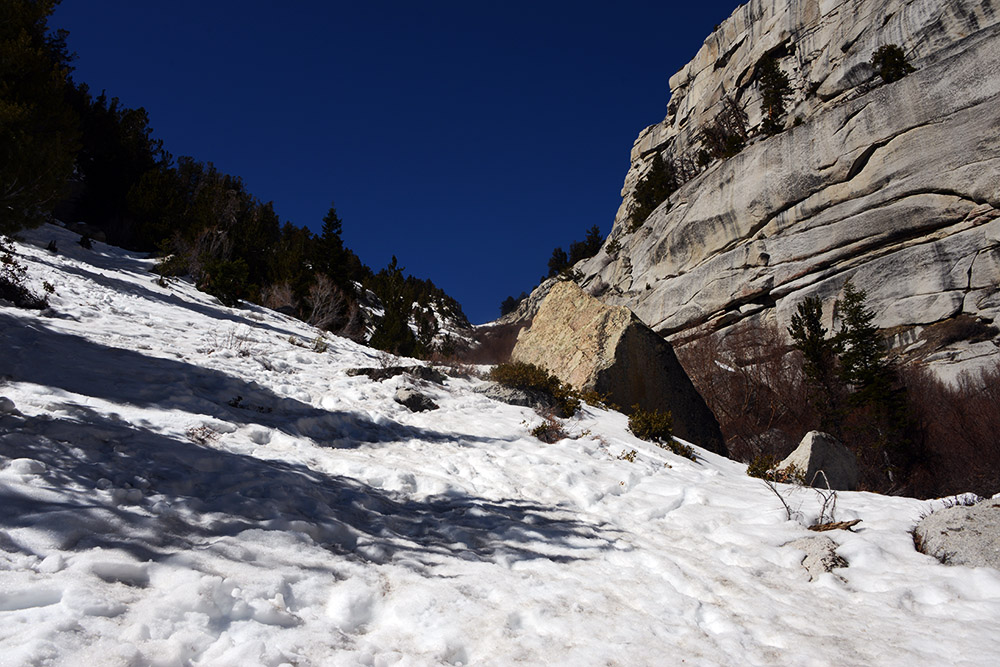 I must admit, I was so busy in the weeks leading up to this trip that I showed up to Mt. Whitney in less than desirable fitness. Of course by now I know what I can get away with, but the slog going up to high camp wasn't that fun. To be fair most guided climbs go up the mountaineers route in four days in order to break up the hike and help acclimatize. Any fit party can easily do it in an overnight trip as we did, but in my case I was certainly pushing it. The terrain was a bit unwelcoming, since the severe drought left pockets of waist deep snow as well as hard ice leading high camp. Incredibly its only four miles (six kilometers), but with the huge vertical gains and challenging terrain it took most of our day.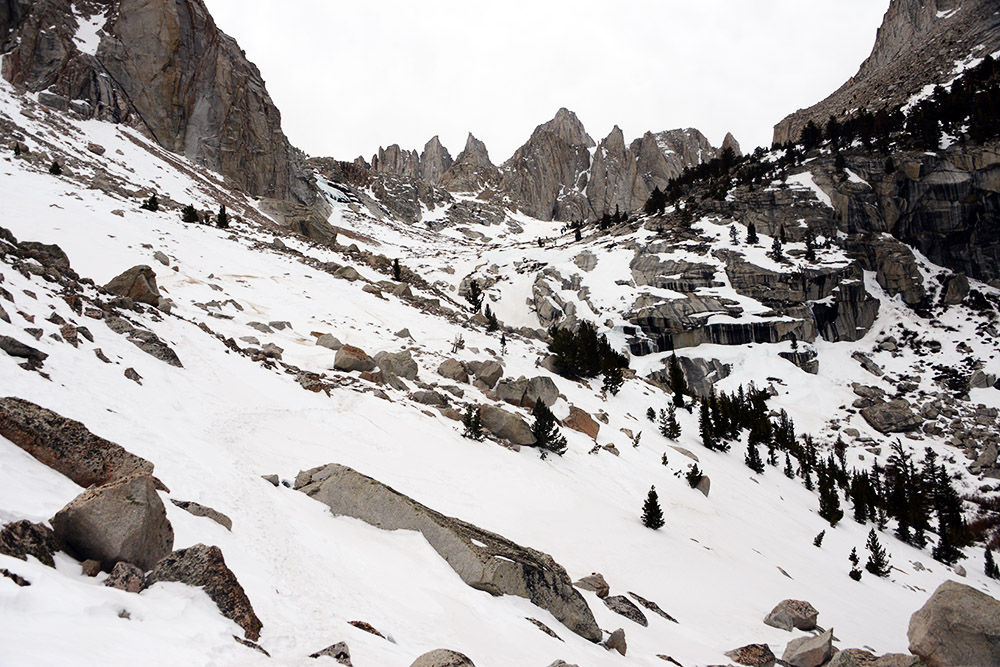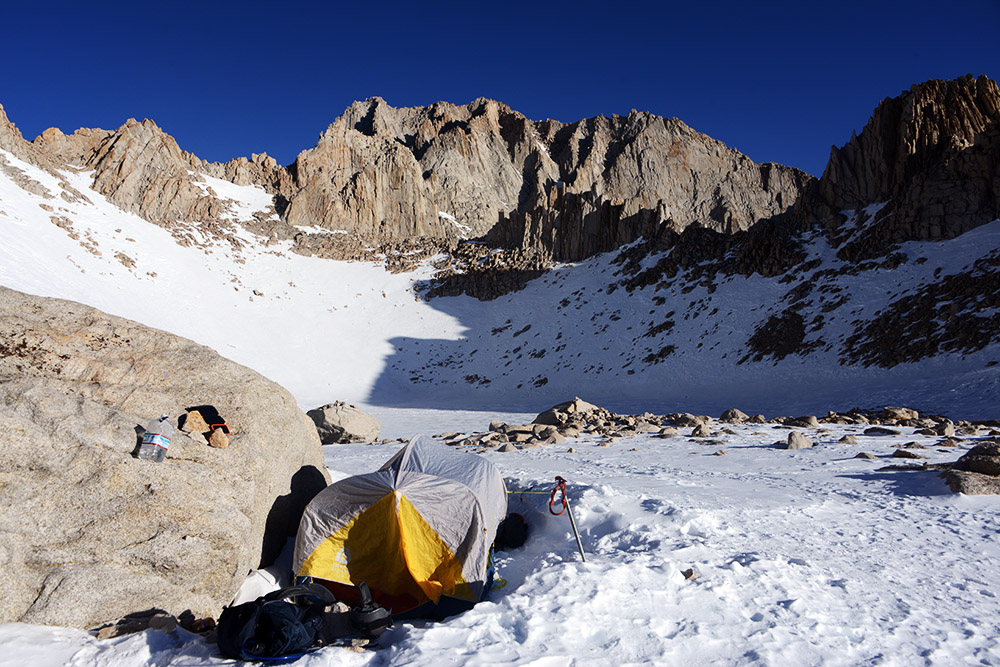 We made it to high camp in good time, pitching a tent right below the base of Mt. Whitney. Our camp was located at 12,500 feet (3,800 meters), giving us only a half vertical mile to climb the next morning. During the night, I regretted saving money on baggage fees by bringing a summer tent and summer sleeping bag. When the sun was out it had been uncomfortably hot, but in the middle of the night temperatures went down into the single digits!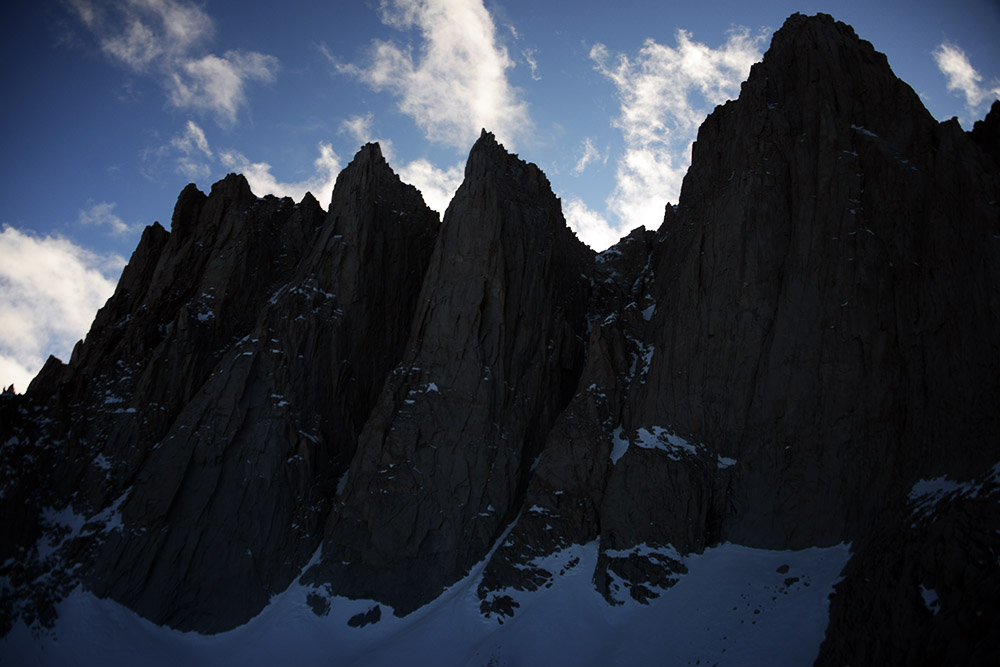 From our camp, we could see Mt Whitney and its adjacent peaks, Keeler, Crooks, and the third Needle. We had been a bit intimidated by the couilor, but after seeing it in person weren't so worried. Some photos make it look like a vertical line, while the snowy chute seen below looks flatter than it actually is in the photo below.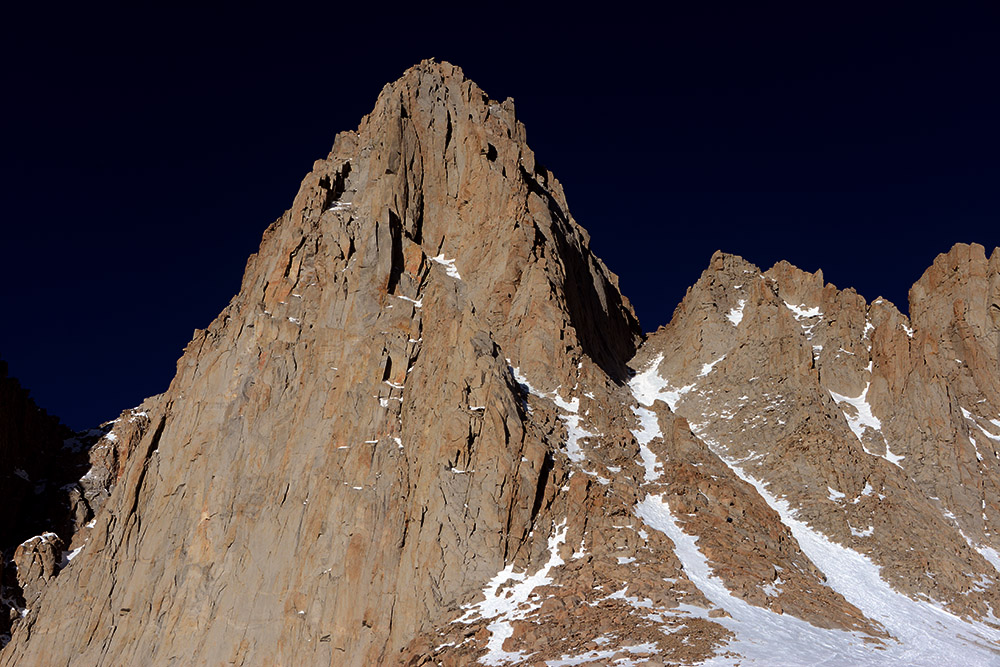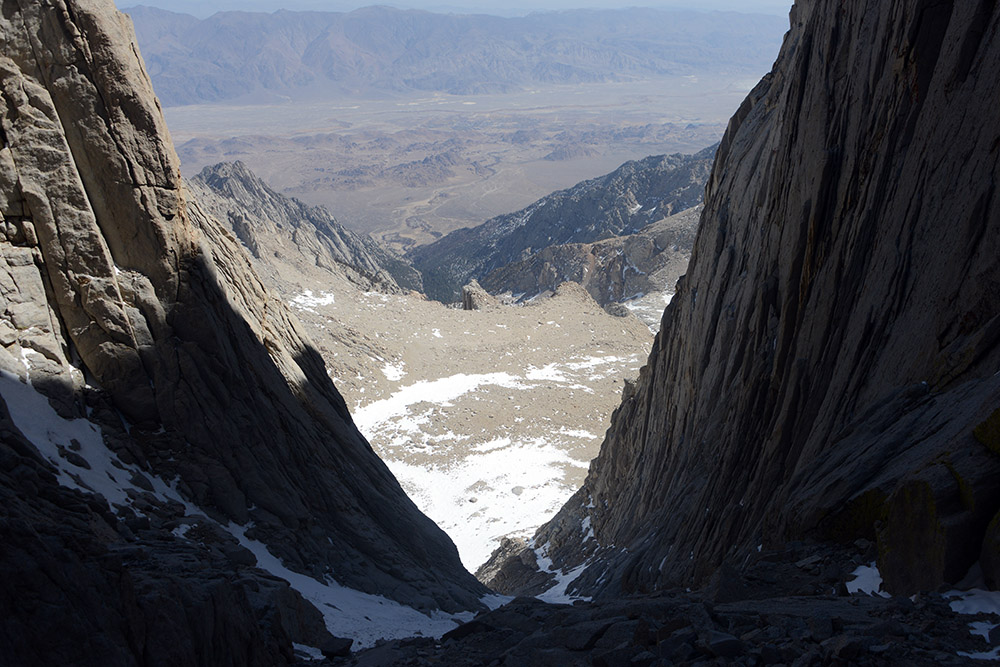 We saw no need for an alpine start considering the weather was forecast to be good, and we only had 2,000 feet (600 meters) to gain. About an hour or so after sunrise, we started up the couloir, the crux of the mountaineers route. Normally this route will have deep snow in the winter, which makes it very easy to sink your ice ax into and self arrest. Because it had been so dry the past few months, all we had was very packed but thin snow. It was great for our crampons, but our ice axes would only go in a inch or two before hitting rock. For this reason we decided it'd more difficult than usual to self arrest and that there would be no benefit for us to rope up together. Above and below are two shots from the couilor.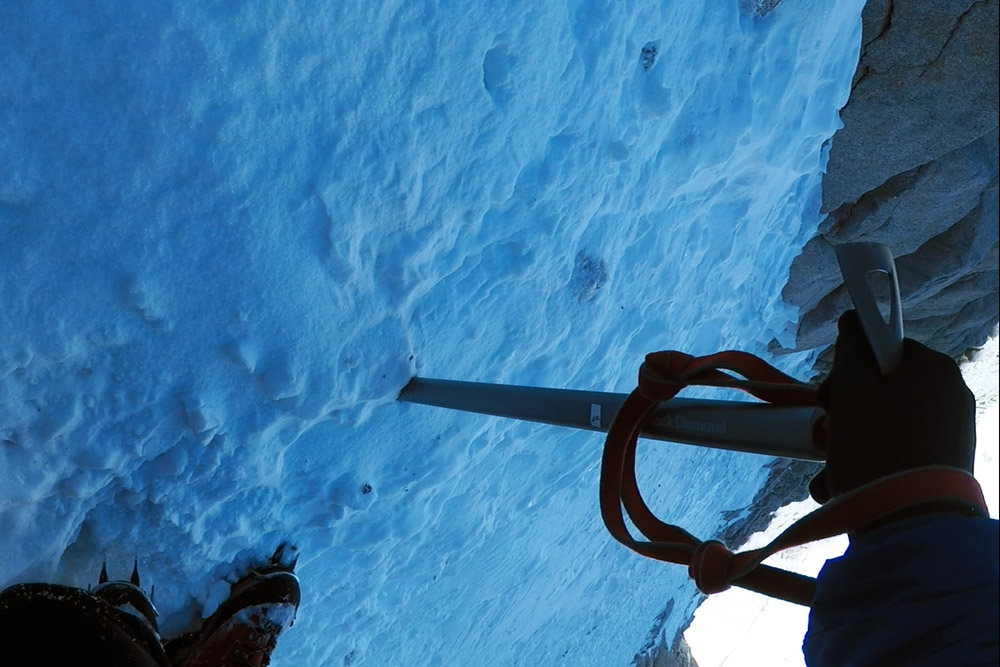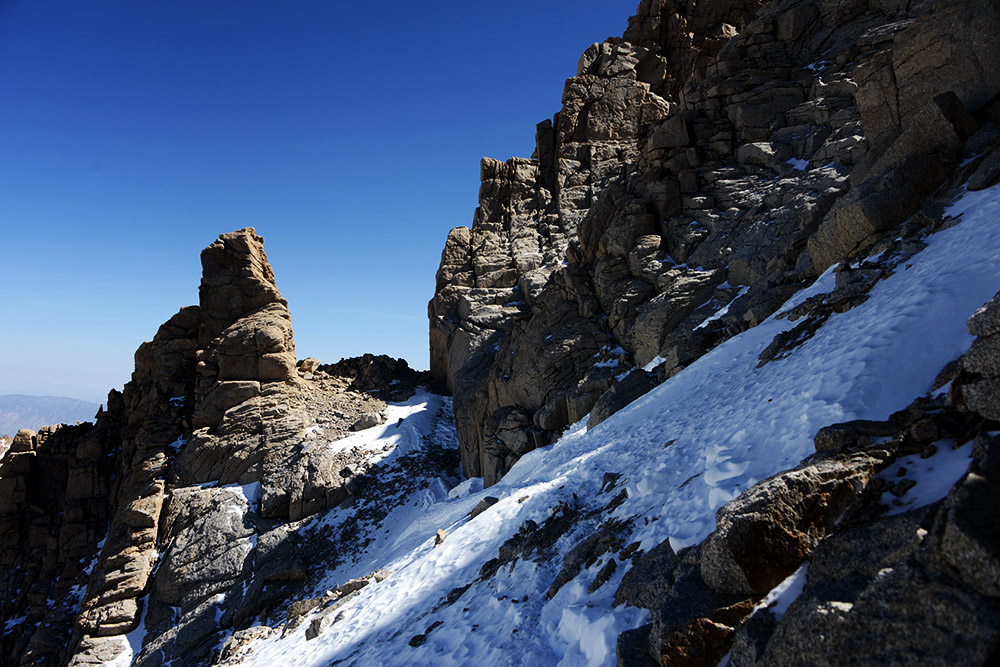 The couloir actually goes a long way. I'd say a good two thirds of your summit climb from camp will be going up this thing. One you top out, you'll hit the notch seen above after passing through it. Then you do a little exposed traverse seen below. I had assumed that from here there would be a straight shot to the summit, but you actually do a short down climb before an easy scramble up. By now you are over 14,000 feet.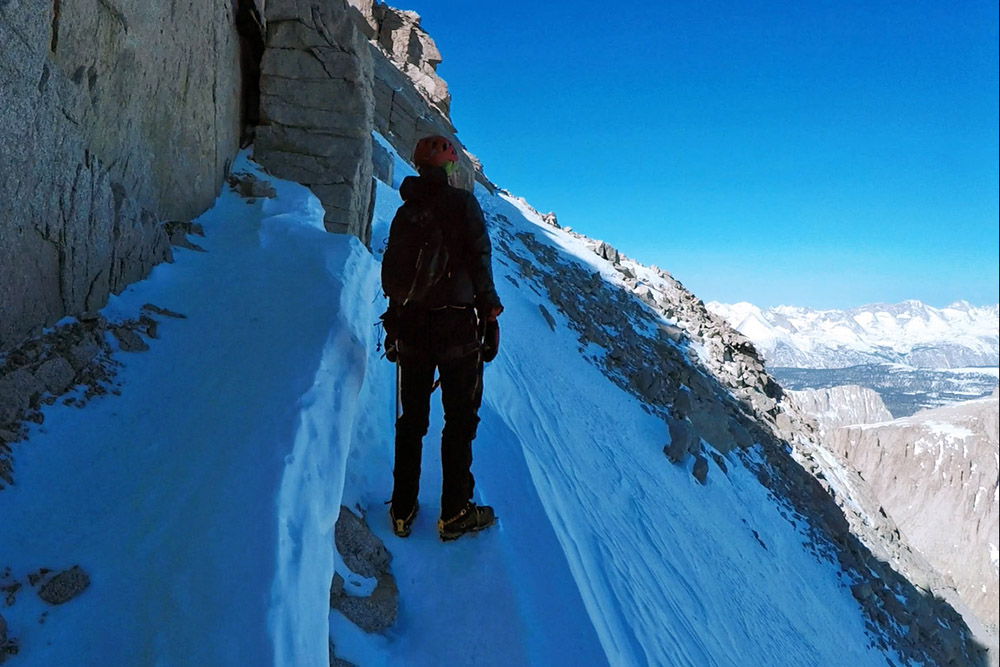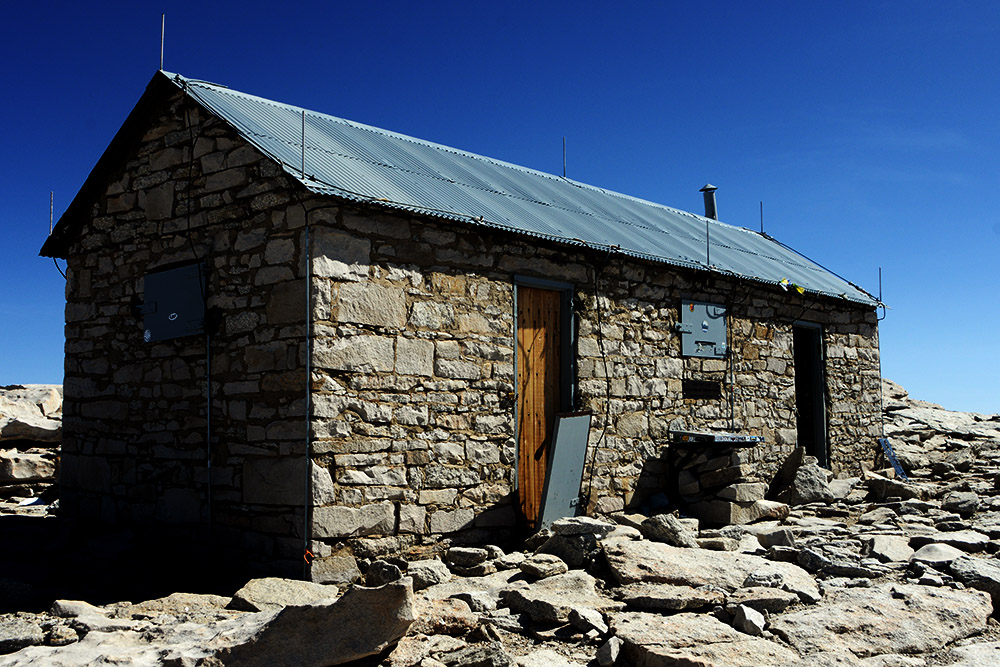 After the scramble you'll reach the normal hiking trail, which is literally a path lined with rocks on both sides. Crazy enough, there is a shelter built at the summit, which is likely the highest building in all of North America. Snow had taken over some of it, and my understanding is some were staying here during the summer and were killed in a lightning strike, so it might be for emergency use only.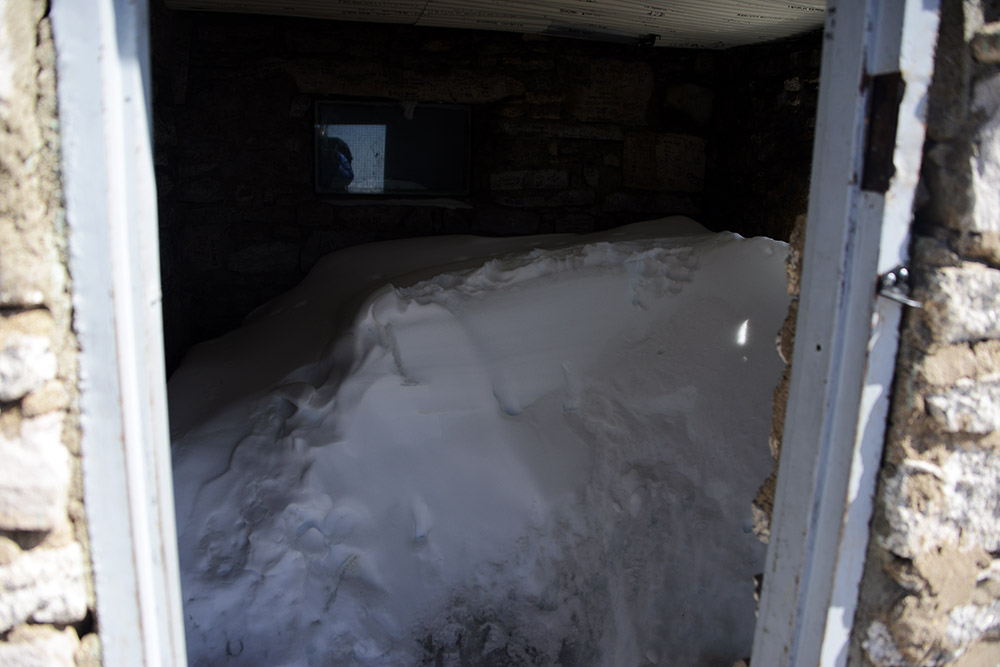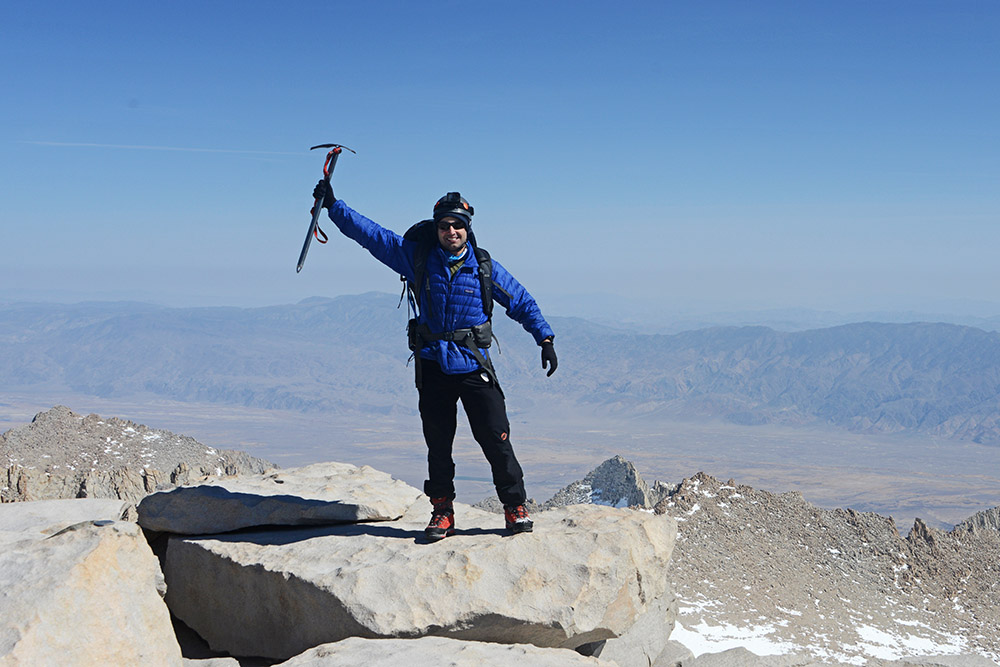 About two and a half hours after leaving camp, we reached the highest point in the continental US! Mt. Whitney stands at 14,505 feet (4,421 meters), and marked roughly halfway on my goal to reach the highest point in each state!