Visiting Benin's Coast
Along the southern coast right before you get to the actual ocean are plenty of rivers and freshwater swampland. This home built on the left was right in the middle of a large swamp. I'm not sure what the thing is on the roof but it honestly looked like some type of scare crow. Come to think of it, it very well could have been some type of voodoo to ward off evil spirts. In the same village was this guy on the upper right going fishing or crabbing. Fortunately for him, there are no crocodiles in these waters so he can just dive in and drag his nets behind him.
As someone who loves the outdoors one of my favorite places to visit along the coast was the mangrove swamps. Most other mangrove swamps I had visited had large trees along muddy waters and for whatever reason they all seemed to be home to giant lizards. This place was more of a viney entanglement coming out of the water that was covered in crabs. As soon as you enter the mangrove forest it gets pretty dark, the two photos above were taken with flash. I'd estimate the ceiling in the right hand photo to be about 10 feet high. Below you can see some of the crabs climbing on the vines and line returning as we got closer to the exit.
Along the entrance to the mangroves and along the river banks are these bright green floating lilies. Crabs also seemed to like hanging out on these as well.
By the time we exited the mangrove forest the sun was pretty much up and everyone was going about their daily business. I even managed to come across a boat packed with kids on their way to school. The boat they were using is the same type I was in, a dug out canoe made from some of the large trees in the area locally called a Pirogue by the French word. They passed by us and waved before disappearing into the fog.
From the Mono river I came across many people fishing and catching crawfish and crabs such as the young kid on the left. He showed me his catch which was only about a handful of crawfish. I also went to their actual village and saw a room where they kept about a dozen of these large rodent creatures. I forget how to pronounce the name in their local language, but one of the locals told me this would translate to English as "Grass Cutter". On my drive from Niger through Benin I had seen some of these for sale along the side of the rode in the northern parts of the country. All of them were flattened as if they were road kill and their legs and fur spread out over sticks in a large square. I even thought they were flying foxes for a minute when I first saw them!
Back in the village I found out what these women with large baskets over their head were carrying. One of them was nice enough to put it down and show me its contents. With the hundreds of crabs I saw in the mangrove forest there seems to be an infinite source of food for this village. I can't ever imagine them being caught and their numbers at risk.
Like most areas of Benin, this region has it's own king as well. I'm not sure how large of an area this king covers but I saw his portrait drawn on the left. I was told he was currently visiting the capital Cotonou for business. And of course being along the voodoo coast, this village also has a voodoo spirit to protect its people.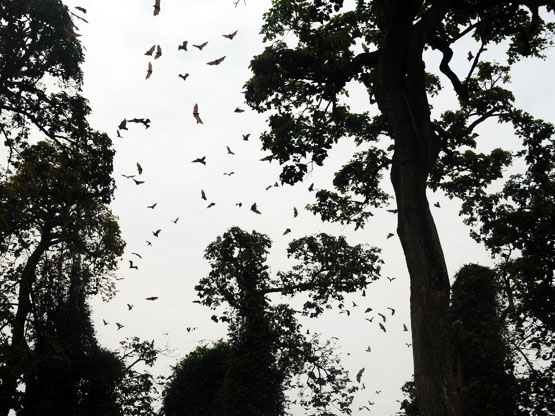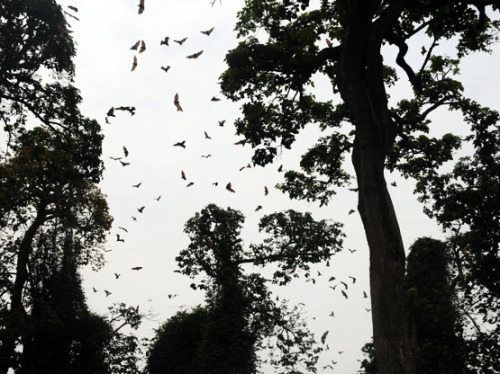 After driving from the northern most part of Benin to Cotonou I can say that I wasn't feeling it for an eight hour drive to Pendjari National Park. Here you can see lots of African wildlife such as Elephants, lions if you're lucky, baboons and monkeys, and hundreds of other species. This is by far the most important part of Benin that I missed. The only wildlife shots I can share are some enormous flying foxes seen on the left. I saw these guys in Niger as well and got a close up shot of one. Until I go to Pendjari, I can only offer the bats along with a giant millipede and a kingfisher.