Summiting Denali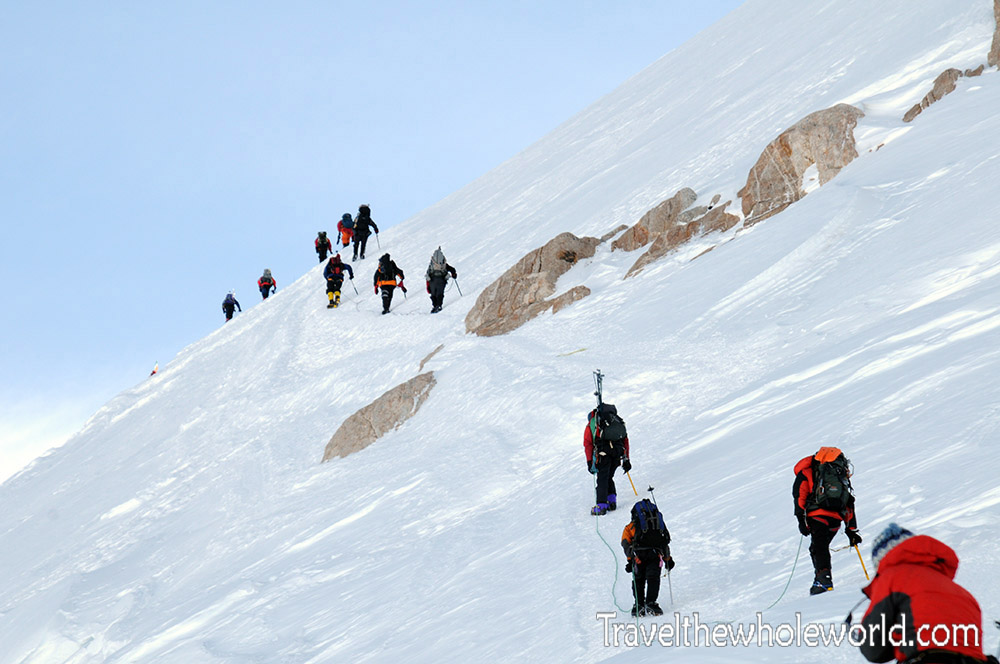 Day 20 was nothing but waiting in our tents during another nasty storm. In a brief clearing I went outside to find that the Denali god had destroyed the statue people had worked so hard to build. Day 21 was supposed to be another stormy day, but not as bad as Day 20. When I woke up that morning we had the strongest winds I have ever experienced in my life, with gusts of up to 70-mph (110-kph)! Thankfully we had built double ice walls on Day 18. With food and time running out, tomorrow was our last day regardless of weather. We would either summit or head home if the weather allowed us. I anxiously woke up on Day 22, got dressed and stepped outside my tent to find clear skies and the slightest breeze. We put on our warmest clothing, stuffed our packs with emergency gear and food, and began our attempt for the summit; something we waited over three weeks for. Our first day's challenge is photographed above, named the "Autobahn" after several German climbers slid to their death. From a distance I didn't think the Autobahn looked dangerous, and even while traversing it didn't seem bad. As it has taken several lives, it's clearly more dangerous than it looks.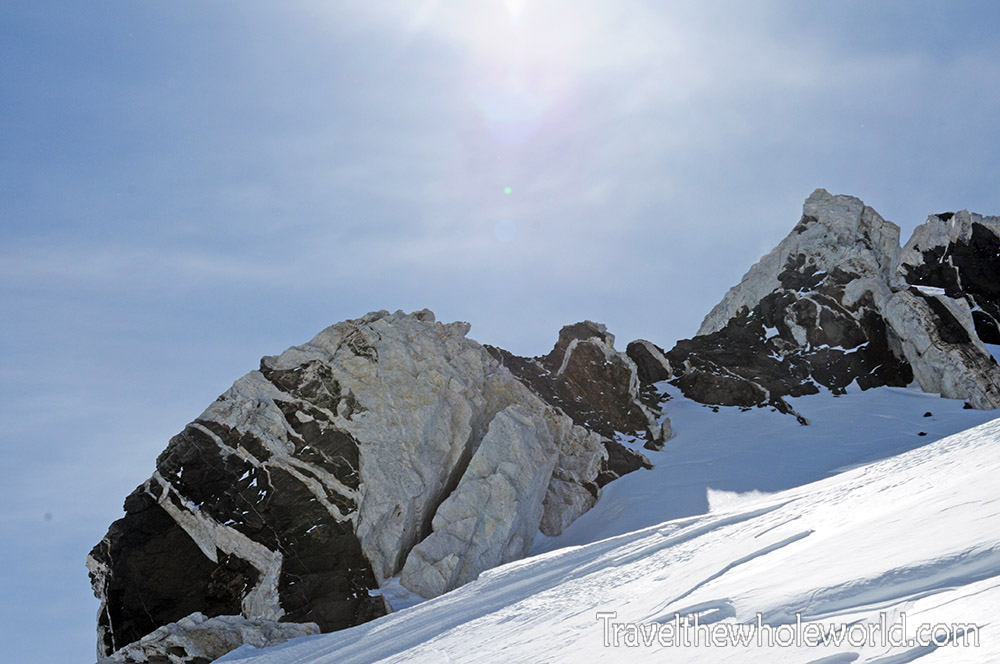 After a couple of hours on the autobahn we reached Denali pass at 18,000 feet (5,500 meters). Denali pass is a natural venturi, which brought us 50 mph (80 kph) winds that made it difficult to move. I had hoped the strong winds were just in the pass and that it would be calmer once we passed it. We made a brief stop and our guide told us the winds were too powerful and that he didn't expect to be able to summit. My heart immediately sank. It seemed much of this mountain had been an emotional roller coaster for me. There were times I was confident everything would work out and I'd summit, and other times everything seemed so hopeless. Another hopeless moment. Now that we were hours from the summit it seemed everything was falling apart again. We decided to go through Denali pass and continue a little bit higher to see what the winds were like. Above Denali pass is Zebra Rocks. As I approached Zebra Rocks, each step I took seemed to make the wind speed drop down a notch. By the time we were directly in front of Zebra Rocks we had entered calm blue skies again. Above is a photo I took as our team approached Zebra Rocks. Below is another expedition ready to rope up and continue the climb to the top of the continent.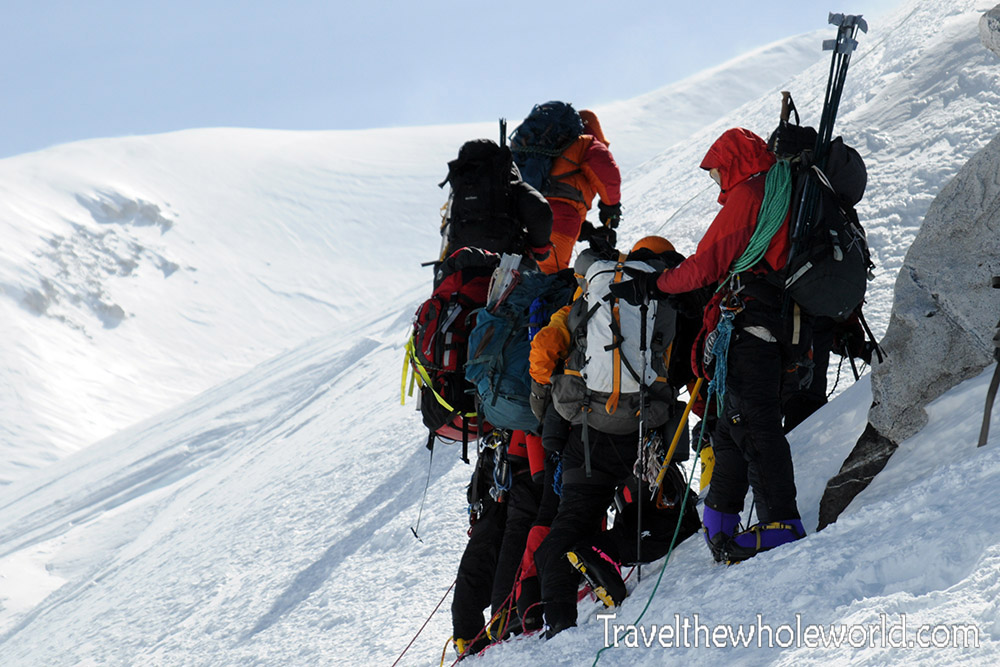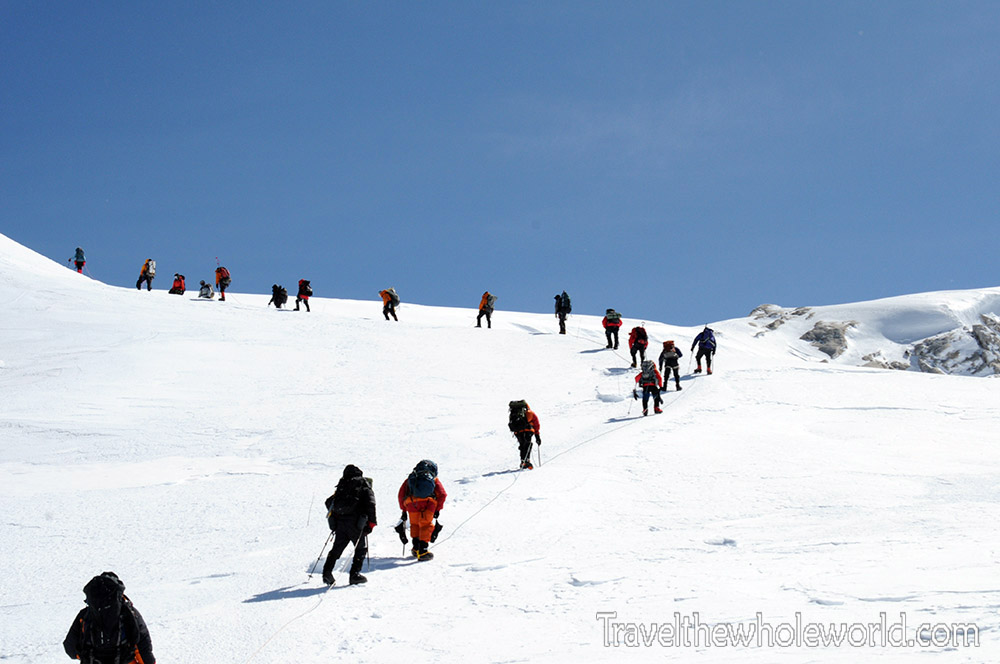 Passing Zebra Rocks put us close to 19,000 feet (5,800 meters). The terrain suddenly became much easier and was relatively flat. This photo above shows the backlog of climbers all attempting to reach the summit after being weathered in like we were.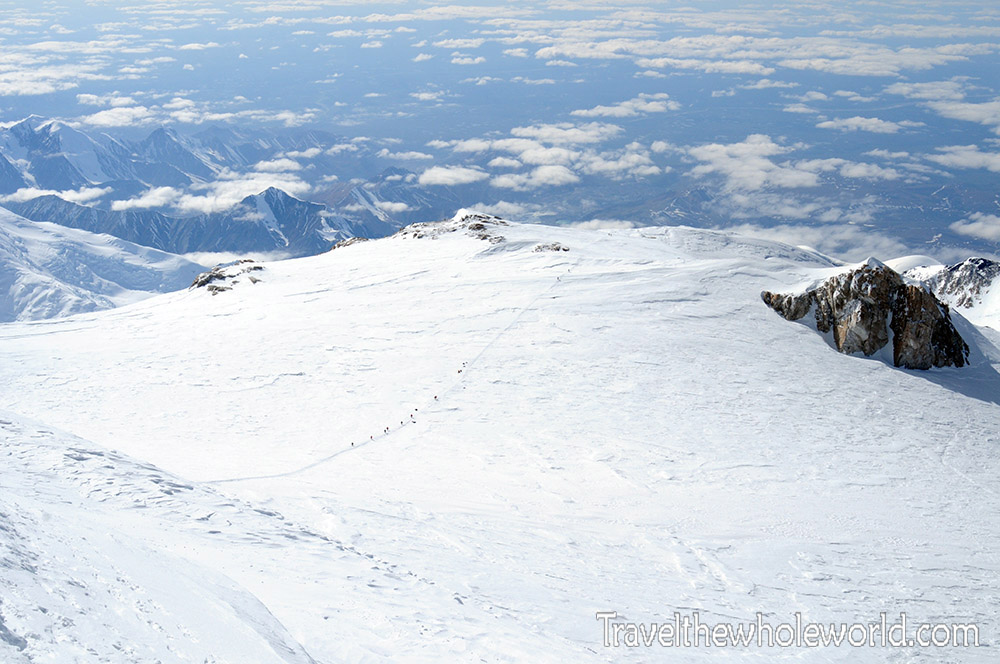 Once past a few more hills you'll reach the famous football field. This is a flat area where many people take a final break before heading up to the summit. As a matter of fact, several climbers including ourselves even decided to leave our packs here.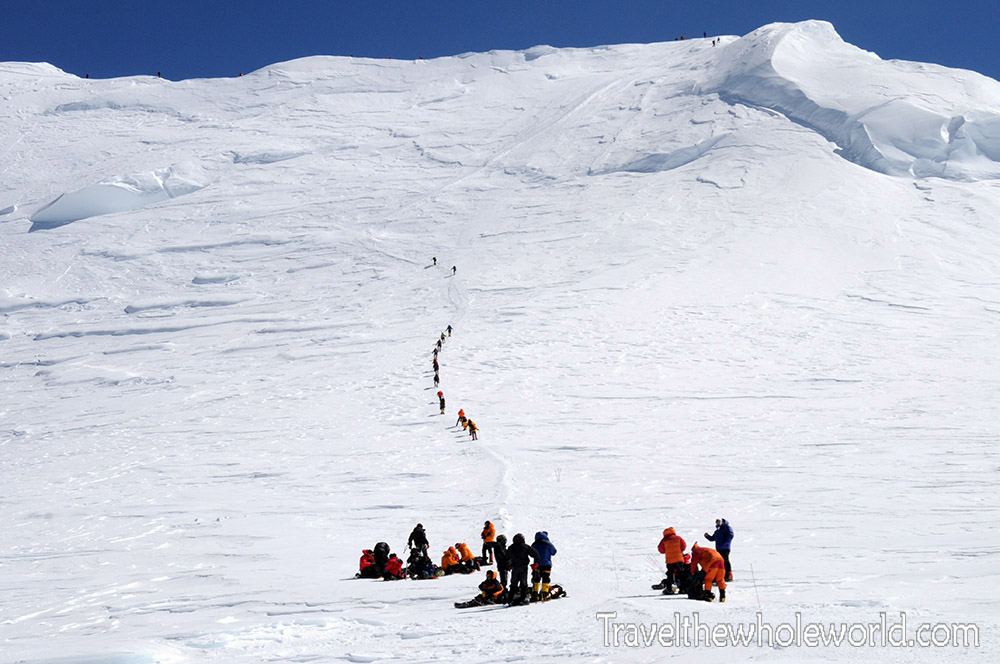 Above is another expedition that was also taking a rest next to us. The hill above them is known either as pig hill or profanity hill. It doesn't look that difficult but definitely takes a lot of energy as you approach 20,000 feet (6,000 meters).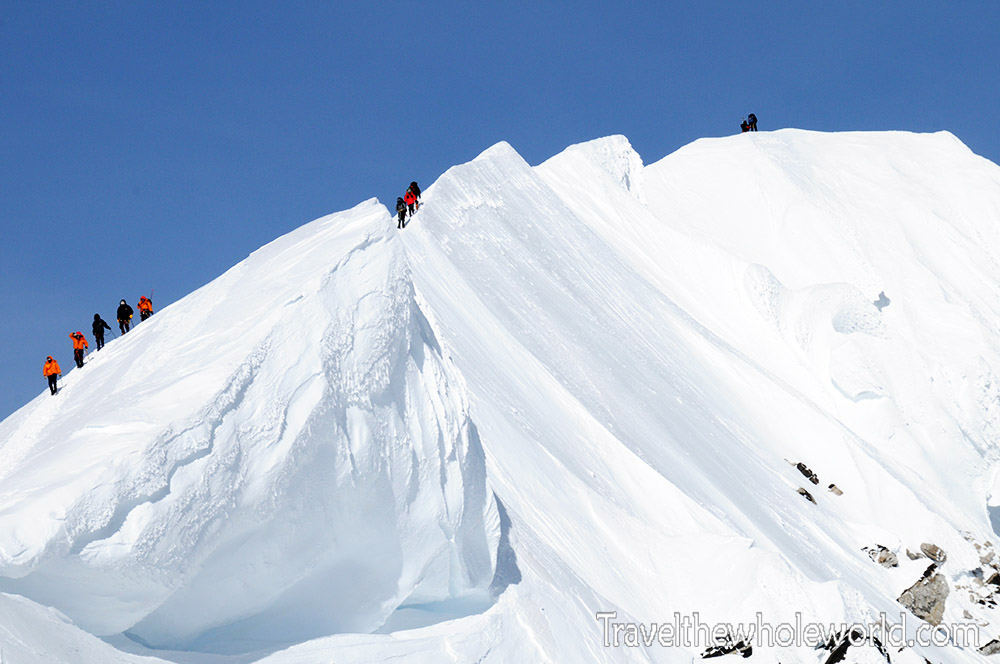 After reaching the top of the hill, the final push is along the summit's corniced ridge. The ridge offers some extremely dangerous terrain, but usually it takes less than 20 minutes to cross it each direction. Doing this in a white out or with strong winds would certainly be a death sentence! I found the ridge to be one of the most beautiful places on the mountain. I loved the contrast between the blue skies and pure white ridge passing through the sky.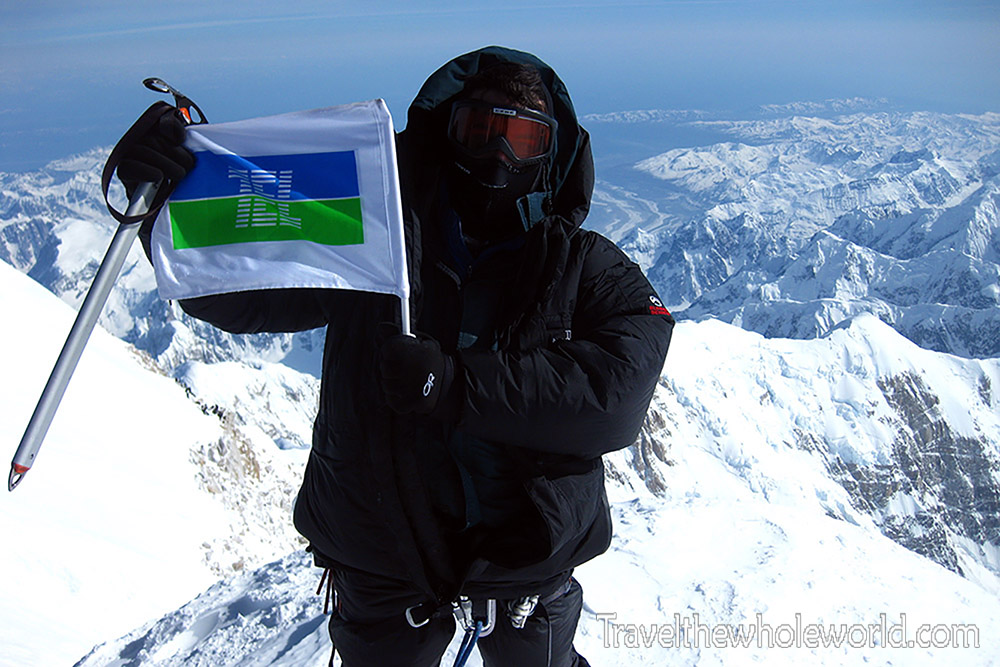 On the 22nd day of our expedition we reached the top of North America! Earlier on this trip I had accepted that we wouldn't even have an attempt to summit due to the frequent storms that kept pushing through. Standing on top of Denali was an amazing feeling; all the sled pulling, rope climbing, ice wall building and other efforts hadn't been in vain. When I had reached the top of Aconcagua the year before, I felt an overwhelming since of accomplishment and joy. On Denali, it has been such a struggle in so many ways I felt more of a sense of relief than anything else. It hadn't been until I started to climb down the mountain and head back home that it all hit me. If you added up all the minutes it took my team to climb Denali, it would total around 32,000. Once we finally accomplished our goal, we spent roughly ten minutes on the summit. The winds were definitely pretty strong here, and the temperature was quickly dropping as it got later in the day. Above is a photo of me on Denali's summit, with a photo of my entire expedition below.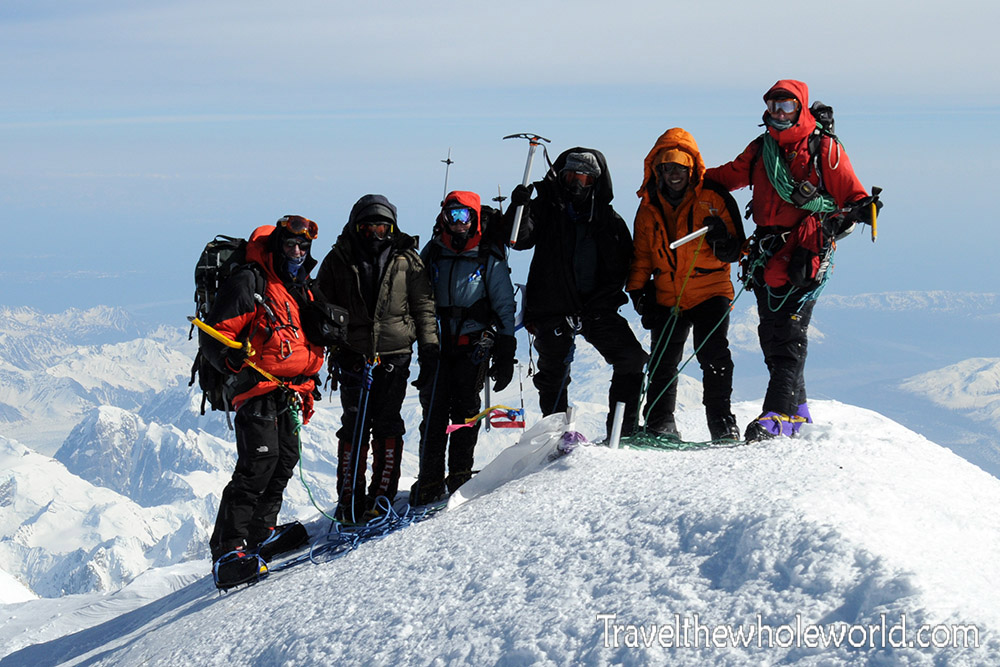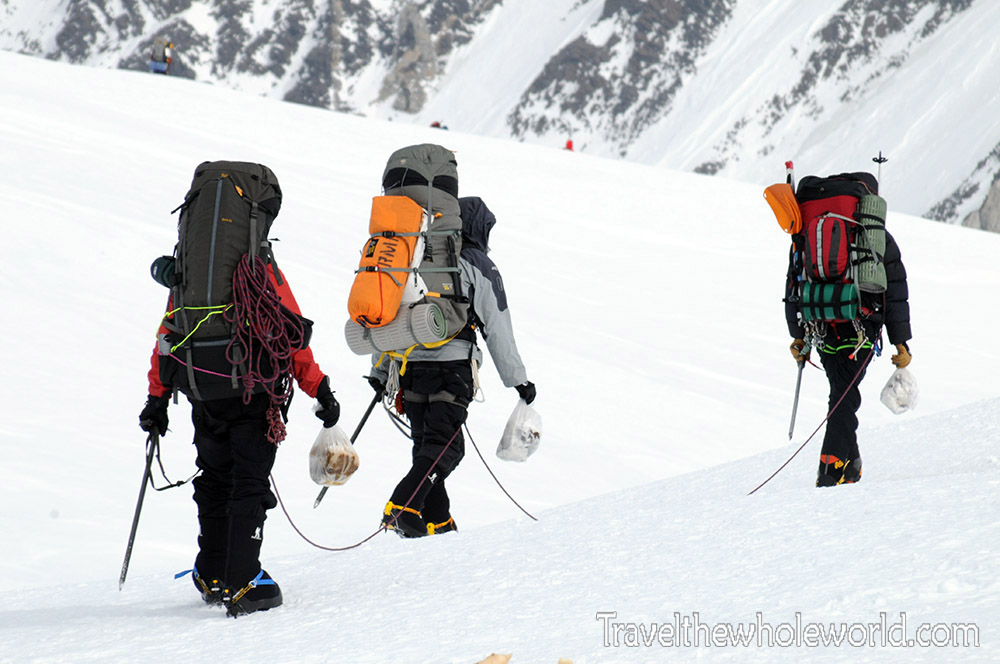 After the summit we returned to Camp IV and all crashed. On Day 23 we were only half way finished and still had to get off the mountain along with everything we brought. You're excited enough that despite all the hard work you have to do to get home it's not too difficult. Not all of it is enjoyable though, in the photo above people are seriously carrying their crap down from Camp IV.
Although we were mentally celebrating our victories it wasn't a happy ending for everyone. Once we crossed the West Buttress and were ready to descend down the fixed ropes we came across a man being lowered. As it turned out, he had had a heart attack around 19,000 feet (5,800 meters). There was no way for anyone to rescue him at these conditions and high altitude. He actually had to climb down the West Buttress on his own power before being lowered down the fixed ropes.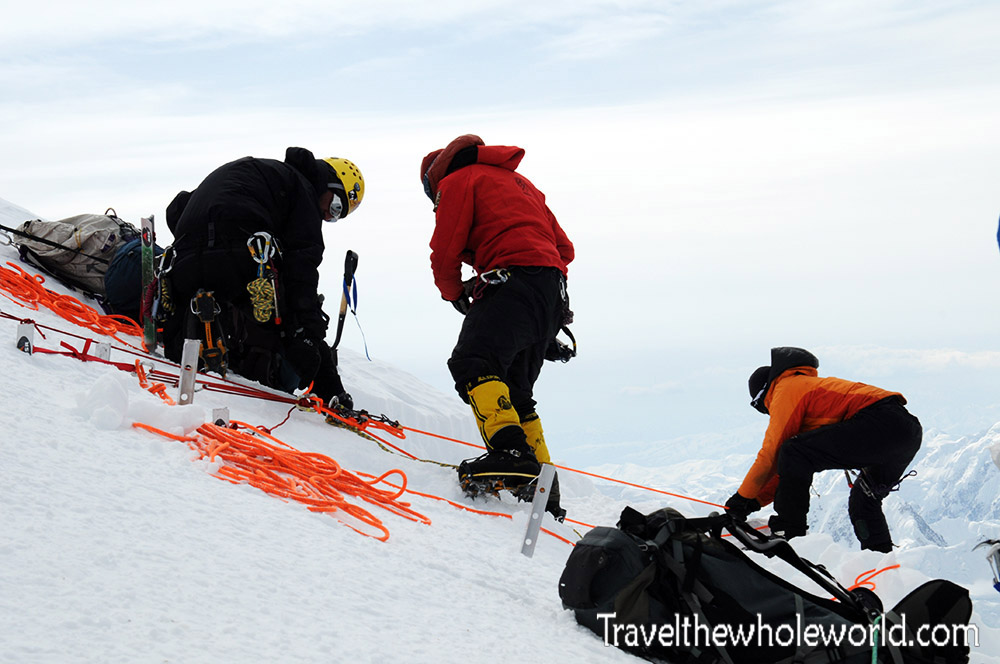 You'd think after so much bad weather there would be a full week of clear skies coming up. Instead the bad weather quickly returned during our descent. The good thing about descending is you can move through bad weather as you are just getting to thicker air and safer terrain. Heading home was definitely one of the hardest days on the mountain! While descending the fixed ropes I took these photos above and below showing some people struggling while descending. In the photo below a climber had collapsed and was being assisted by others.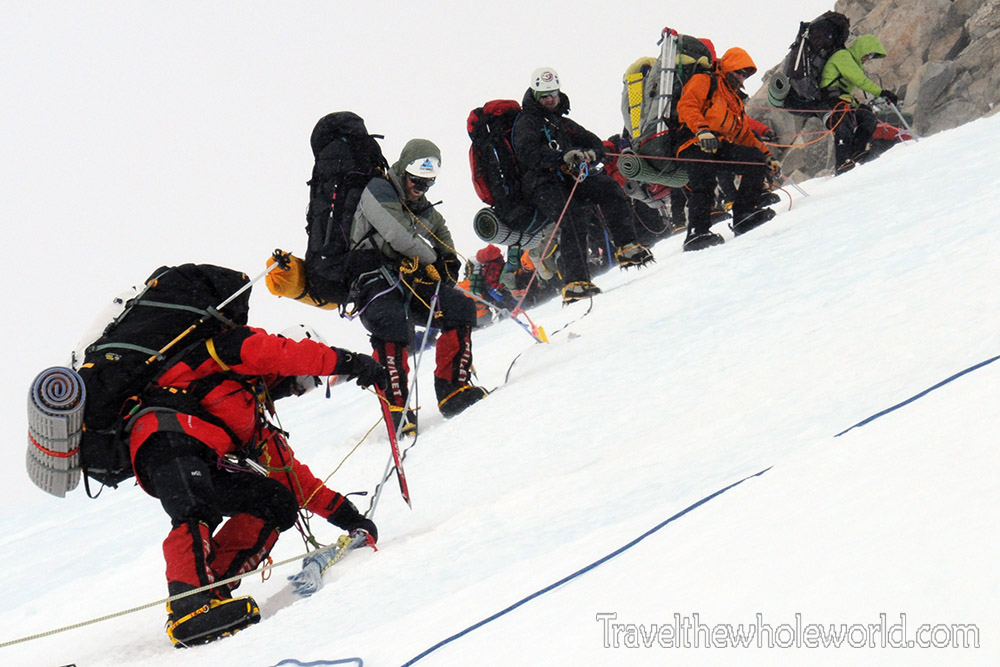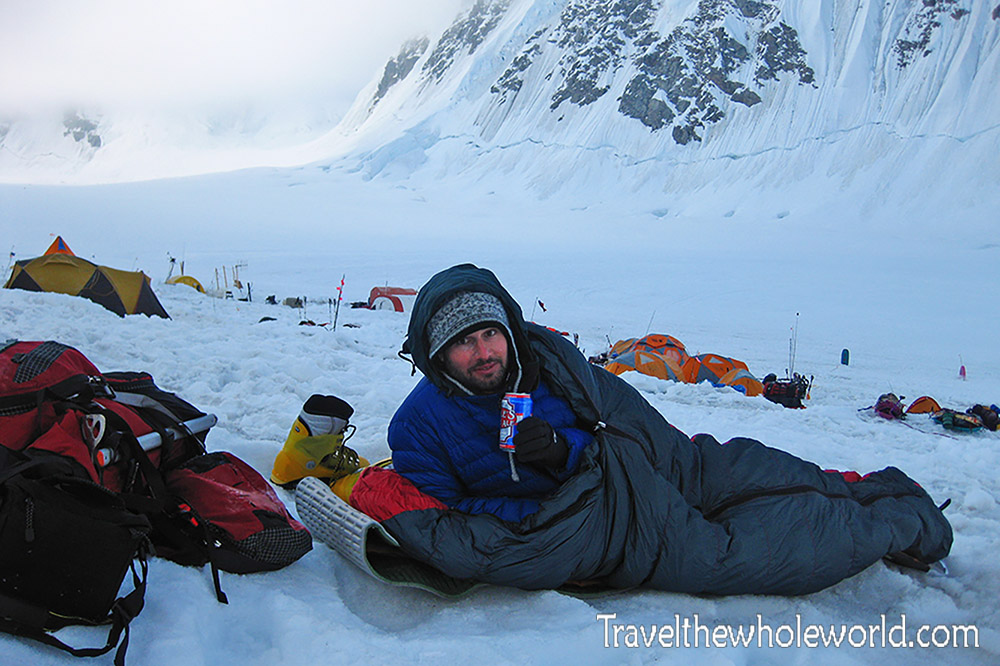 Our team decided we had spent enough time on Denali and moved nonstop from Camp IV to Base Camp. And that's the landing strip, not Advanced Base Camp! We started at 7:30am and moved for 22 hours picking up our gear that we had left behind at each camp until finally reaching the landing strip by 5:30am. The sun never really set, and we descended in sunlight with only a few hours of twilight towards the end. At one point at a lower elevation we even had two large geese fly directly over us. Once at the landing strip we dug up beer that we had buried nearly a month ago. We drank a little bit to celebrate and then laid our sleeping bags on the snow and blacked out. I heard of horror stories of people waiting up to five days to catch a plane because of the poor weather conditions. For a moment it seemed we might have that fate but within a few hours the sky cleared up and planes were landing. For nearly a decade Denali had been my life's greatest challenge in regards to my adventures. In 2016 and 2017 I climbed Mt. Everest from both Nepal and Tibet! Click here to see my adventure on Everest, or continue below to see the summit I climbed after Denali.