Denali High Camp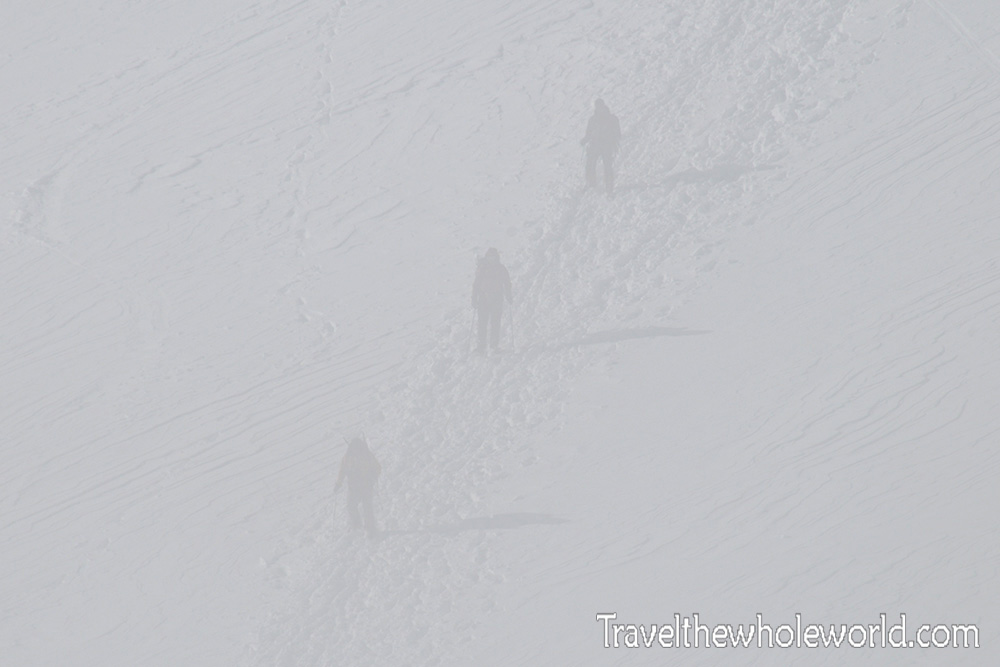 Day 17's forecast brought in even more bad news. We still had 10 days of food but it was all cached up at 16,400 (5,000 meters) and at 17,200 feet (5,250 meters). The past few days we had begun rationing our food and lay in our tents bored and miserable. There was even talk of us going up to the cache above the fixed ropes and bringing food back down to the ABC. Fortunately some of the other groups who were giving up on the mountain stopped by our camp and offered the food that they didn't want to carry down. This worked out well since we were able to resupply without using our high camp caches. Stress levels were still extremely high for all of us though. It seemed at this point I had used a month of vacation, spent a year of my life training, paid for the most expensive trip in my life among other sacrifices only to sit in a tent for 10 days at 14,000 feet. Other climbers attempted to go up to Camp IV despite the bad conditions. Some made it, while others returned with injuries and frostbite. A Polish man fell and broke his shoulder, another group found themselves completely trapped on the ridge and had to spend the night there, and still, an American had returned from high camp with patches of frozen skin on his face. One night at Camp III temperatures dropped to -28F, meaning Camp IV must have been 40 below or more.
We finally got a break on Day 18 when the forecast predicted two days of reasonable weather. We could move to Camp IV today and then summit the mountain the next day! This last chance brought everyone's hope up. We spent Day 18 taking down our camp and moving up to 17,200 feet (5,250 meters). On the left is myself leaving advanced base camp after 11 days. On the right are some people in my group leading up the fixed ropes, a 50 degree ice slope that is the steepest part of the climb. Once above the fixed ropes you approach the actual west buttress ridge which ends at Camp IV.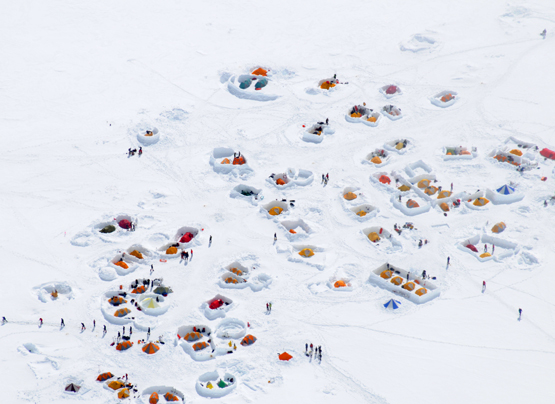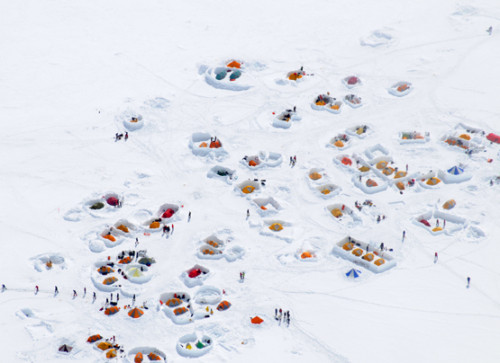 The above photos show climbers descending the west buttress ridge. Our climb from the fixed ropes through the ridge was one of the hardest parts of the trip. Some in my group even thought that it had been the hardest day by far. It seemed like we were on a different mountain at this point. We no longer had packed snow and gentle slopes where we could pull a sled. There were several steep and exposed sections with dangerous slopes on both sides. We had to use pickets and fixed ropes on certain sections of the ridge. One of the guys on my team fell on the ridge and self-arrested giving the rope a hard pull. It took us about two hours to complete the ridge with our heavy backpacks. Now, nine days later, I had made it all the way to Camp IV for the second time. The views from Camp IV were the most amazing from the mountain so far; on the left is a shot looking down at Camp III with maximum zoom. On the lower left is a photo of the slope we had to climb using the fixed ropes, and the lower right is the ridge itself. The large rock in the middle of the ridge is known as Washburn's thumb and is being passed by climbers above.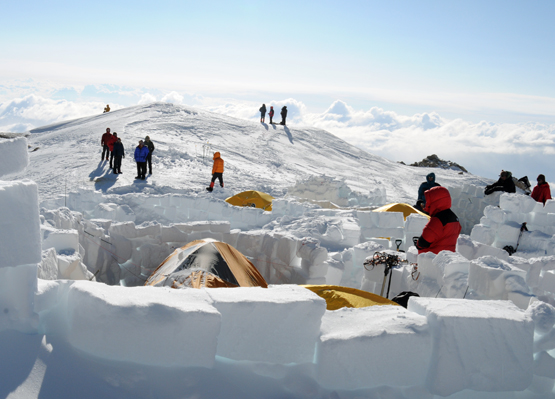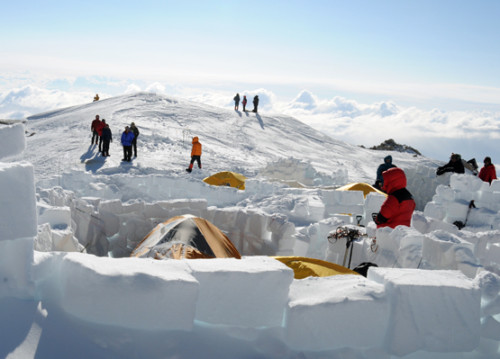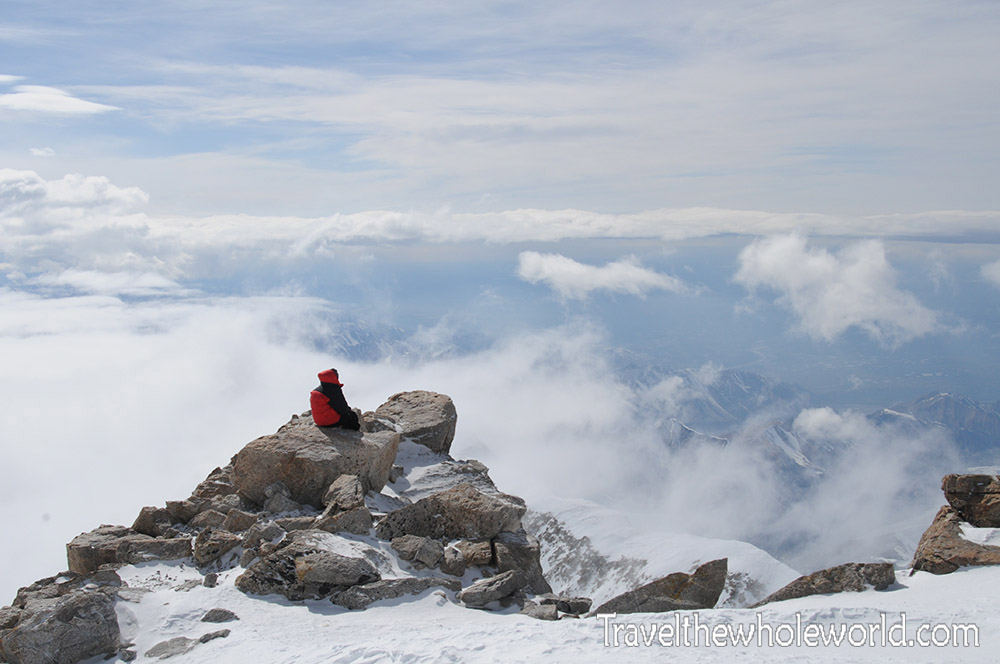 Once arriving to Camp IV we had some serious wall building to do. This took several hours of cutting out huge blocks of snow and making double six foot walls around camp. I wasn't sure if I'd rather cross the ridge again or fortify camp; both of them were difficult and draining activities. Once we were done we were able to relax and enjoy the views. The upper right is Camp IV's own 'End of the World' from which you can see two more major mountains. On the left is Mt. Hunter at 14,573 (4,442 meters), the lower right is Mt. Foraker, America's second highest mountain at 17,402 feet (5,304 meters).
In an effort to raise money for future expeditions, I'm selling framed versions of the photo on the upper right, click here for more details!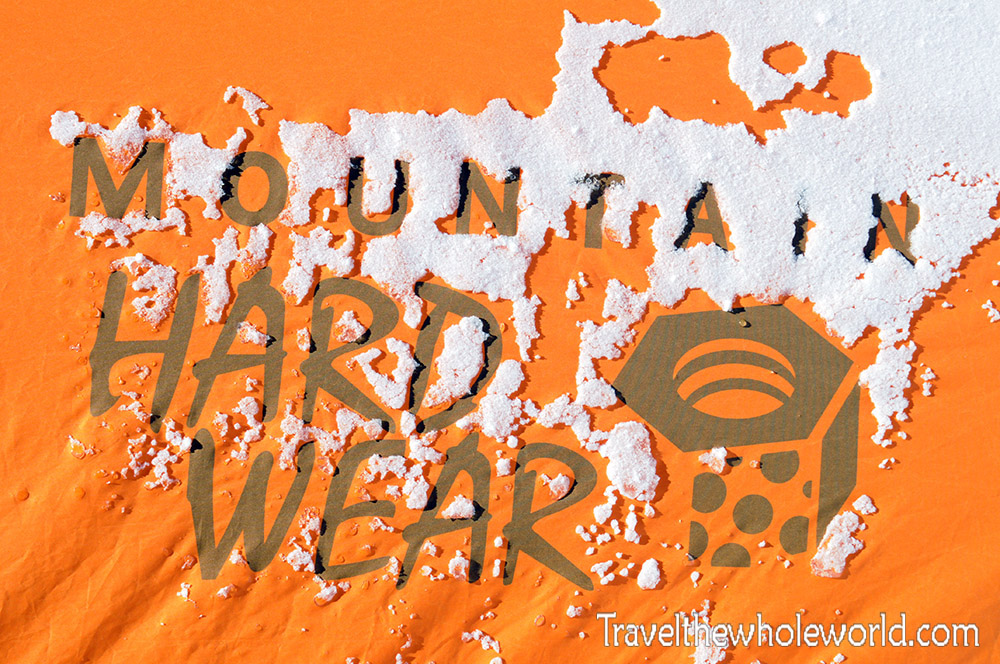 After we finally finished fortifying the camp and were prepared for a summit attempt, we woke up the next morning and found ourselves in a snow storm. For half of our expedition members, there was no more waiting. On their attempt to go home began their descent down the West Buttress only to face 60 mph (100 kph) winds and were forced back to camp. The photo above shows one of our tents logo's that had held up in some nasty weather.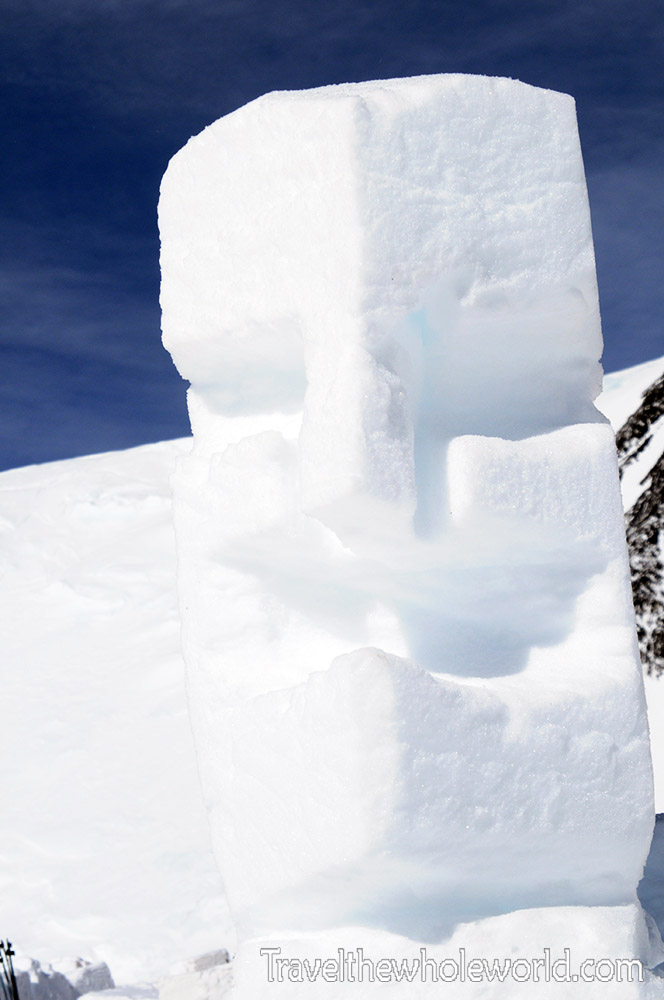 Later that day the weather cleared up enough that those who wanted to leave were able to head down. Although they were able to climb down the West Buttress, it was too late in the day for the rest of us to summit. Even if it was early the forecast predicted high winds coming returning and it would be too risky for us to get trapped higher up on the mountain. In a desperate plea, some people built a statue to the gods.
It's much more comfortable being stuck at Camp III rather than Camp IV when you have bad weather. Of course the higher up you go on Denali the colder the weather gets, but the wind also gets stronger. In the final camp we had to eat food in our tent, while in the lower camps we used communal tents. On the left is myself earlier in the trip having dinner in a cook tent. On the right you can see my delicious dinner at 17,000 feet. It was seriously a struggle to force food down!