Traveling in New Jersey
New Jersey is one of America's smallest states, but with millions of people in such a tiny area, it's also the country's most densely populated. Not having the best reputation in the US, many Americans know New Jersey for its slums and high crime cities, certainly not as a tourist destination. A more brutal line I heard from a friend that lives outside of the state is, "New Jersey is the industrial wasteland that sustains New York" In all honesty, most of the cities I visited here weren't very impressive, but of course there are still plenty of places worth visiting in the state. I've seen most areas of New Jersey now including the cities, outdoors on the west, and the beaches on the east.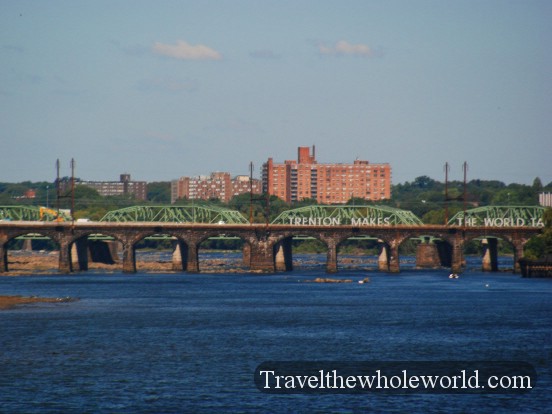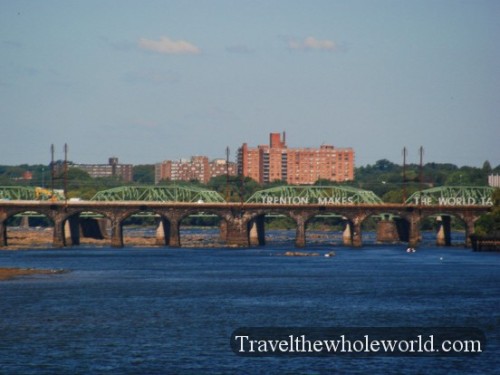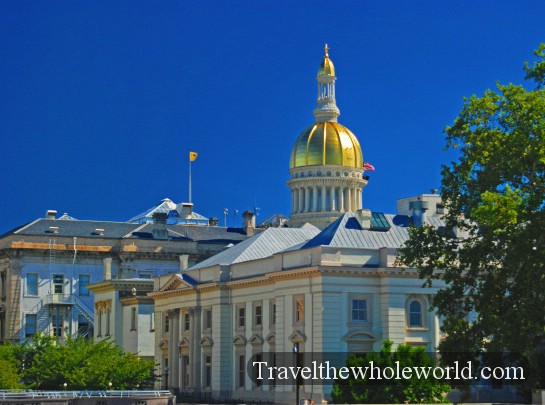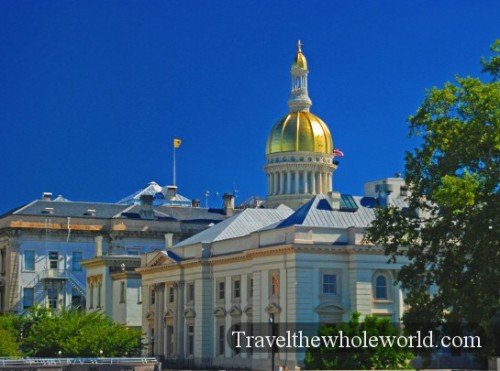 The capital of New Jersey is Trenton which is a medium sized city with less than 90,000 people in its borders. The downtown area immediately around the capital building is pretty nice, but is only a few blocks. Above on the left is a bridge crossing the Delaware River with Trenton behind it. The letters on the bridge read "Trenton Makes; The World Takes". On the right is the capitol building of Trenton, the government office for the New Jersey.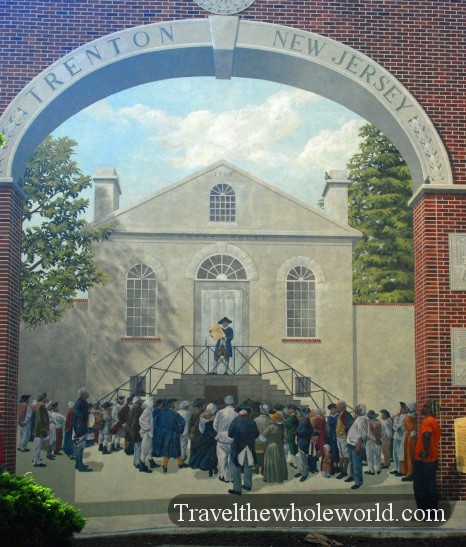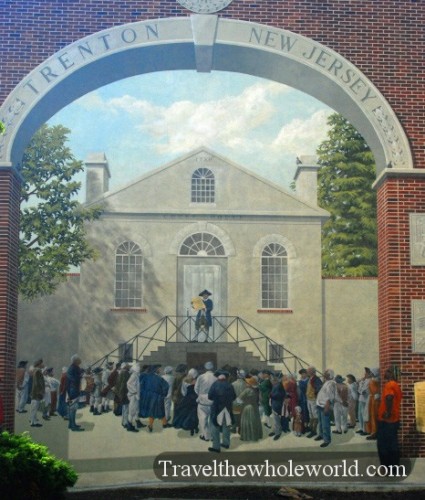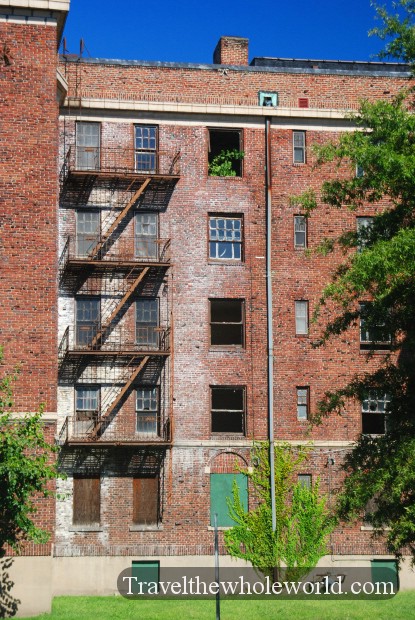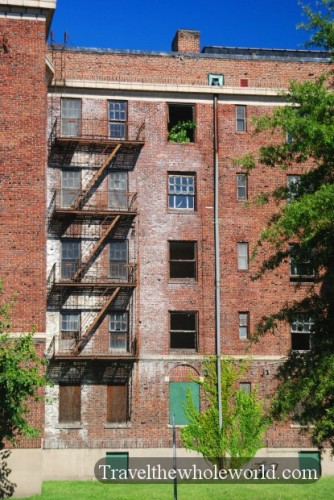 Trenton is one of America's older cities and was founded in June of 1719 and became the capital of New Jersey 70 years later in 1790. On the left is a mural painted one of the buildings in Trenton showing life in the 18th century. Unfortunately the city hasn't had the best luck, and parts of Trenton are known for having high crime. On the right is an abandoned apartment building right outside the main downtown area.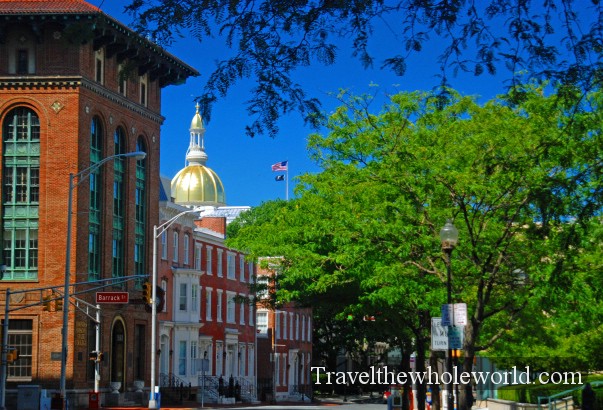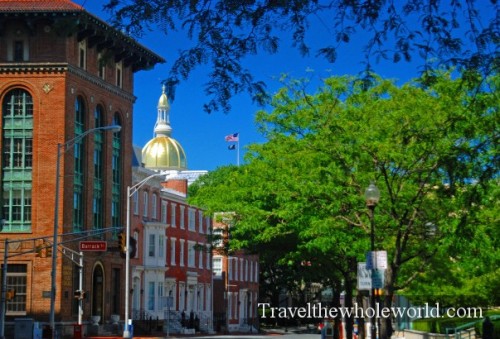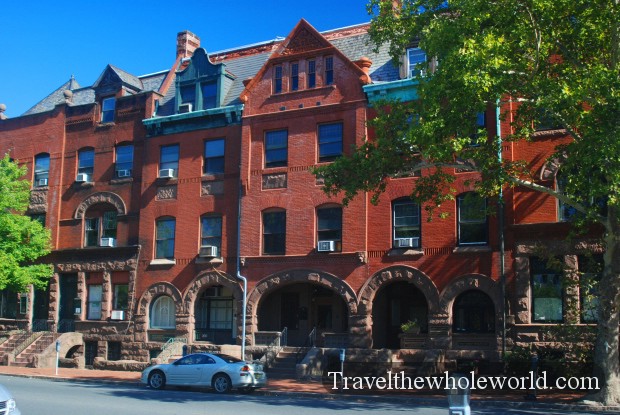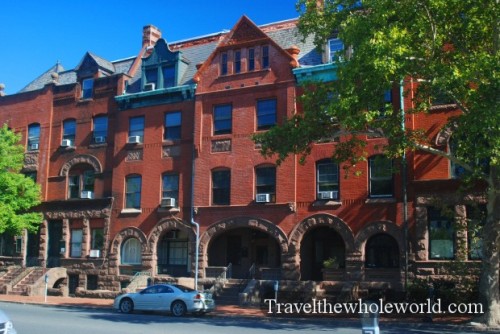 Above are photos of the streets around the capital. Some of these buildings look like houses but they are all actually shops and small businesses. Other things to do in the area include a river walk festival along the Delaware river at certain times of the year.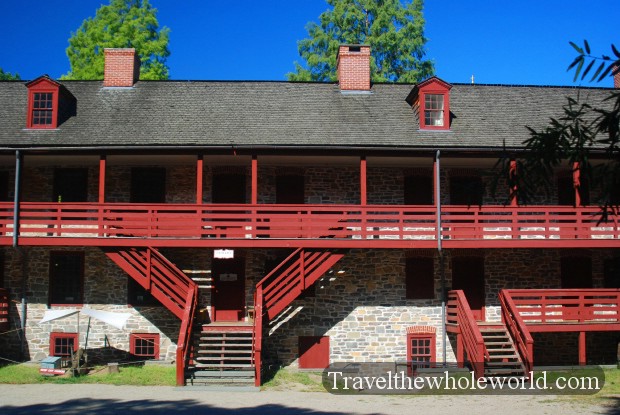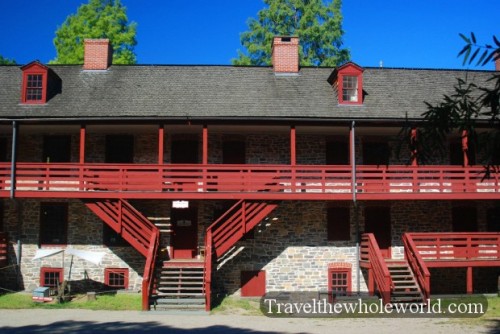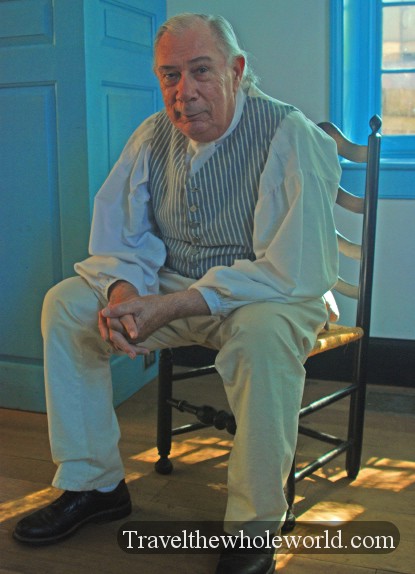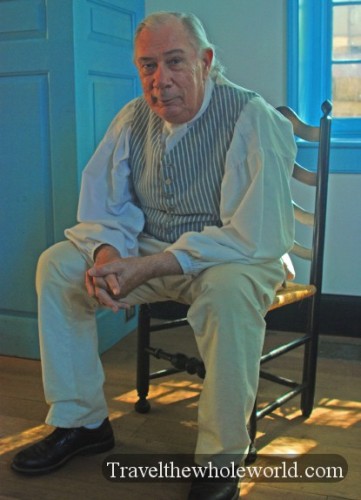 The most significant place to visit in Trenton are the old colonial barracks. The barracks above are the only ones remaining out of 5 colonial barracks that were constructed to house troops loyal to the British Empire before the Revolutionary War. When the Revolutionary War did start, most of the American forces had suffered several defeats and moral was extremely low. George Washington took his army across the Delaware River and successfully defeated and captured the troops garrisoned at the barracks. This success greatly increased moral in the army and drove new recruits to serve in the American Revolution. The barracks must be explored through guided tours. I'm normally not a fan of guided tours but I did enjoy this one. There were several demonstrations on how tools, clothing and other items from the 1700s were used and most of it was straight and to the point so it didn't drag on.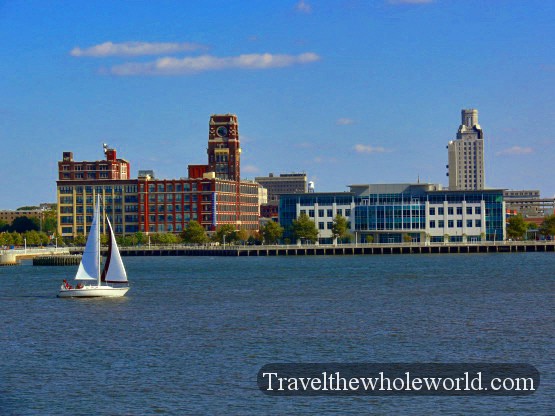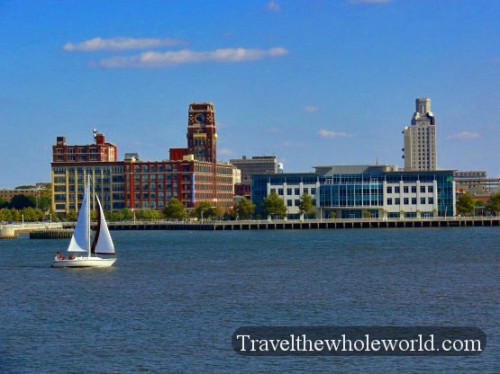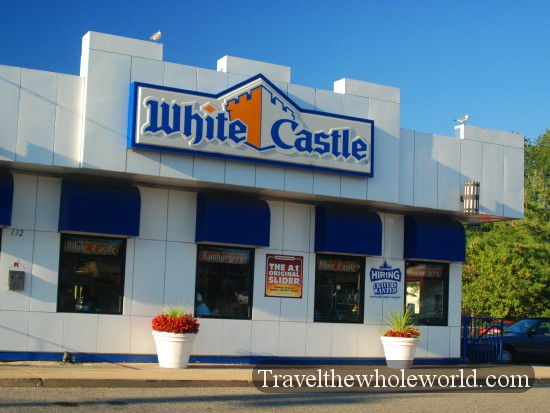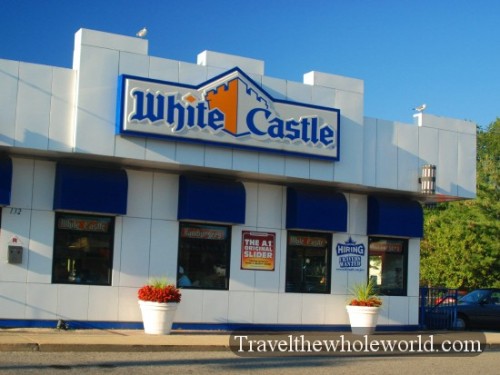 Other parts of New Jersey are similar to Trenton for having colonial history and many nasty areas as well. I have only passed by Camden New Jersey seen to the left but have heard bad things of that place as well. It doesn't look bad from Philadelphia though! White Castle on the right is a fast food chain, actually the oldest fast food hamburger chain in the US. I had never heard of them until I saw Harold & Kumar, a movie of two guys' adventure to White Castle.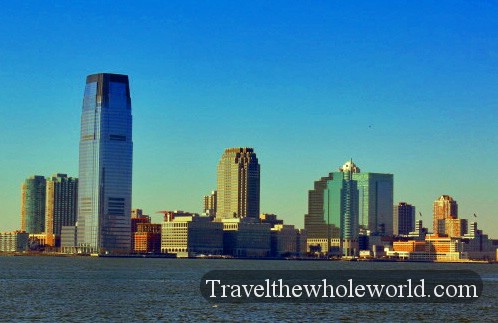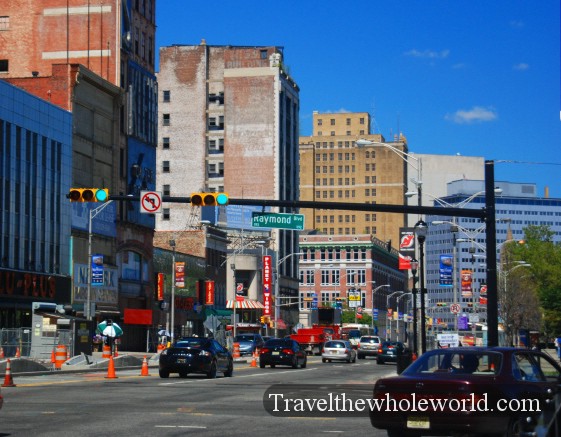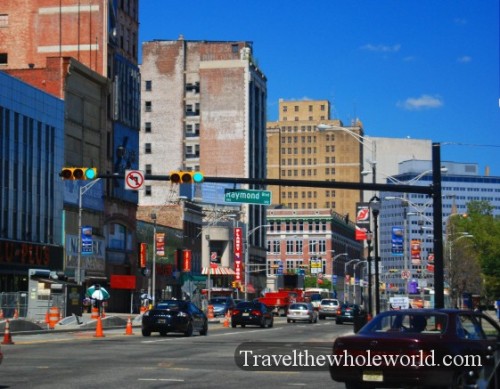 New Jersey's largest city is Newark, which is located right next to New York City. Newark is also America's third oldest city, but many consider it to be one of country's worst. During a comparison of American cities, Newark consistently scored either number one, or at least in the top five for several categories such as crime, murder, car theft etc. I hate to say it but of all the cities I've been to I have been least impressed by Newark. Like all major cities around the world from Tokyo to Paris to Washington DC, there are sketchy parts that shouldn't be visited by tourists unless they are looking for trouble. Usually these are just specific areas and the rest of the city has low crime and is safe for everyone to visit. Newark however, seems to be that one city that has bad parts and then really bad parts. Above on the left is a photo of Jersey City, located between New York City and Newark. On the upper right is the shopping district of Newark itself.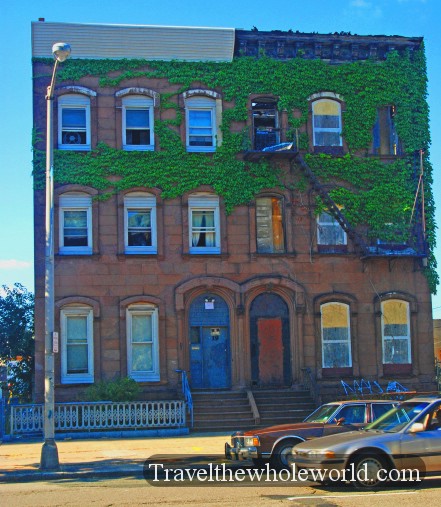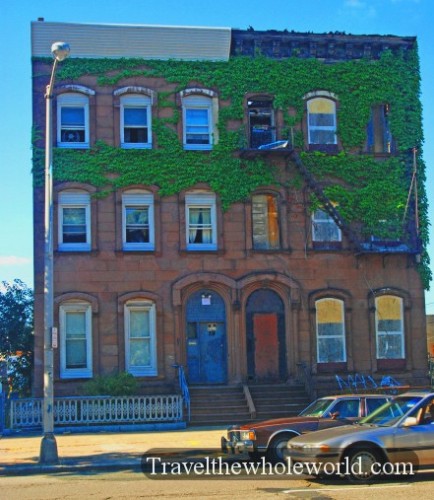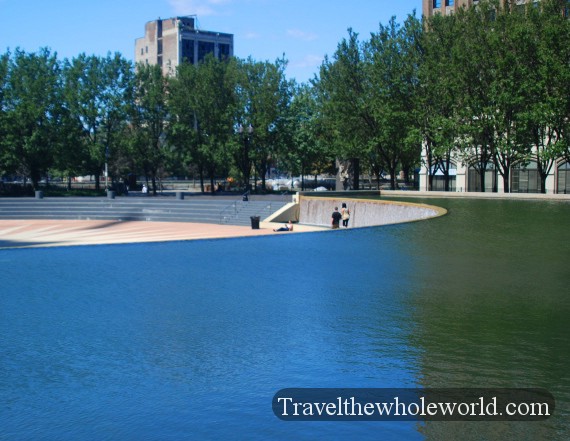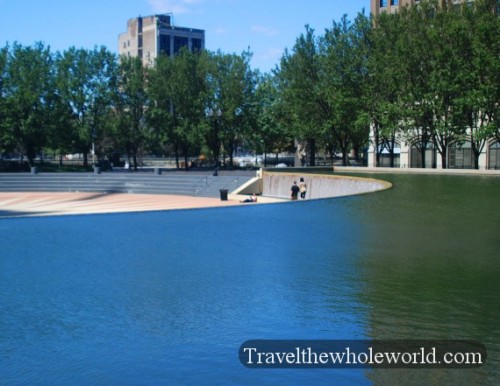 How did Newark get so bad? In 1967 riots that broke out left much of the city in ruins. Those that could afford to move away did, leaving behind mostly people who were living in poverty. The businesses that were destroyed never reopened and slums took over much of Newark. Recently there has been significant progress, but for the most part 40 years later the city never fully recovered and remains one of America's most hated cities. Above is a photo of an abandoned house being overtaken by ivy. On the right is a large fountain in Newark.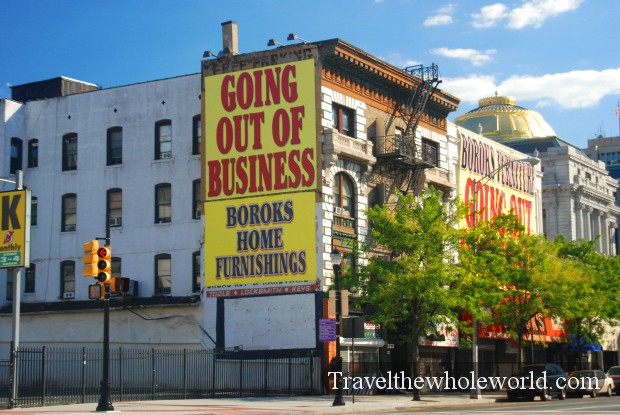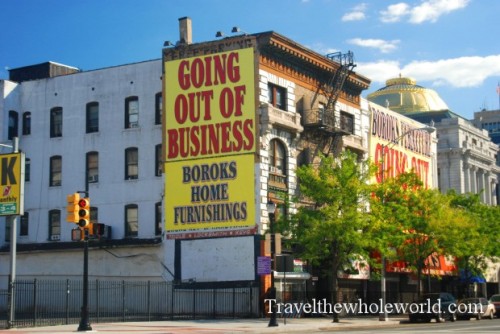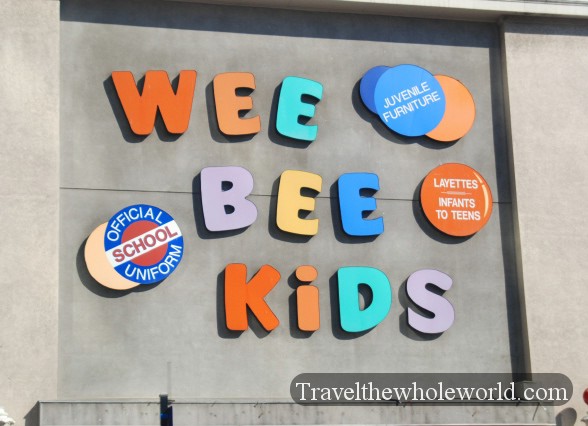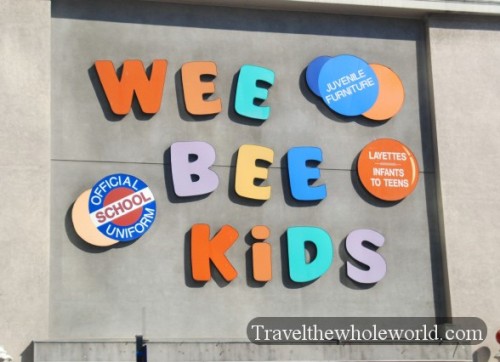 Newark's main street is called Broad Street which is a place that could be worth visiting if you really like shopping. Several stores are along the Broad Street, but you won't find any nice places to eat or fancy restaurants here. Above is a photo of Broad Street with a large store going out of a business, and a store with a funny name called 'Wee Bee Kids'.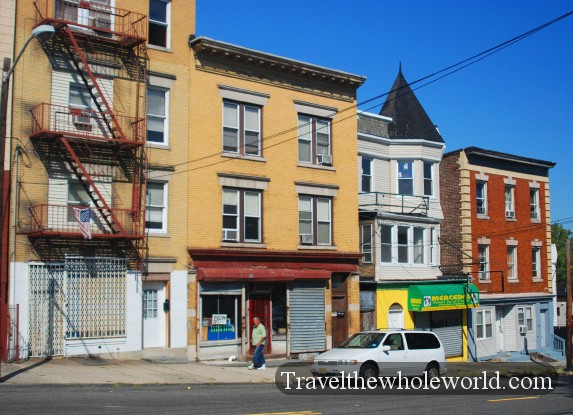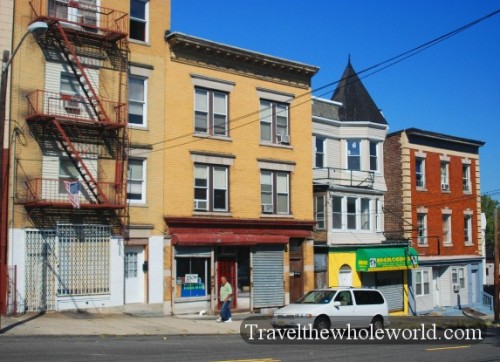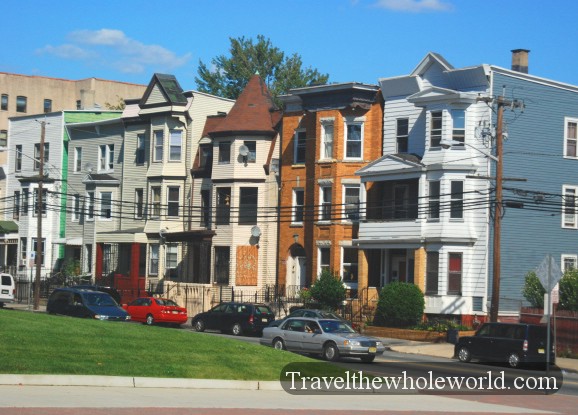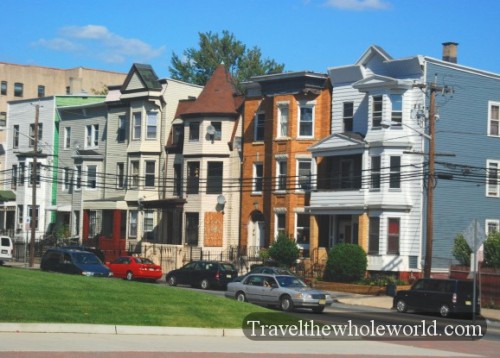 I walked several miles through Newark and in some of the places I passed through I didn't know if I'd make it out or not. I took some photos of these neighborhoods which seemed to be upper class compared to other areas that I went through. At least here I wasn't afraid of getting robbed or attacked so I was able to use my camera.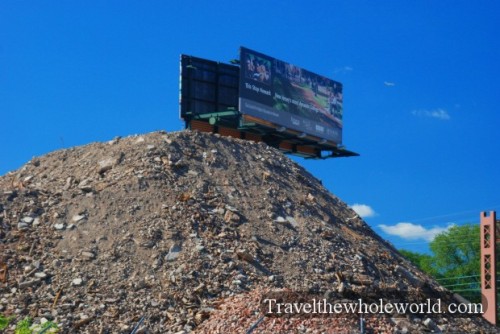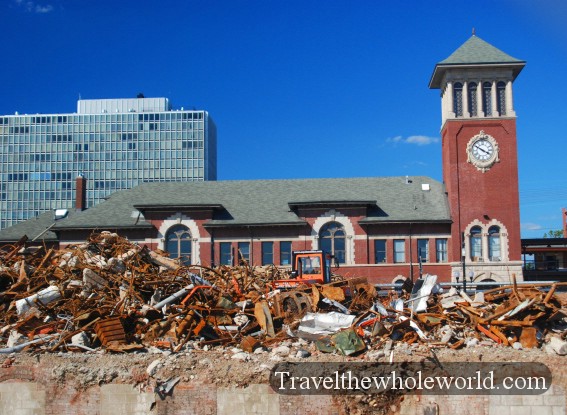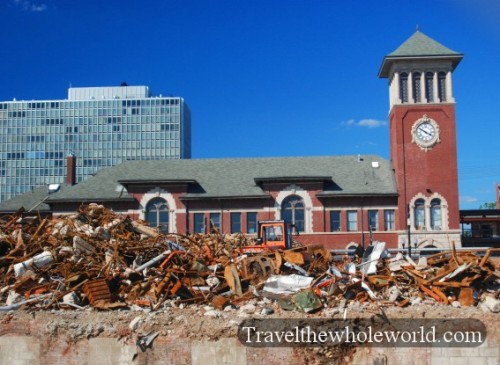 Lots of Newark also seemed to be either abandoned or under construction. On the left is a huge pile of rubble from what I assume was a building that was knocked down, on the right is more rubble in front of a train station. In Newark's defense, many new buildings have been built such as the New Jersey Performing Arts Center. The cost nearly 18 million dollars and brings some people to the city, even if only briefly. Hopefully things will spread and in time Newark can once again be a city that Americans enjoy, just probably not any time soon.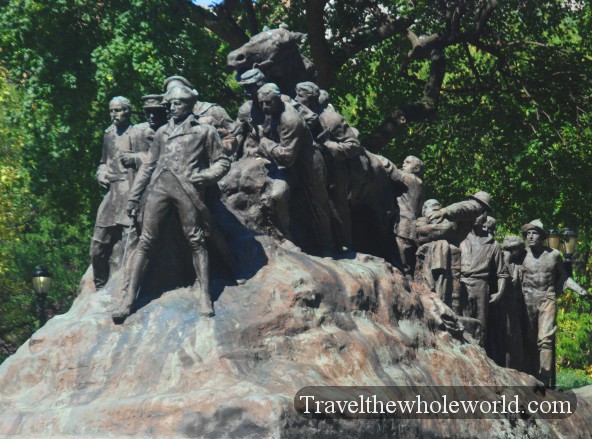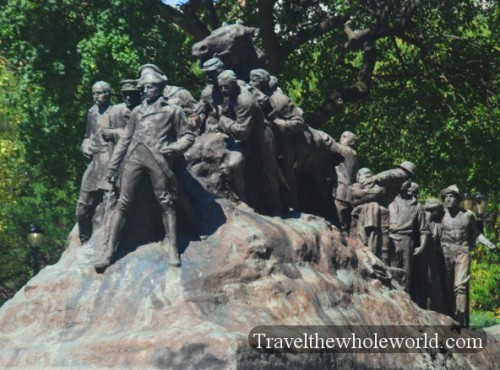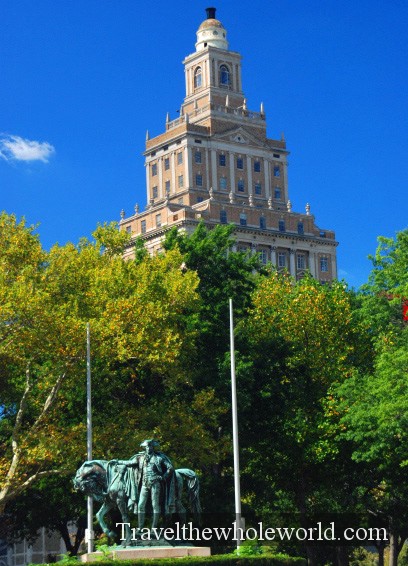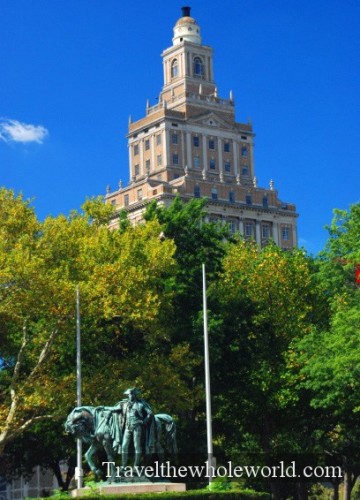 Two small but nice parks in Newark are Military and Washington Parks. Military park seen above is a small area in between two busy streets with the wars of America statue seen above. The Wars of America statue was placed in the park in 1927, with another statue of Kennedy added in 1965. The park is at the location of a training area for soldiers that began all the way back in 1667. The photo to the right is of Washington Park also in downtown Newark. Both places are occasionally used to host small festivals or live music throughout the year.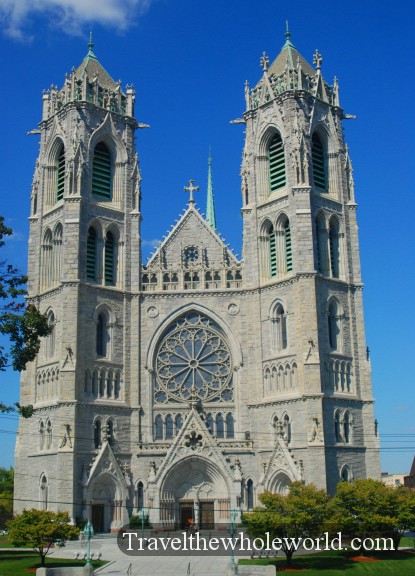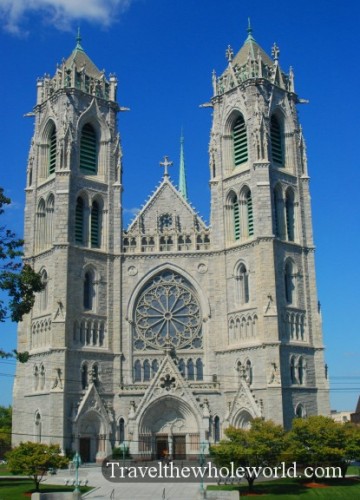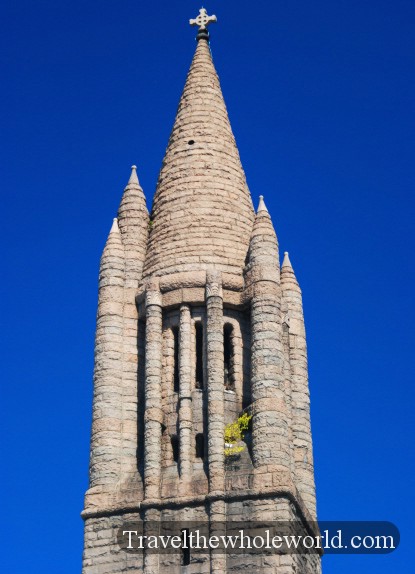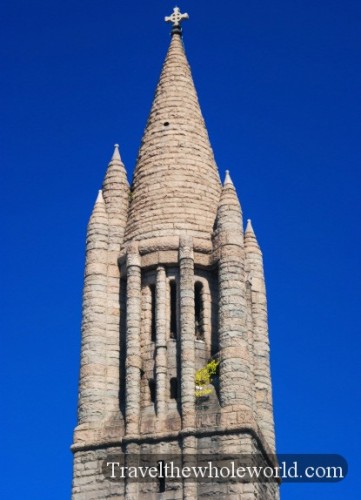 Surprisingly Newark does have some nice and interesting churches. The church tower on the right was located on the east end of Broad street, and I found it interesting since it looked like it was built out of sand. The church on the right is called the Peddie Memorial First Baptist Church, built in 1890. The huge church on the left is known as the Scared Hearts Basilica. Construction began in the late 1800s, and nearly 60 years later it was completed in 1954. It remained a Cathedral until Pope John Paul II held a ceremony to give it Basilica status in 1995.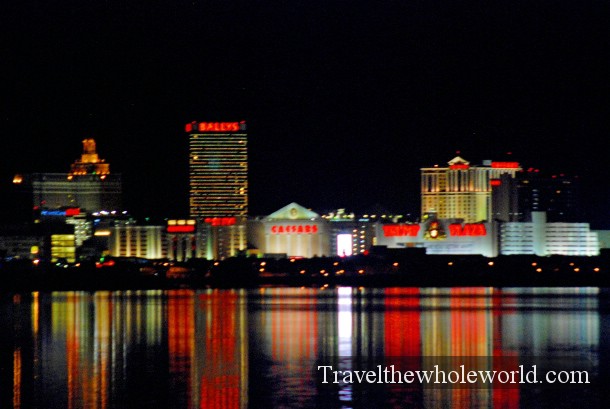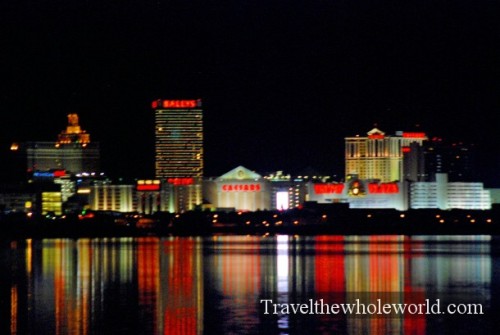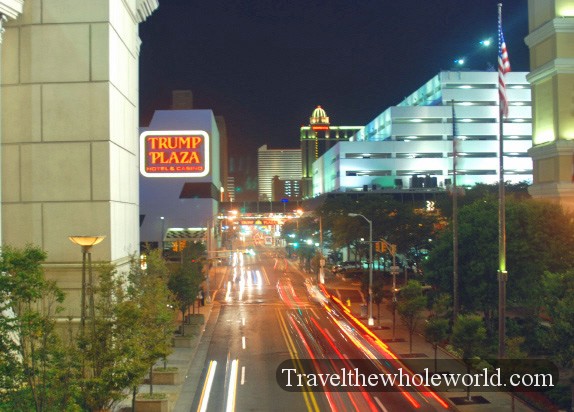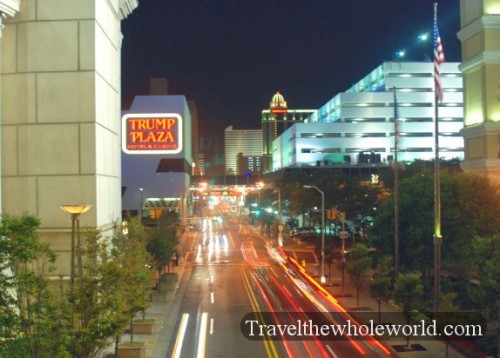 The one place in New Jersey that makes up for the negative places in the state is Atlantic City. This beach resort is located in the southeastern part of the state, close to the Delaware border. It has been a beach resort for over a hundred years, back when people arrived here solely by train and would usually spend several weeks.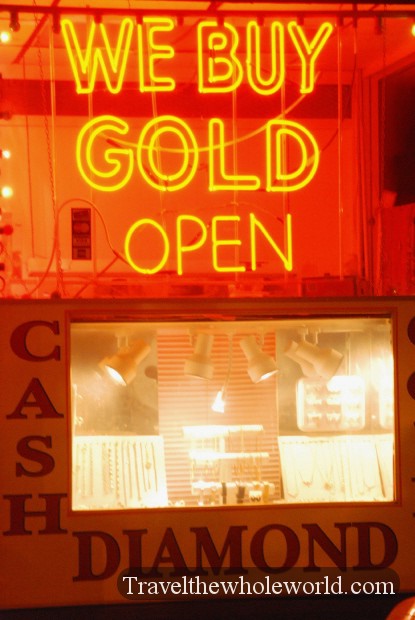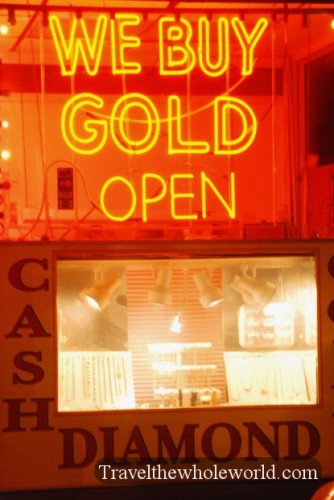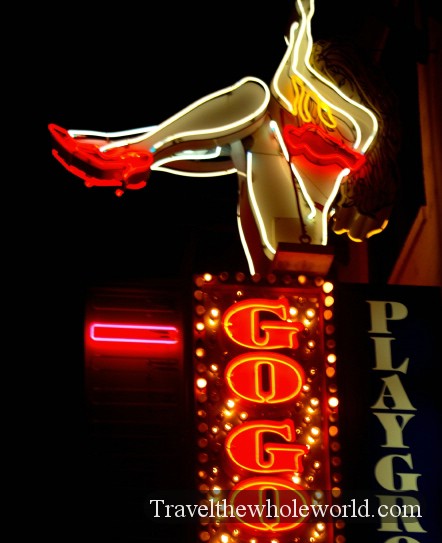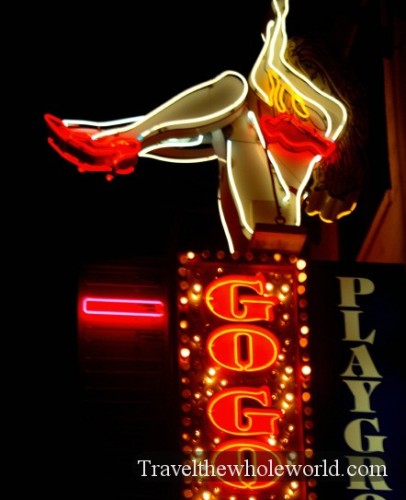 After coming across some nasty areas of Trenton & Newark I wasn't really sure what to expect in Atlantic City. This place is only 3 hours from my house and I had never been! Overall I think Atlantic City is a very nice place, I came across only one strip club, but that's normal in a city along the beach. I was pretty annoyed with all the cash for gold signs on every other convenience store but I'd say that was my only complaint. Other than that I found Atlantic City to be a very nice place, easily the best place to spend your time in the state.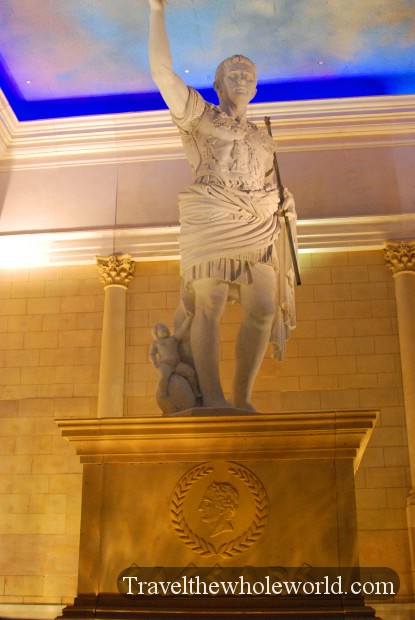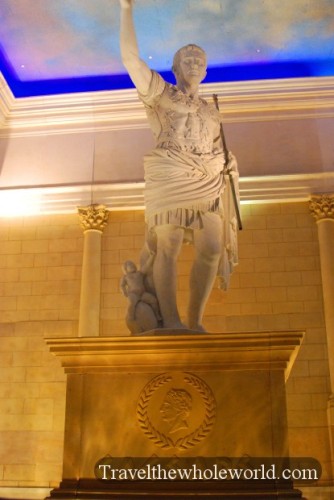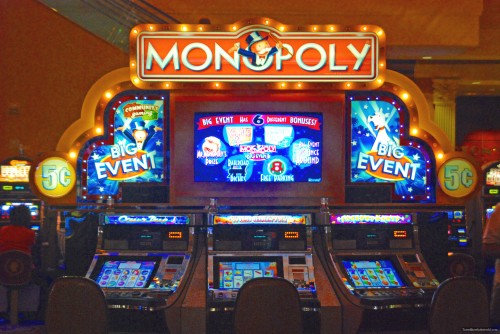 When Atlantic City was first founded, it drove up real estate to high prices in which everyone tried to invest in some land. This happened in the early 20th century, but the real estate grabs in Atlantic City is what inspired the board game monopoly. On the left is a statue in the Caesar Palace hotel.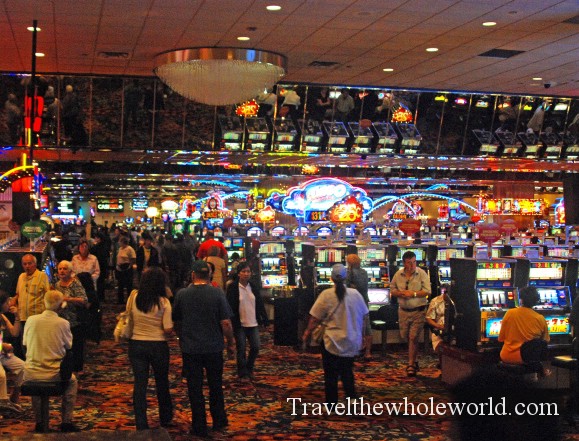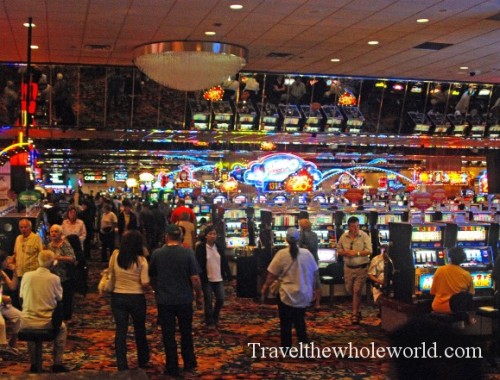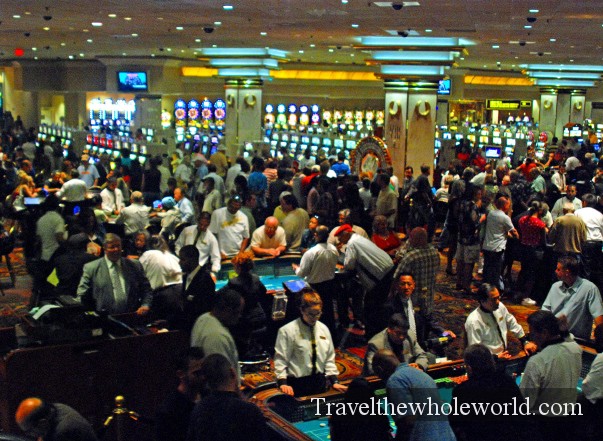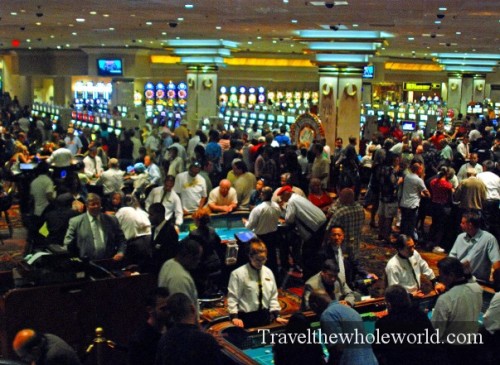 Like other places in New Jersey, Atlantic City also began to fall apart but at a different time and for different reasons. Once one of the best beach resorts in the country, Atlantic City began to have less and less tourists stopping by and those that did usually had shorter stays. In the 1950s, as travel by air became more popular and affordable, people from the densely populated areas of the northeast chose to fly to beaches in Florida or other countries instead of visit Atlantic City. For the next 20 years some of the biggest hotels in Atlantic City shut their doors and the city's economy spiraled downhill. In order to save the city, in the mid 1970s Atlantic City voted to legalize gambling, and it became the first place to legally gamble on the east coast. Since then Atlantic City has rebounded with new hotels and Casino Resorts. Above are photos from two different hotels showing slot machines and people making bets at tables.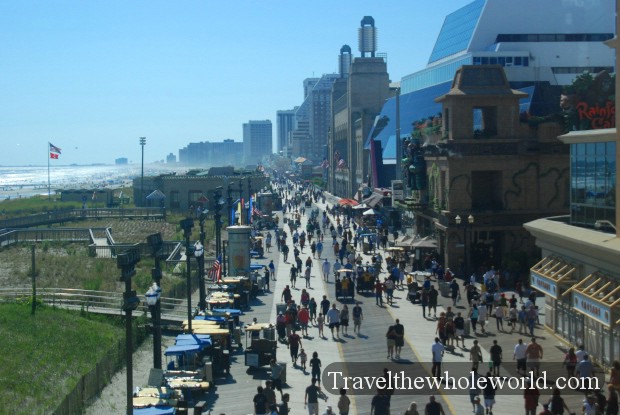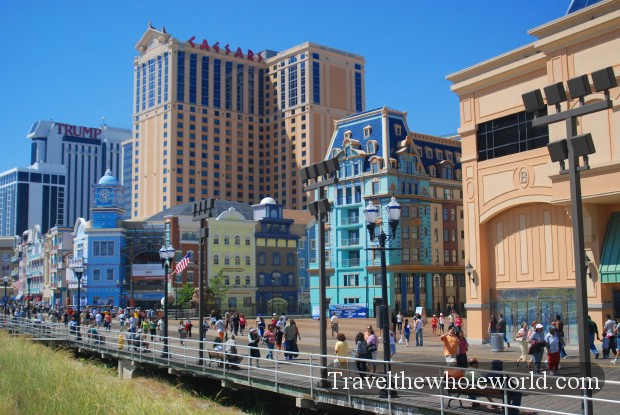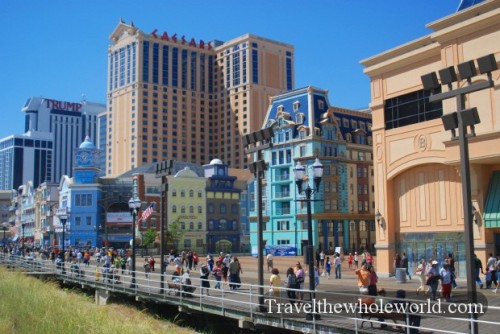 Atlantic City of course can't compare to Vegas, but it does have some hotels that are almost as fancy as Vegas ones. One thing Atlantic City has that Vegas can never buy is a beach and boardwalk. Above are two photos boardwalks in between the beach and the Casino Resorts.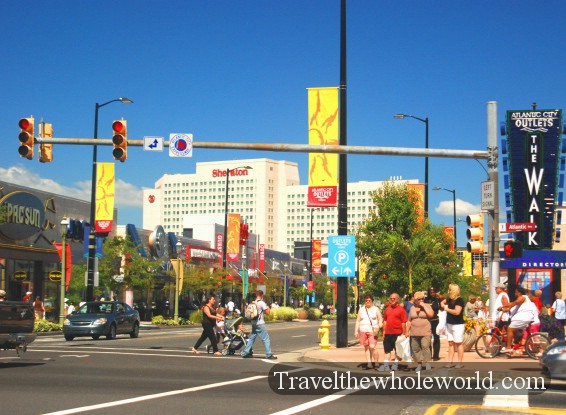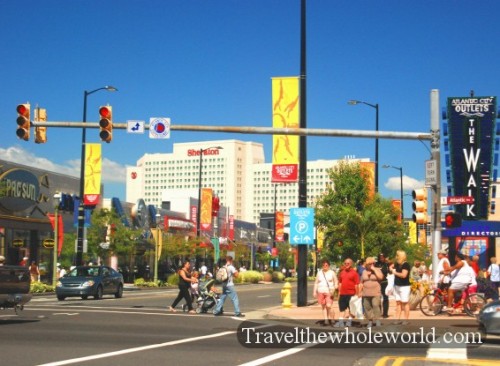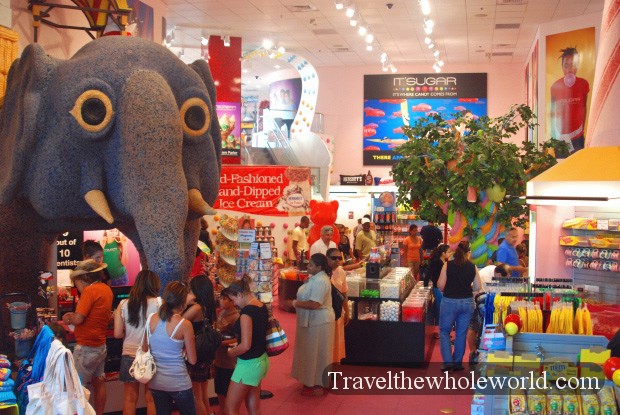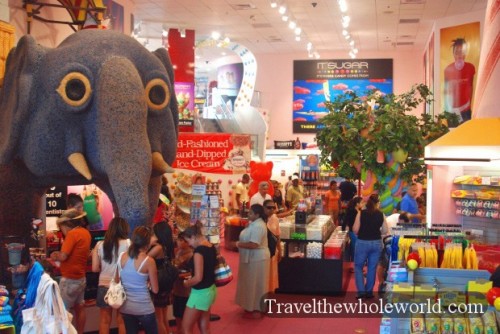 Atlantic City is mostly seen as a destination for adults instead of for family, but the casinos themselves and the boardwalk have endless amounts of stores and shopping, and places for kids to visit. On the left is a photo of the Atlantic City outlet areas, on the right is a large candy store in one of the casino's indoor malls.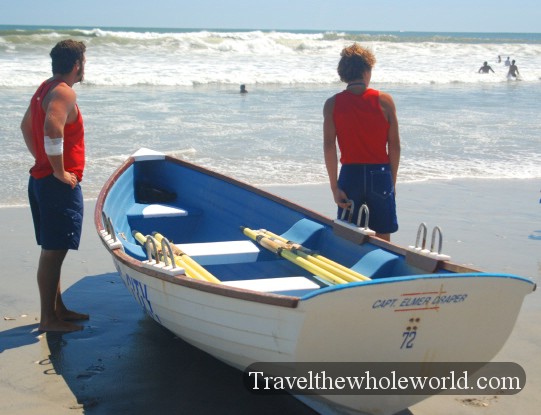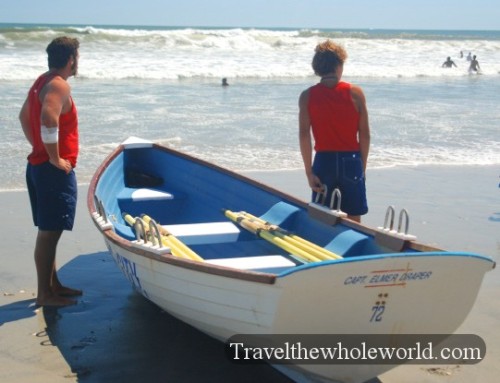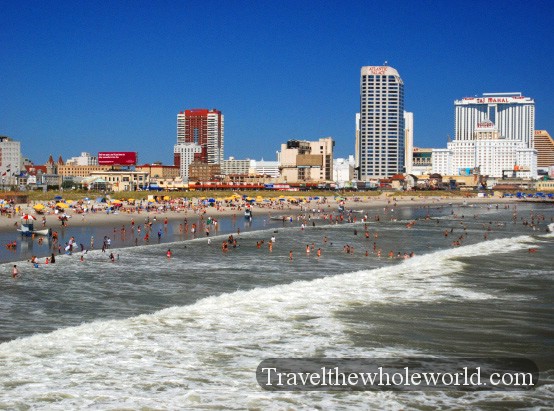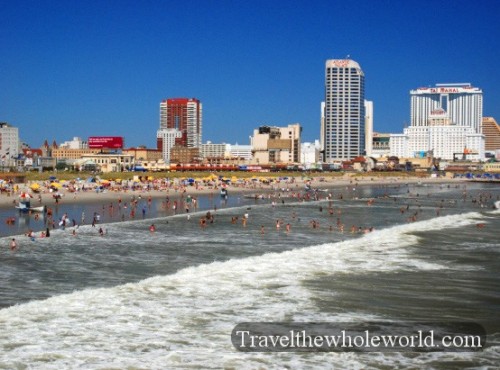 Swimming at the beach in Atlantic City was the original draw for tourists. The casinos have taken all the attention, but if you visit Atlantic City in the summer then there's no reason not to go swimming. Above is a photo on the left of people swimming with some large casinos in the background. On the right are two life guards looking for trouble while people swim through some huge waves, turned out it was a false alarm.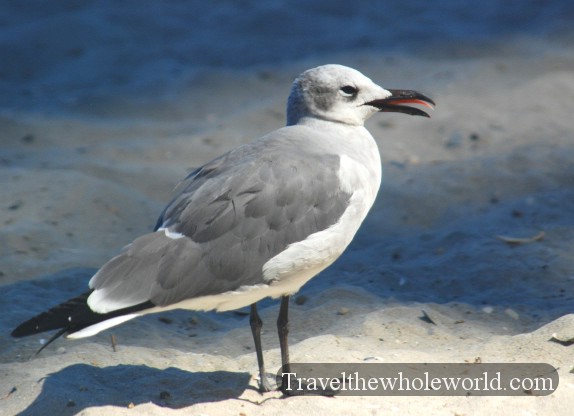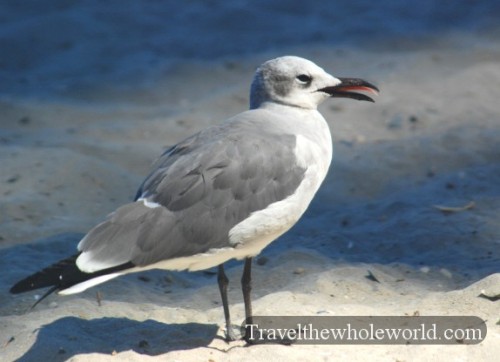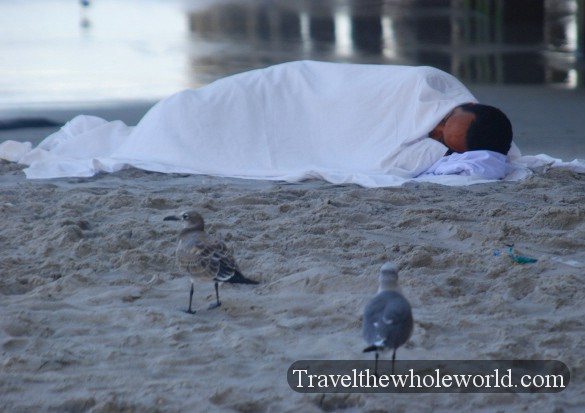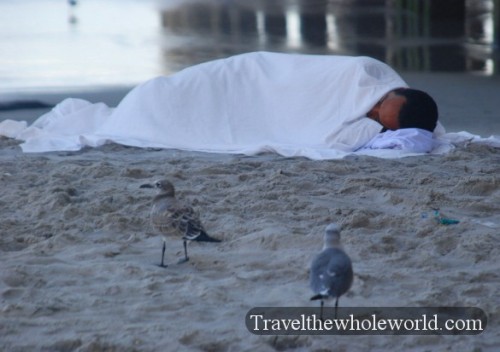 Since the east coast is all city in New Jersey, the only wildlife I came across were gulls and other common birds. Above on the left is a gull sticking its tongue out in Atlantic City. On the right is the cheapest accommodation you can find in Atlantic City, just lay out some bed sheets on the beach and spend the night.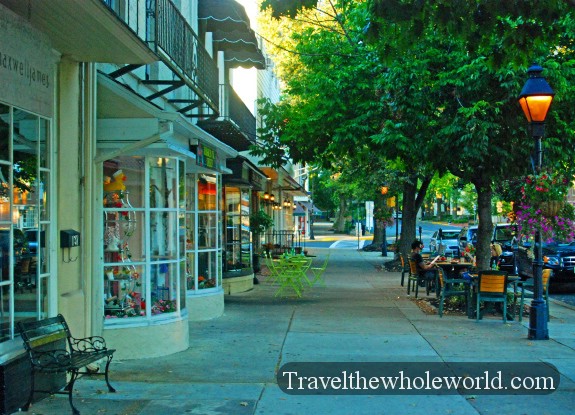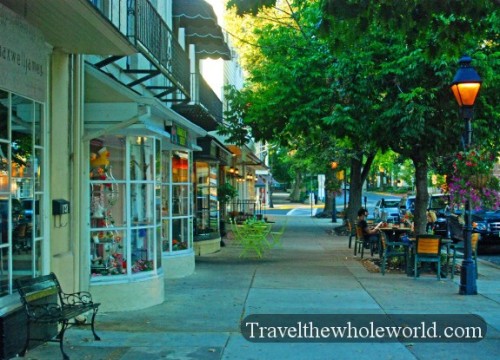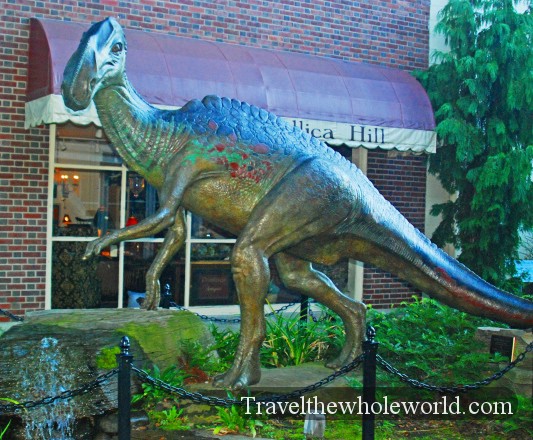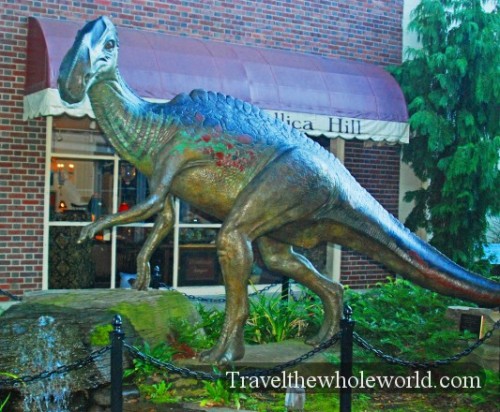 As I headed home from that trip I stopped by in the small town of Haddonfield in southern New Jersey. It was Labor Day so most of the town was closed and not too many people were out, but it was still a completely different world from the northern part of the state. Here were clean nicely decorated streets, several upscale shops and places to eat, and friendly people. Until I explore other towns, this is the nicest place I have been to in New Jersey.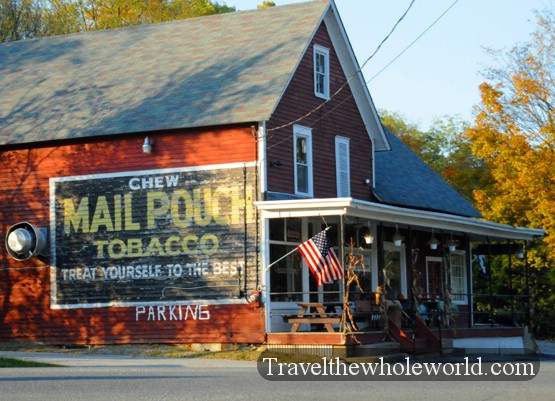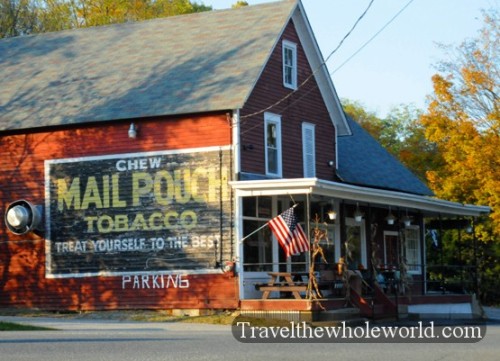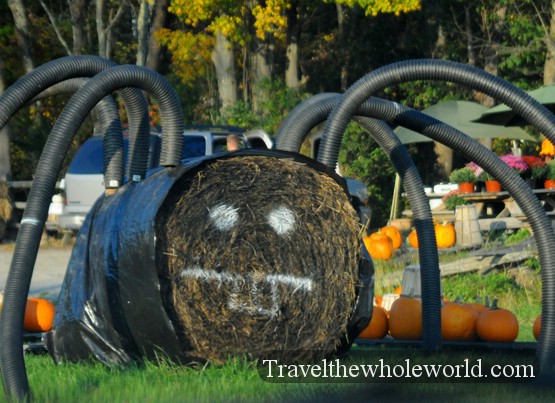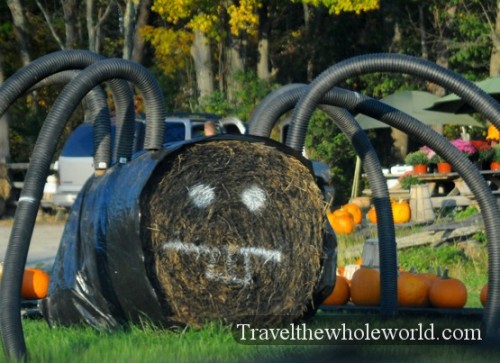 The rest of my photos are from the north western part of New Jersey which I visited in October 2008. This was a completely different world from my first trip, and I was surprised to find a rural country atmosphere. Since the state is so small, the major cities would only be an hour drives east from here, but while exploring this area you'd never be able to tell. Above are two photos from a small town in the north west. The left is a country store with a huge tobacco advertisement, on the right is a six legged spider to draw attention for Halloween pumpkins.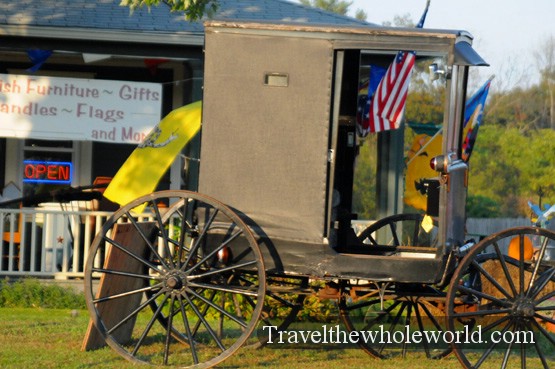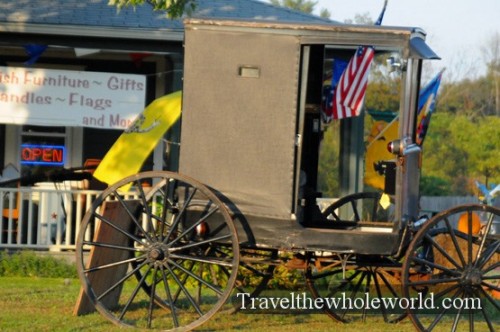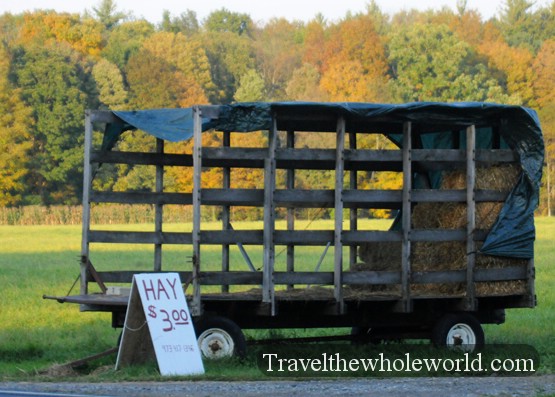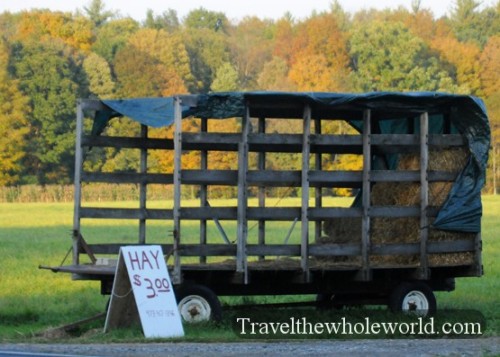 Another surprise for me were the farms and even a place selling Amish furniture and goods. I'm not sure if there are actual Amish people living in the western part of New Jersey or this business was just selling things from Amish country, since Pennsylvania borders this area.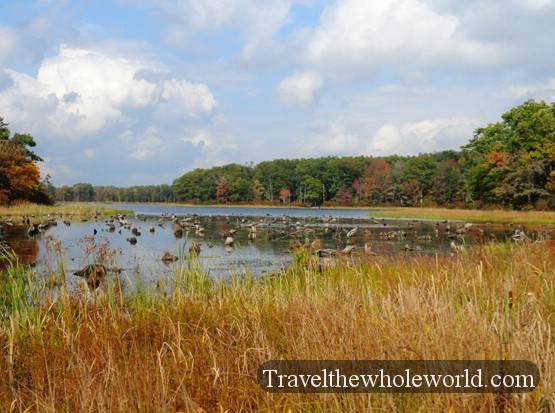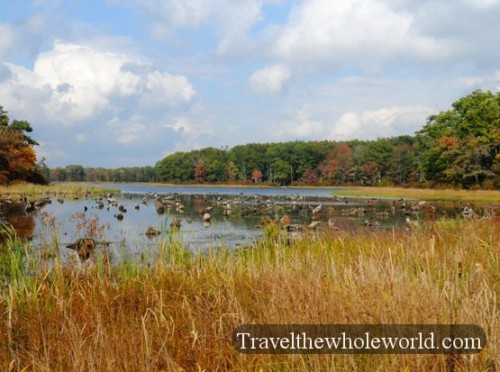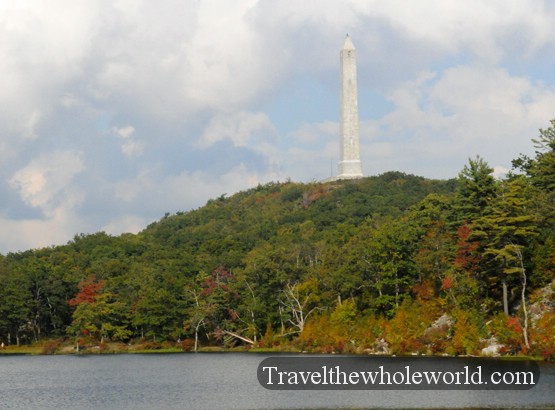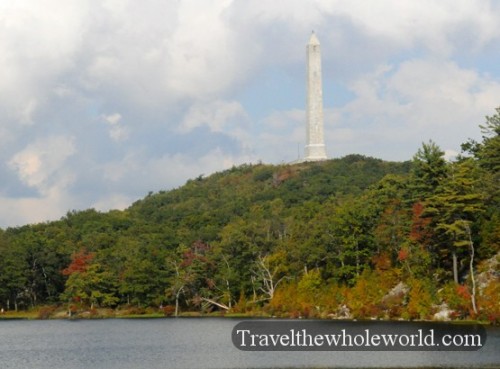 My reason for visiting the north west region of New Jersey was to see two of their outdoor areas. The first one is called high point state park, and as its name suggests it has the highest point in the state. On the left is a lake in the park, the humble hill on the right is the highest point in New Jersey at 1,803 feet with the veterans of war monument on top.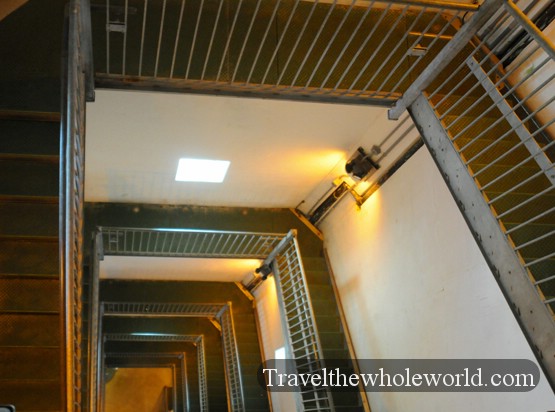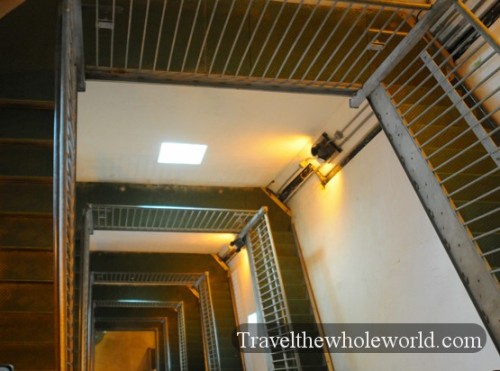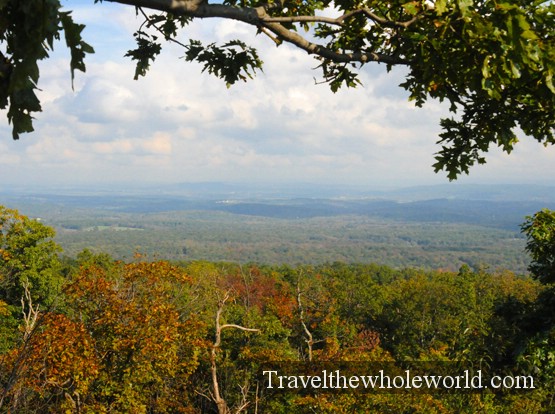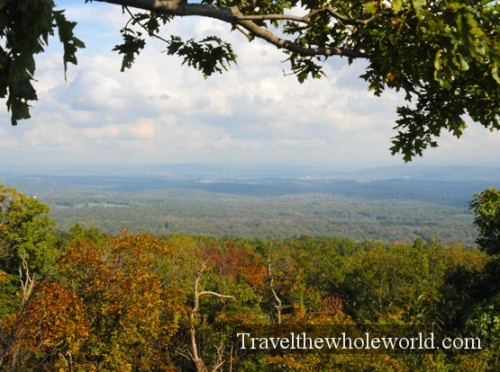 The monument on high point actually has an observation window at the top. Be prepared to work for it though and climb a lot of stairs! If you're not enthusiastic about the stair climbing I actually found I had a better view from the ground anyway.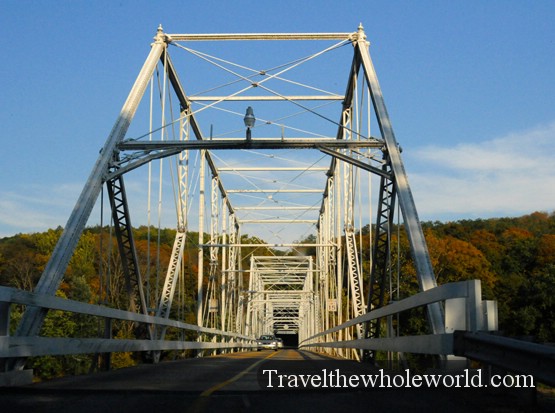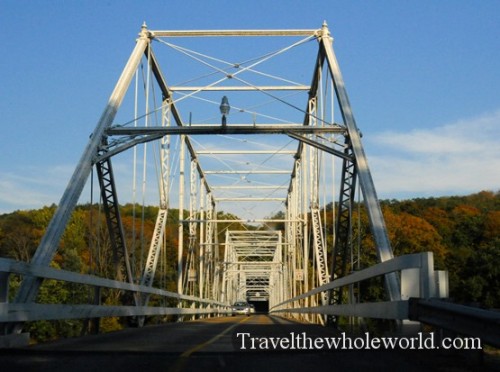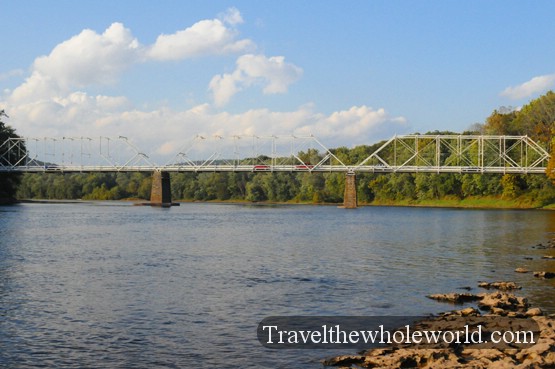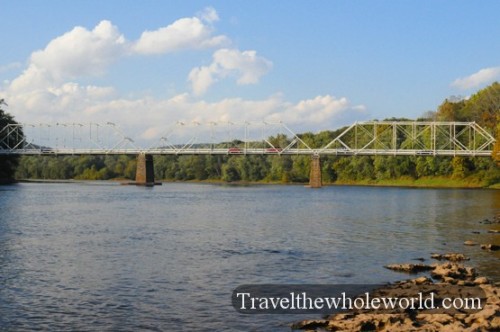 My last visit in the state was the Delaware River Gap which covers the border of New Jersey and Pennsylvania. The Delaware river bisects the Appalachian mountains and provides some great scenery and outdoor activities including mountain biking and rock climbing. Lots of wildlife also are in these mountains. Unfortunately I have yet to see a black bear while hiking in the east coast, but some lucky visitors even spot them in this area.