Visiting Jacmel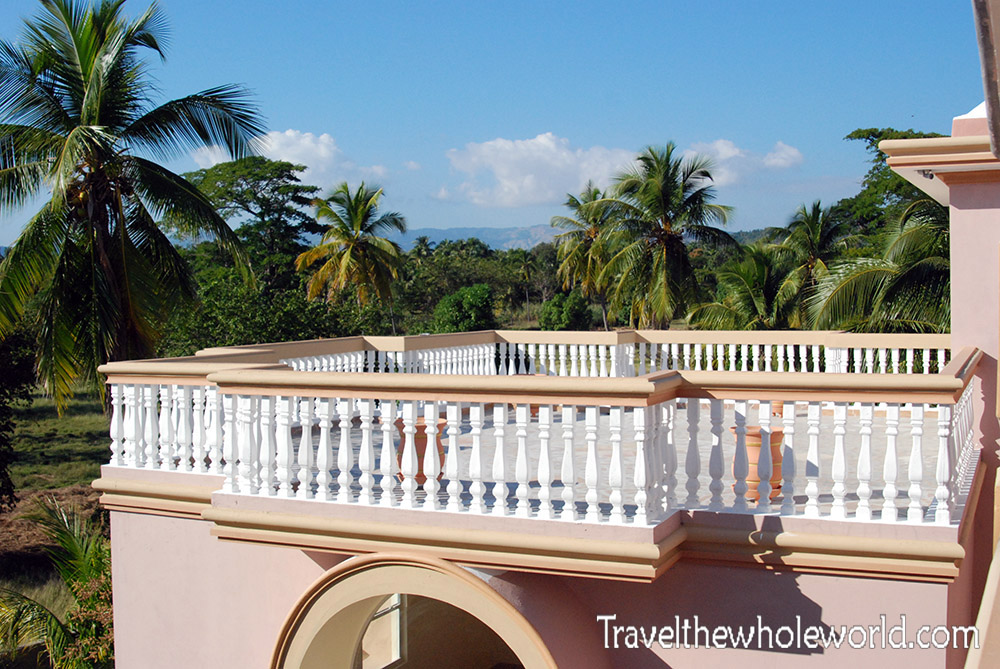 Well, this is one of those pages that turned out to be a misadventure so I don't have many photos to share. I kind of debated even publishing this until I could return, but hey this is part of traveling I suppose! So Jacmel is a nice place to visit for its beaches and for the carnivals that take place in February. Many NGOs and people who work in Haiti come here for a weekend getaway. The town is only a few hours south of Port Au Prince so it's easily accessible. On the way from the capital I passed this beautiful hotel that was being built. Unfortunately I didn't get a good photo of the entire building but I did get the snapshot of this private balcony. The owner was more than happy to give me a tour of the place and offered me half price if I ever return! I remember his excitement at showing me all the different rooms with young Haitians tiling and painting the interior. He was an extremely nice guy and I think his hotel will be one of Haiti's best!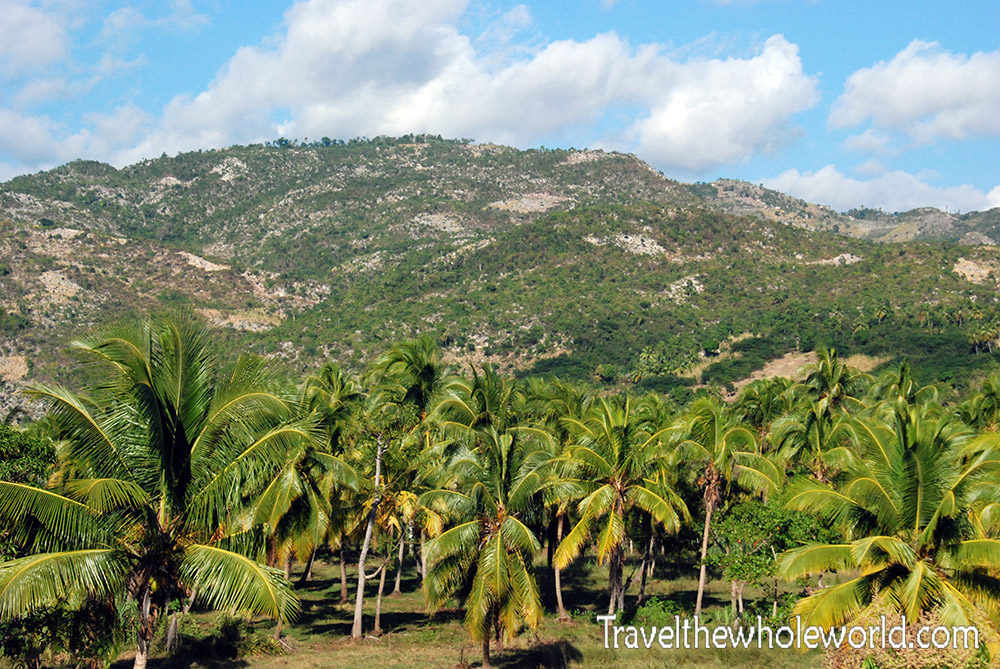 The photo above shows the view from the hotel balcony. My driver for my Jacmel trip seemed to be both a global warming activist and a defensive driver educated by national geographic. He complained about how all the trees had been cut down by the population and that it was one of the reasons why a recent hurricane was so devastating. Like most of Haiti, you can see the mountains in the background have been stripped bare, but the hotel grounds did a good job of keeping palm trees on the property.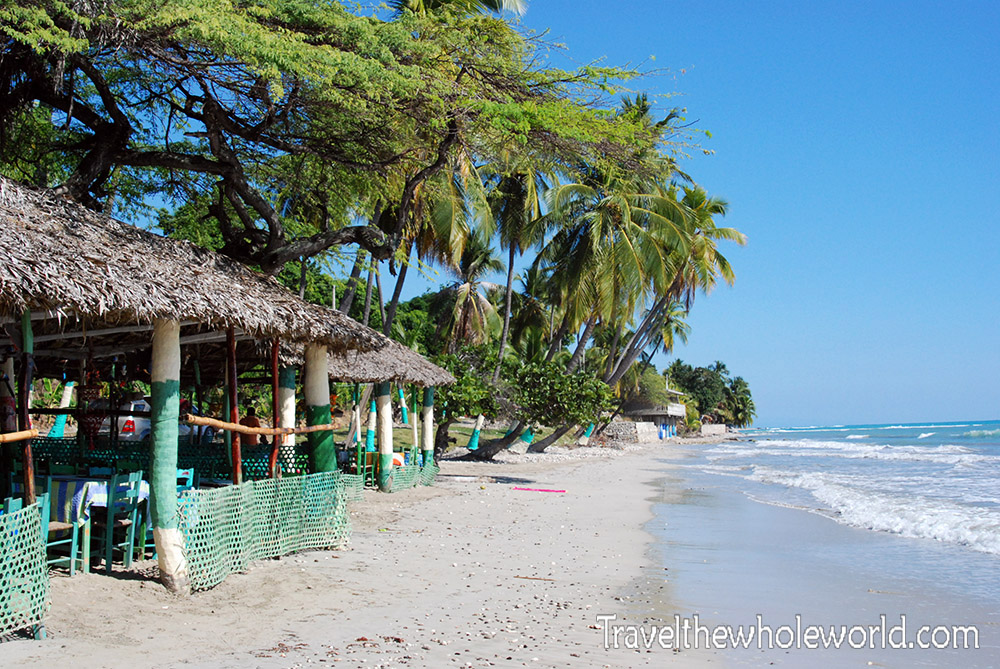 Before I get into Jacmel I'd like to discuss my misadventure in getting here. If you read my Cap Haitien page you'll know I prefer to fly in Haiti when possible, otherwise hiring a random driver from the street works relatively well. While in Port Au Prince I got into an argument with another guy over what was a fair price for Jacmel. We finally came to an agreement and I told him I'd pay him in the morning on our departure. He didn't seem enthusiastic about our deal so I wasn't surprised when he didn't show up the next morning. Walking down the street I found a beat up minivan with at least a dozen tiny holes in the windshield that had been repaired by gluing pennies over them. I knew this was my ride, and the man who owned the vehicle was more than happy to be my driver for the day. After I gave him a deposit he immediately used it to buy alcohol and then made a random drive to the ghetto. We came to an abrupt stop in front of a building that seriously had at least 15 plus Haitian men sitting by the front door. I had absolutely no idea what was going on. After a couple minutes a few motorcycles drove up to us and dropped off three women and I realized he was attempting to hire prostitutes. I made it clear this was all on him and I wasn't going to be giving them any money. He made the argument that "Surely you can at least buy them a beer" but I refused. At one point while he did his negotiations I was left alone in the van and I was worried the gangster guys would think this was my idea and take offense to it. Luckily they seemed indifferent and simply stared at me as we drove away with my drivers new friends. When we first arrived to Jacmel, I was grateful that he wanted to spend time with them so I was dropped off alone at this reasonably nice restaurant by the beach. Here I met an American couple of Haitian decent who were both surprised and happy I had come here as a tourist. They were the only foreigners I met during my entire trip!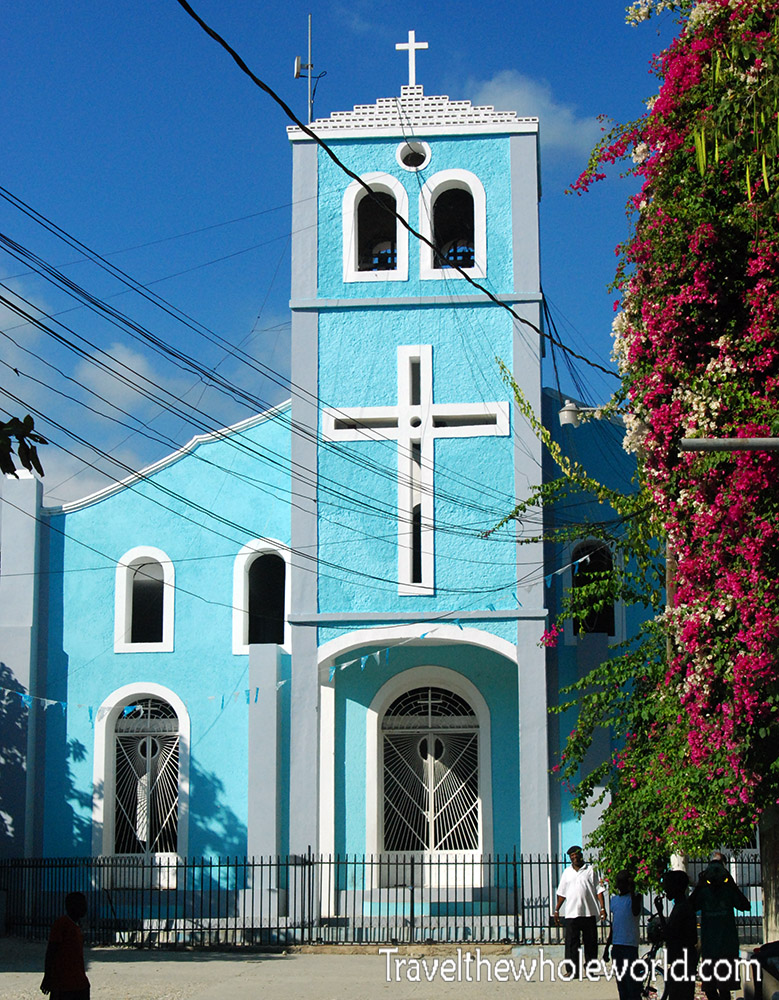 Jacmel seemed like an extremely small town, but I was a bit limited on exploring since my driver had abandoned me and I didn't want to lose him. I found many parts of the city to be attractive and nicely decorated, such as this bright blue church. Other parts like the city center were rather plain like as, in the photograph below. I imagine this is a completely different atmosphere once the carnival takes place in February!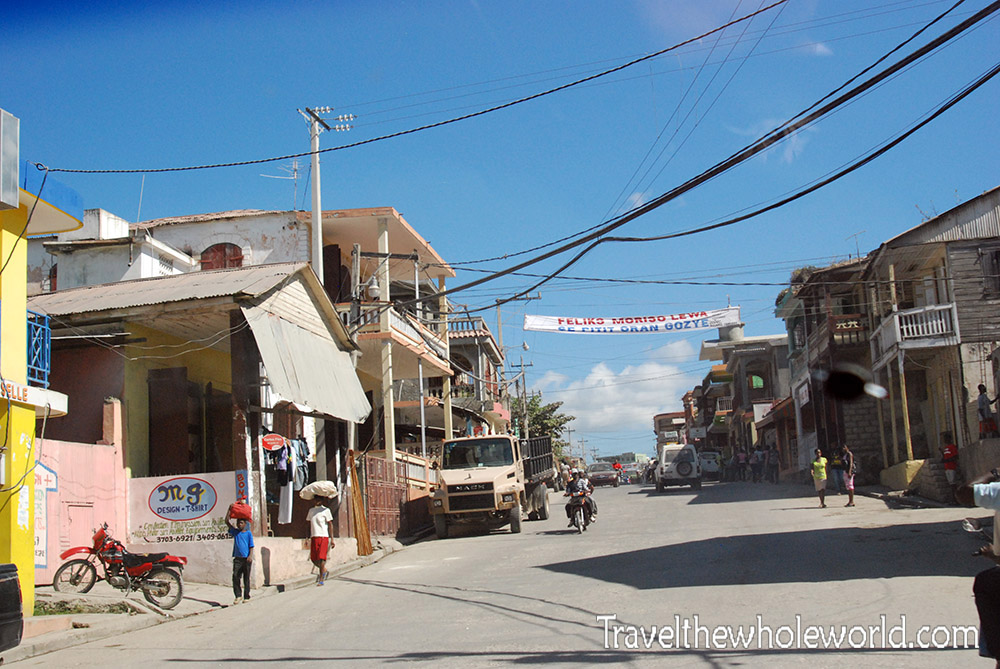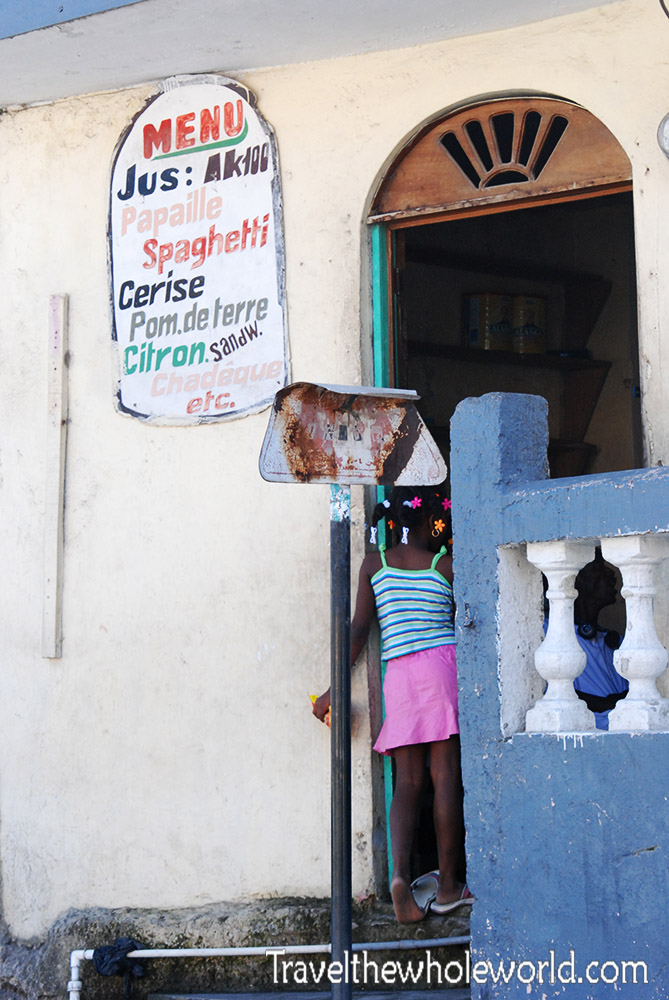 I can't say I did much in the city center. I explored a bit without any destination in mind and found myself taking a stroll back along the beach. Along the way I saw a group of kids playing soccer. Most of them seemed to be young poorly dressed teenagers. One was wearing nothing but tighty whities and another boy was seriously butt naked kicking a soccer ball. I felt that this was one of those Kodak moments but decided against photographing the sporting event.
After my walk on the beach I returned to my crazy driver who was still hanging out with the women he had hired. We went on a hopeless mission to find one of Haiti's most beautiful waterfalls, Bassin Bleu. I had zero confidence on where we were going, especially after we began driving up a mountainous pass that was clearly way beyond the limits of our minivan. Many times we almost got stuck or seemed like we might roll over. The three women in the back were screaming with laughter about jokes I couldn't understand while ruffling my hair. This made it difficult to concentrate and come up with a solution.
My driver was more creative than I gave him credit for; he found some local men on motorcycles who said they could take me the rest of the journey. They described how I'd have to cross a lake in a boat until I reached the waterfall. My driver planned to hang out in the van with his hired friends while I continued on solo. Something didn't feel right about this, especially the part where I'd drive up even higher into the mountains and require a boat to cross a lake. I wasn't able to directly talk to the guys on the motorcycles, but through translations I got the feeling they weren't very confident about where we were going either. Even if they took me to my destination and back, I worried about the condition my driver might be in after my trip. I told him I didn't think this was a good idea, and to my surprise he didn't argue and immediately agreed that we should leave. Sadly these types of things happen more often than not, adn usually I simply just don't include them on my site. But nearly on every trip there are always parts that don't work out; Bassin Bleu – Mission Failed!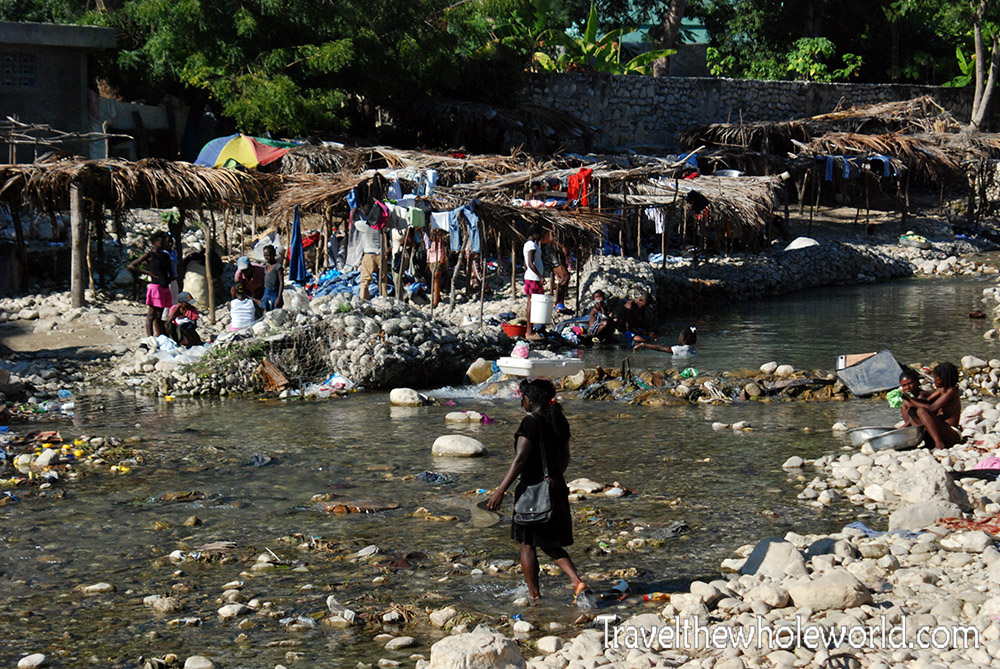 With our mission failed we spent a little bit of time in Jacmel before heading back to Port Au Prince. Perhaps what I found most interesting about this region of Haiti were the locals who use the river as a lifeline. The river is used for cooking and drinking water, and a way to wash not only their clothes but themselves.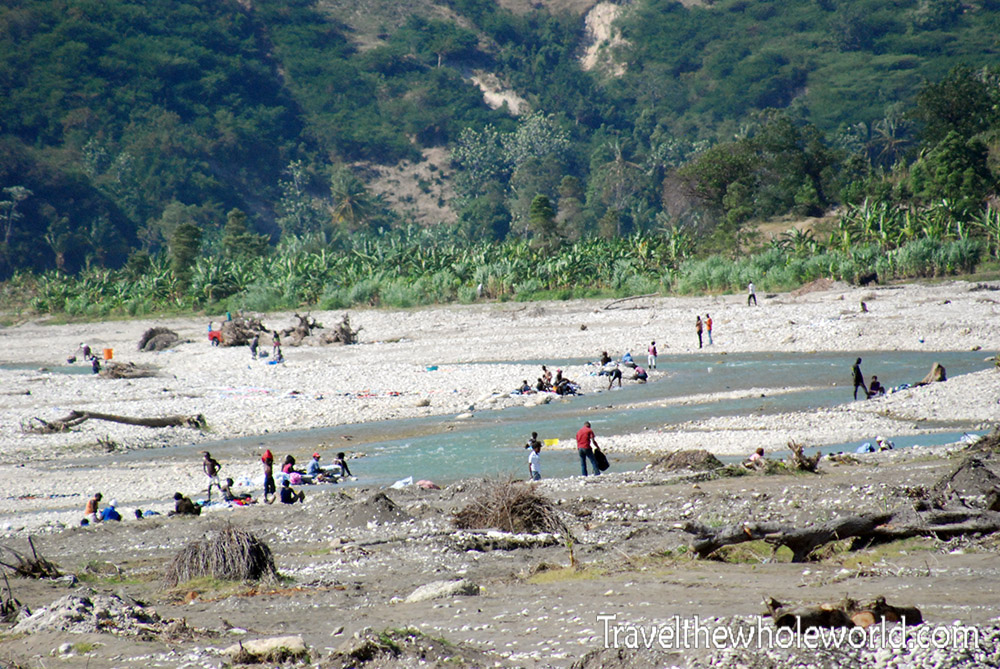 I saw people bathing in rivers throughout the country, but not in these numbers as in Jacmel. Something I really regret not seeing in Haiti was any type of voodoo ritual or ceremony. Of course this isn't something you can just approach anyone about, but I have heard many interesting stories of voodoo practices in the smaller villages like the one above and would love to experience some first hand. Even this was an interesting cultural experience, but of course its a bit sensitive and had to be viewed from a distance.