Climbing Mt. Elbert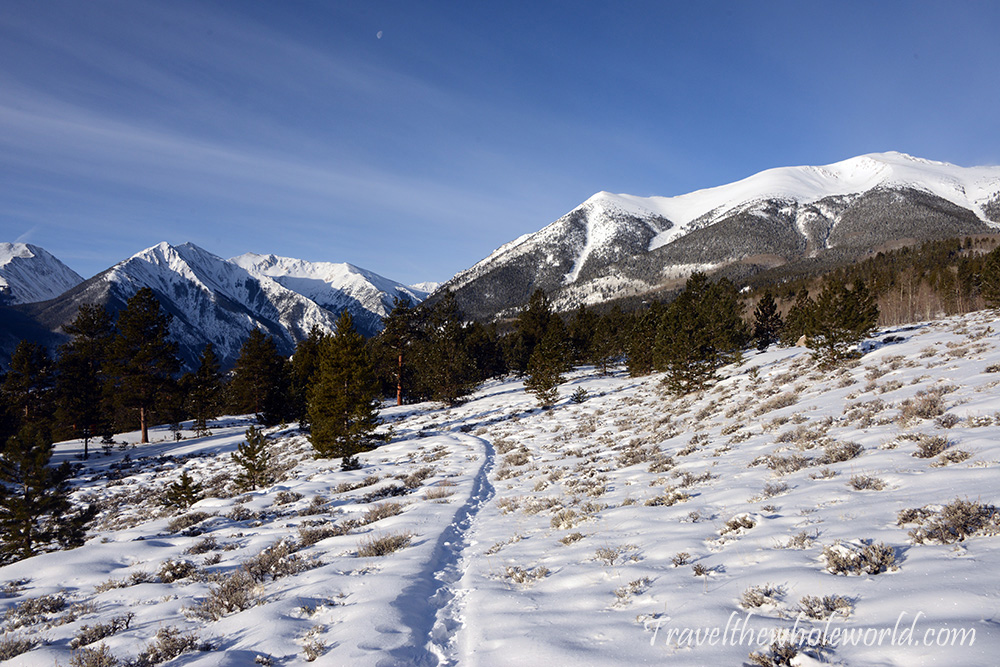 As the highest mountain in Colorado, as well as the entire Rocky mountain range, Mt. Elbert has long been on my list. I was always aware that Elbert is a simple hike up to the summit, and one of the easiest 14,000 foot mountains in Colorado. I had always thought going in the winter would make up for this a bit, but as I got more experienced in climbing I saw a winter trip as nothing more than a high altitude snowy hike. Regardless of the challenge, I was happy to finally be attempting the peak, and when the day finally came I started off on the South Mt. Elbert trail for many reasons. The biggest was this was the only place I could park my car in the winter! Even a day after a major snowstorm, the parking lot was plowed and I had no trouble getting there with my horrible Nissan Sentra that I had rented. At 9,600 feet (3,000 meters) I started towards the top of the Rockies, and took this photo minutes into my hike.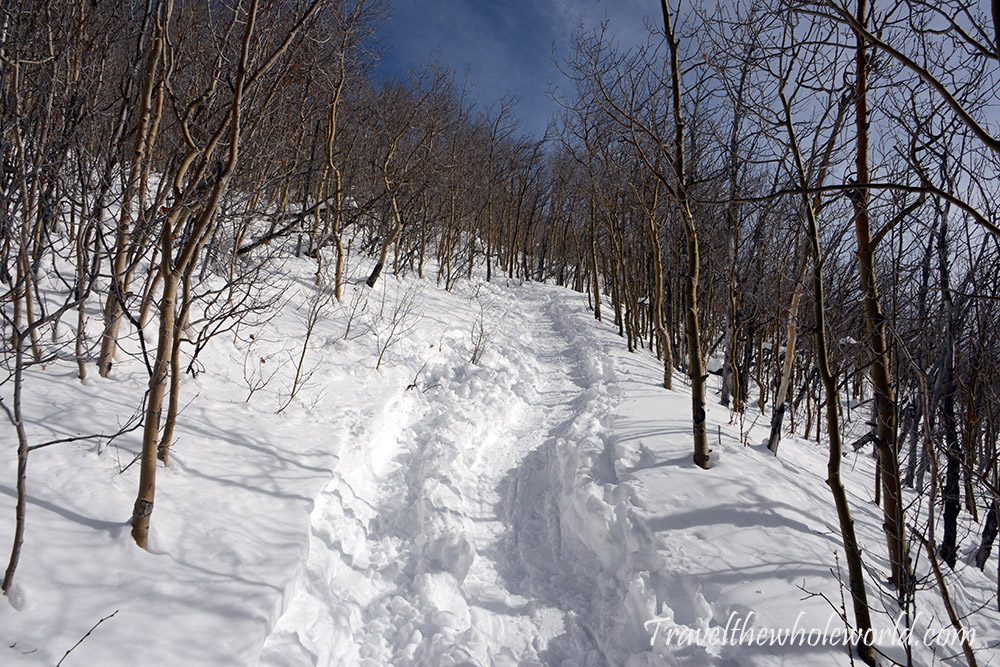 The winter trail that connects you to the normal parking lot has roughly 1,000 feet (300 meters) of elevation gain. I found it annoying that everyone said the trail adds an extra two miles because I think it's closer to three. On the return from the normal parking lot for example, a sign was marked two miles, but a short distance later another sign said two and a half miles despite the fact that I was slightly closer. So anyway, I'd say using the winter parking lot will add roughly five miles (three kilometers) round trip to your entire climb. Luckily it's mostly flat, but the snow was what was slowing me down. A few times I had to break trail and other times it was nicely packed, but always easy to follow.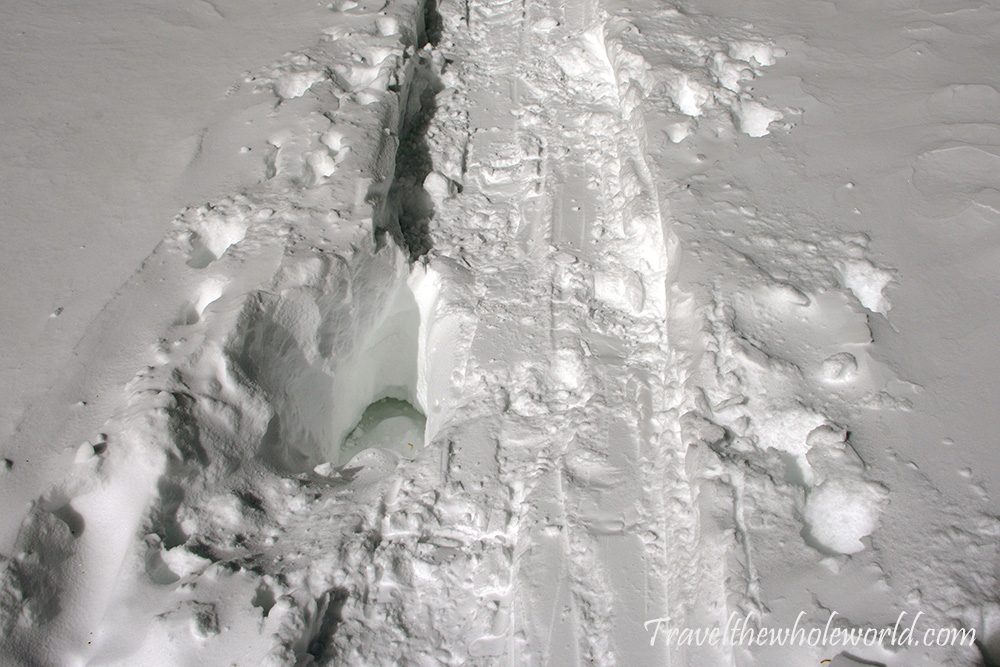 There were two other vehicles present at the parking lot when I started so I was not sure why I ever had to break trail with people ahead of me. I discovered that whenever the snow was packed, it was only packed directly on the trail. A few times I stepped off to the side and immediately fell another foot or two into the snow despite having snowshoes on. This photo doesn't provide the best perspective, but that hole is at least two feet deep!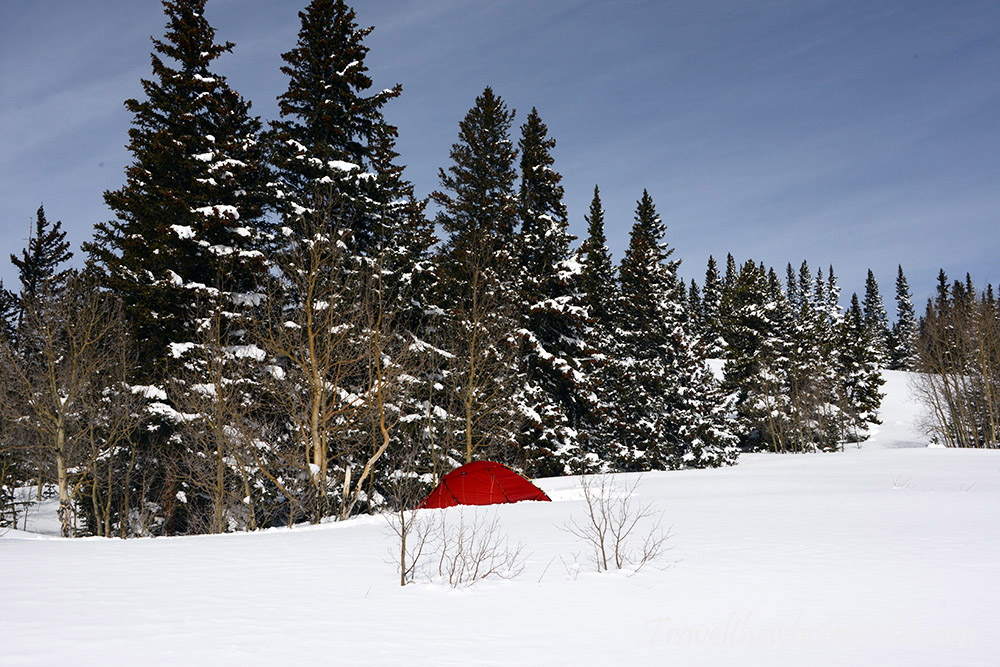 The hike from the winter parking lot to the normal parking lot was pretty uneventful. I came across another guy who was a local and we had a brief conversation. It seemed we both wanted to do our own thing, so we didn't stay together. I said I'd be going slow since I wasn't acclimatized at all and we both where in and out of sight of each other until we reached the normal parking lot. I don't recall the terrain being much steeper from here, so it wasn't until my decent I saw how steep it was. At around 11,000 feet (3,300 meters) it flattened out a bit and I even came across an empty tent. Camping would have done me wonders in terms of acclimatizing, but I had a flight to catch tonight!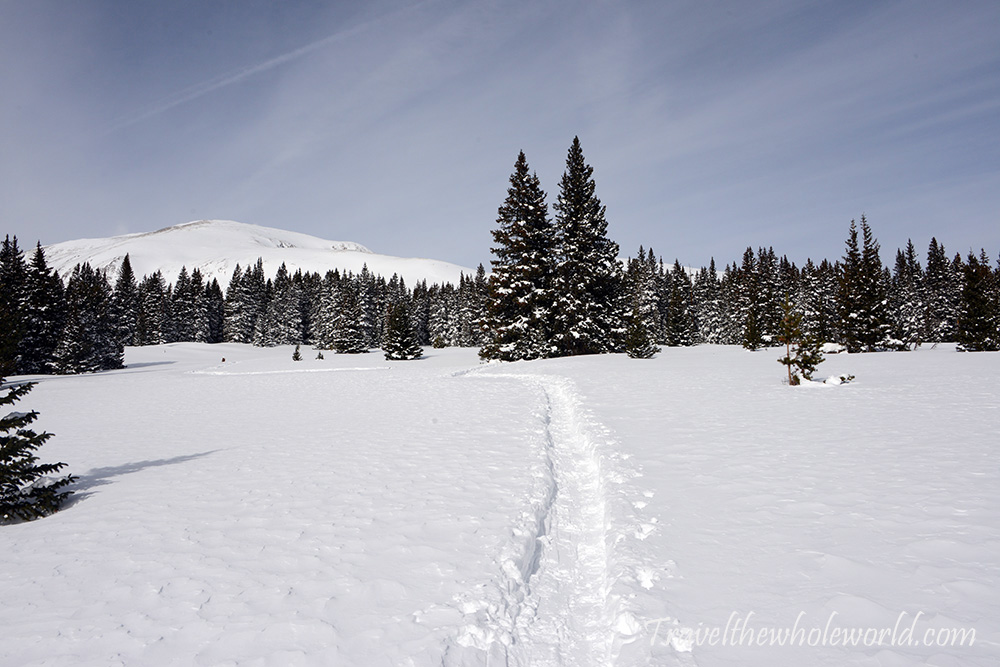 The terrain continued going up slowly, until I reached this empty snowfield surrounded by evergreens. I've always loved hiking in snow covered evergreens, and was a bit disappointed but how short this experience was. In the photo above you can see how brief the tree line is, as well as the summit in the background.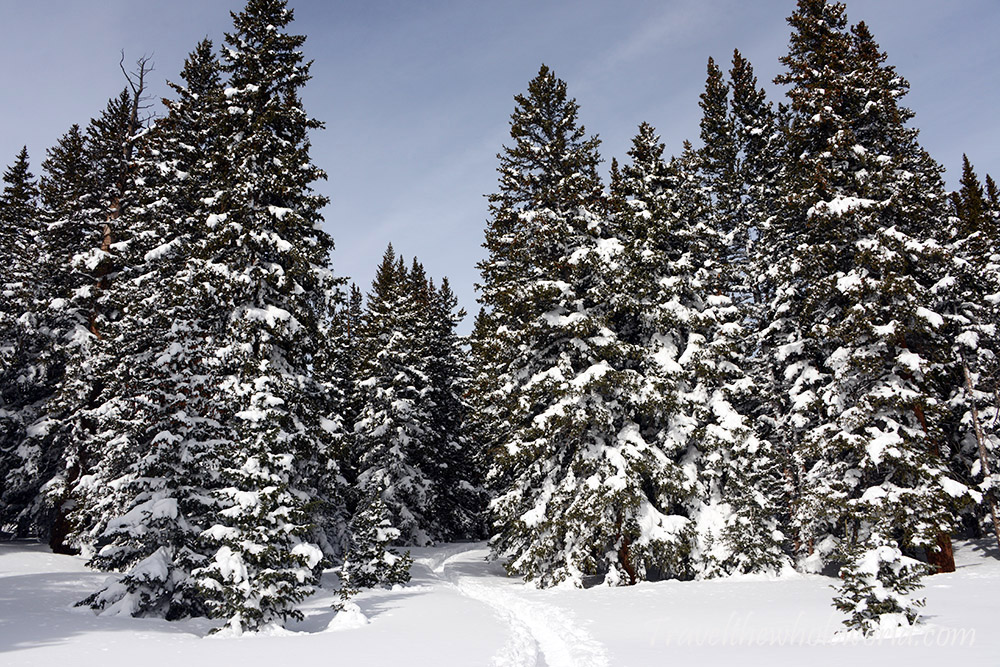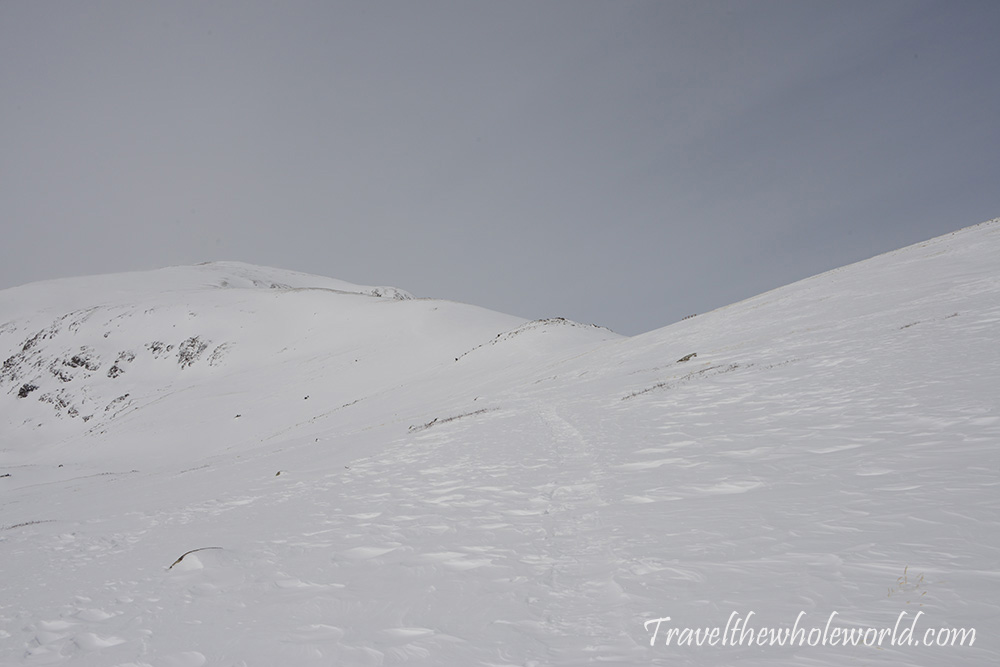 From the woods I continued uphill in deep snow until I rounded the corner where I could see the remaining part of the route. The climb up Mt. Elbert is most definitely not steep, but with my camera pointing up most of my pictures will make it look deceptively flat. Keep in mind by now I was around 12,000 feet (3,650 meters), so despite how flat this looks I still had an incredible 2,500 feet or 750 vertical meters to ascend! If you can see the notch where the two main slopes in this picture meet, roughly around that location is where a known woodpile is located. The woodpile is officially at 12,400 feet (3,800 meters), so now I still had a remaining 2,000 feet left. I've no idea why it's there or who brought it, but from here it began to get relatively steeper. Despite already being more than half way up from my starting point, I remember thinking this is where the climb truly starts!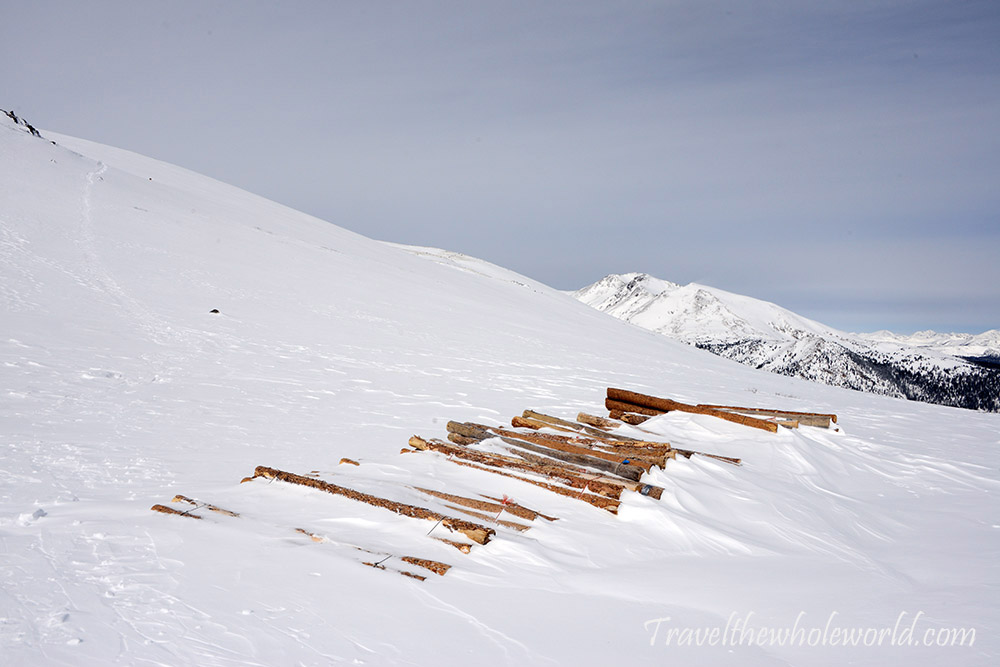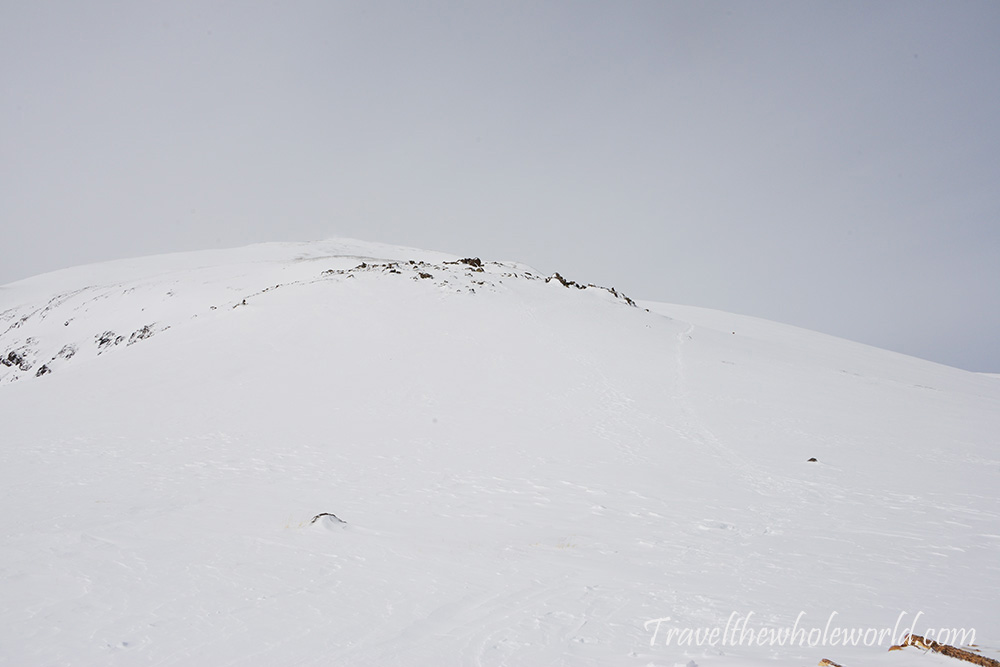 By now either my lack of fitness or the altitude was challenging me. I wasn't being pushed to my limits or anything but it was definitely starting to make me breathe hard. The wind had also picked up significantly and visibility dropped. I really wish I took more photos, on the way up. There wasn't too much to see however. The only significant change was the terrain became much rockier, enough so that I left my snowshoes at 13,000 feet (4,000 meters). For the most part this worked well, but I came across a few short but really deep areas that had me cursing and wished I had kept them. As I approached the summit two hours after leaving the woodpile, I was in clear skies again and the wind died down.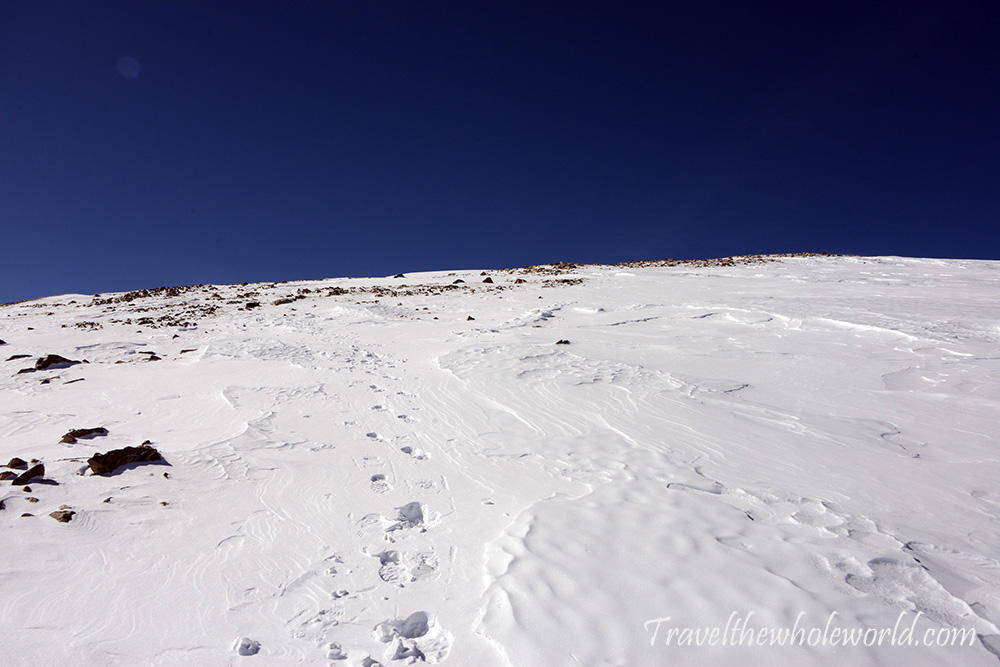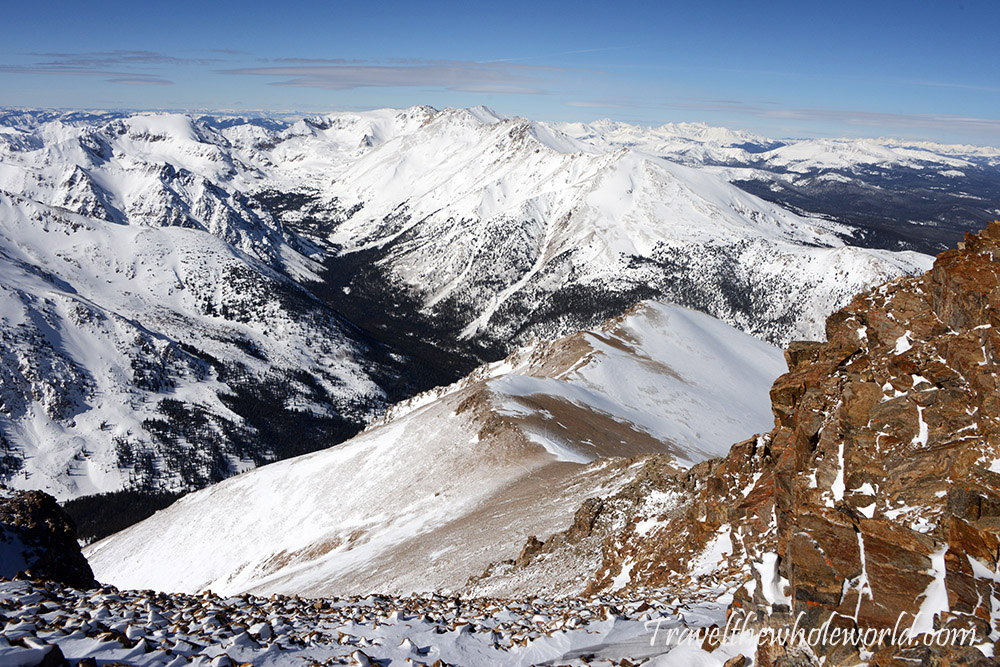 Because Elbert isn't very steep, there was only a single false summit, and once past that the true summit is always in view. The weather stayed perfect and I felt like everything was in order despite the torture of climbing past 4,000 meters from sea level. Just below the top, I got to a ridge where for the first time I could see the other side of the mountain range. It was a spectacular sight, and I could even see what I believed to be the Black Cloud trail far below.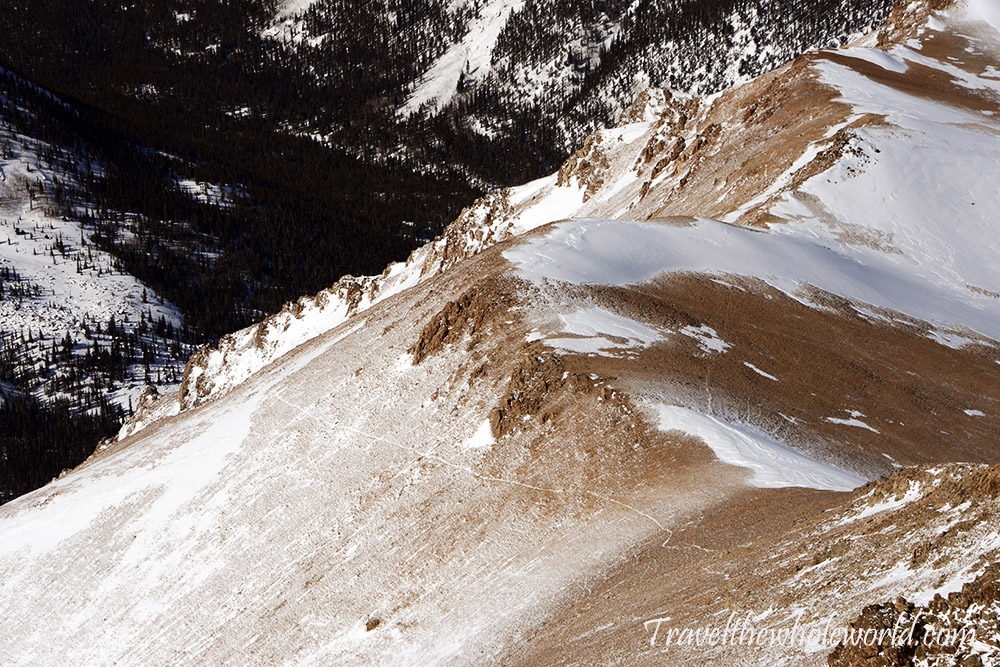 It took me nearly six hours to reach the top of the Rocky mountains. I'm sure someone who is in better shape and acclimatized could easily shave an hour or more off that time. The other climber I had saw in the beginning descended past me just a few hundred feet below the top, so once I was there I was happy to have the whole place to myself. The only draw back was it was difficult to put my camera in a place and use the timer to get a good photo. Above is me trying to run into the picture on the summit. I was a bit surprised that there wasn't a large marker or monument marking the highest point of the Rockies, but the views were all I needed. It seems to have been a very long time since I have climbed up a significant peak and had clear skies!