Visiting Patagonia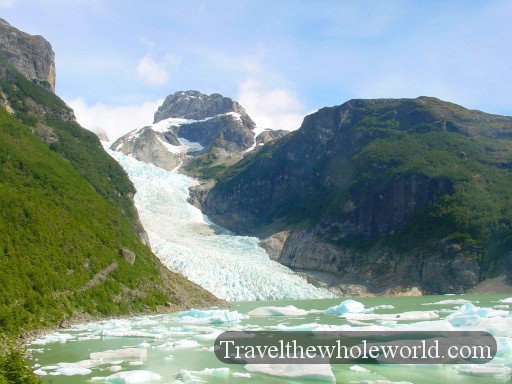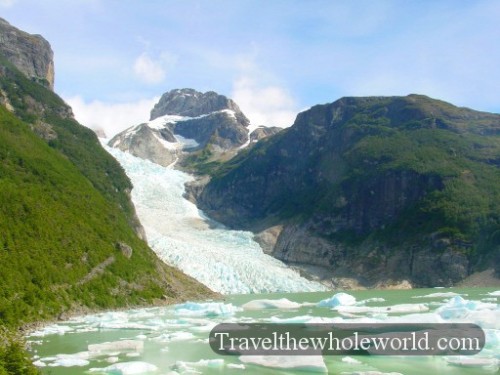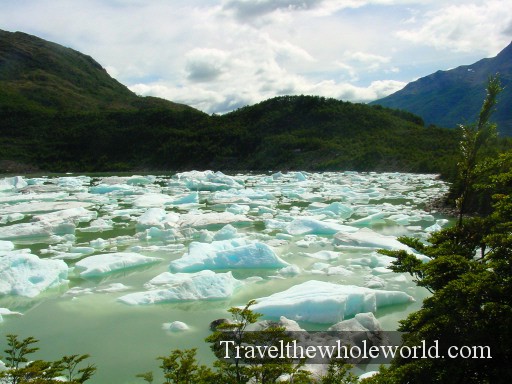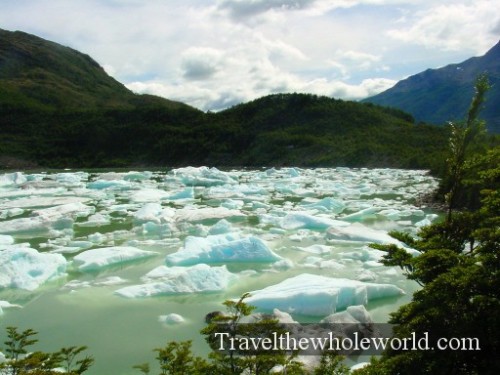 The rest of these photos are all from the southern part of Chile which has permanent snow and ice; you can tell immediately it is quite different from the northern part. I visited this area known as Patagonia in their summertime. On the left is a photo of the Sorreno glacier, one of the most impressive things I've ever seen. You can see how it looks like their was a rush of water coming down that mountain that flash froze.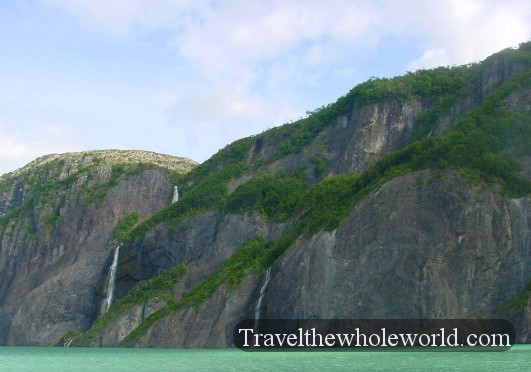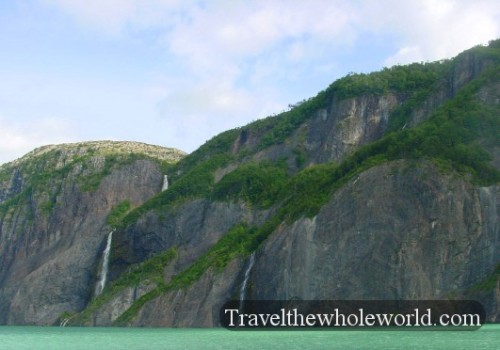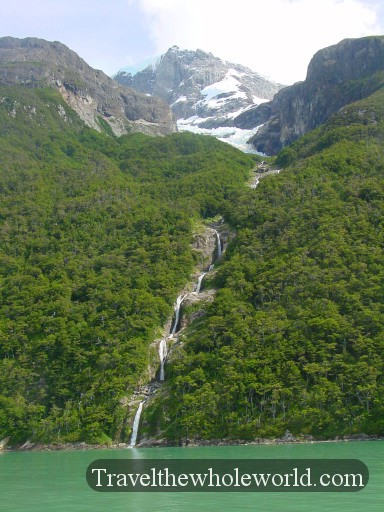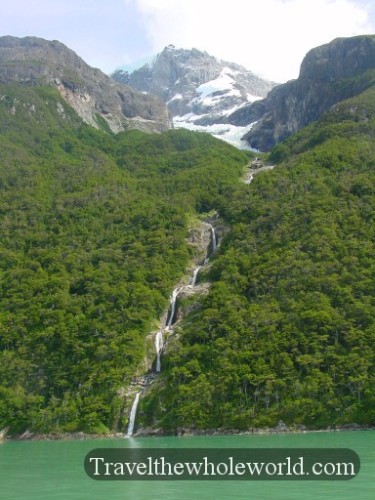 Something else I did while traveling in Patagonia is take a quick boat trip up and down the Fjords. These next two pictures are of the many waterfalls that can be seen along the way. Patagonia has some of the most amazing scenery in the world. The mountains, waterfalls and turquoise water all combine to give spectacular views.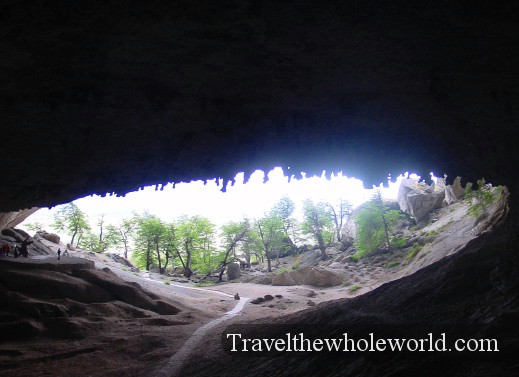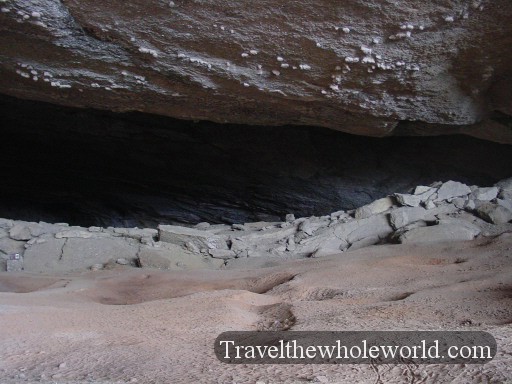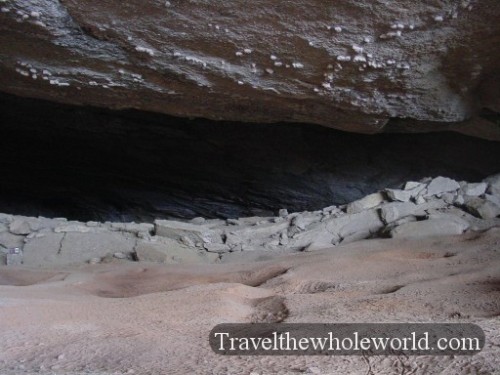 Another place of some interest to visit in Chile's Patagonia is Milodon cave. The cave has a wide entrance and opens up into an enormous room. When the cave was explored in modern times, some human remains were found here dating back to the ice age times.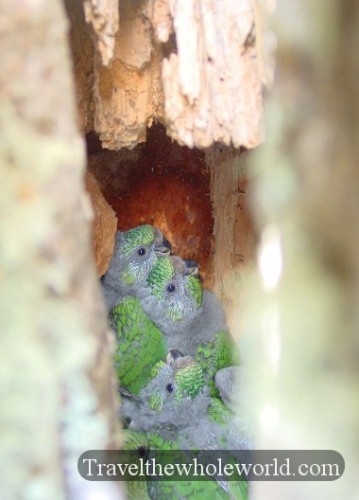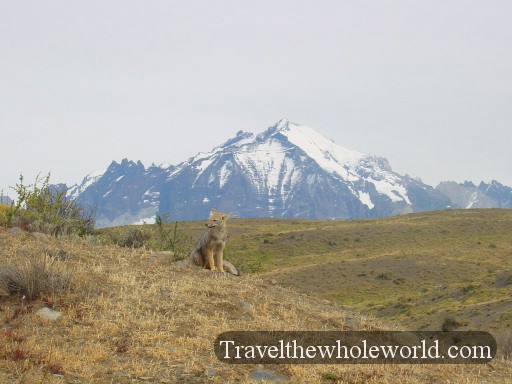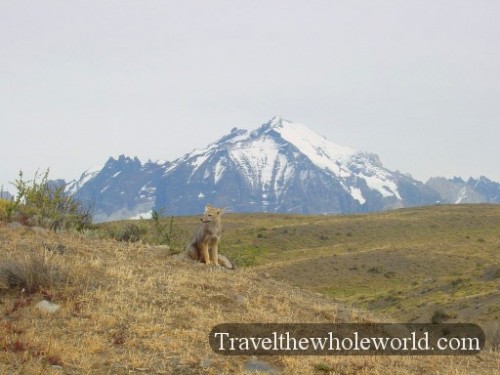 This area of Chile is heavily populated with wildlife. Above are some baby birds that I found living in a rotted part of a large tree. On the right, a fox can be seen standing in front of a snow capped mountain. This fox was with a pack of 3 other foxes who were passing by and seemed used to humans.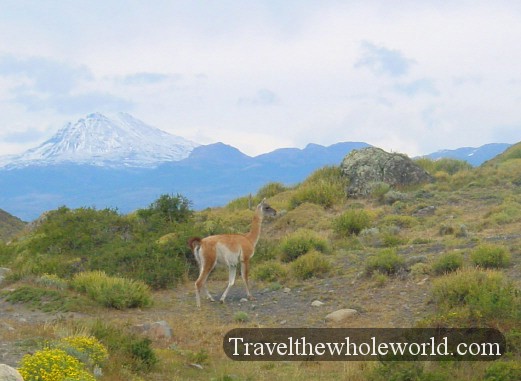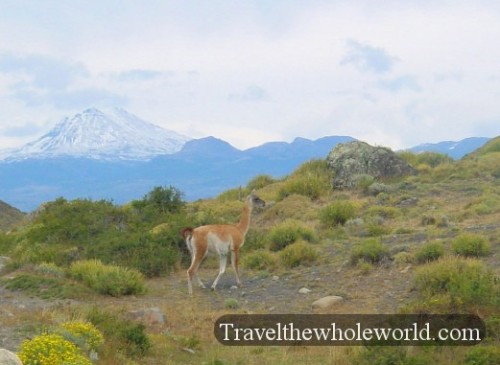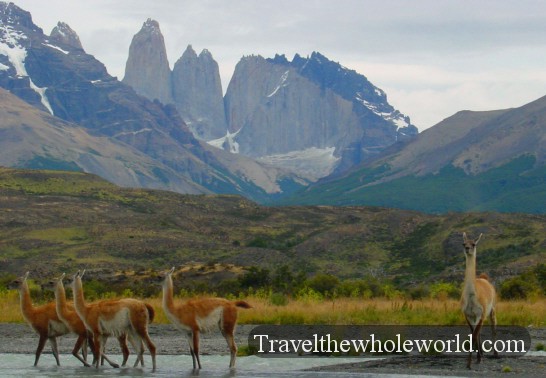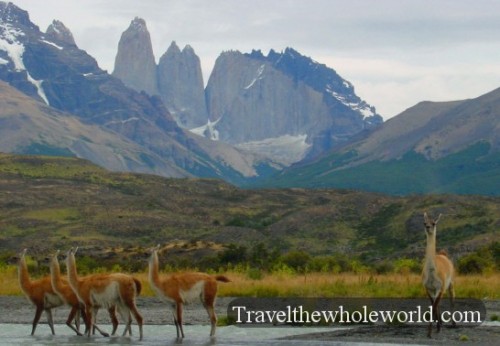 Above are some guanacos in the national park Torres Del Paine. This was one of my favorite national parks in the world and enjoyed it by simply sitting for hours watching the guanacos. In the first picture, the guanaco on the right appeared to be the leader of the pack. He was definitely the biggest and would chase the other ones around, sometimes biting their hind legs. The right picture shows a lone guanaco walking with a huge snow covered mountain in the background.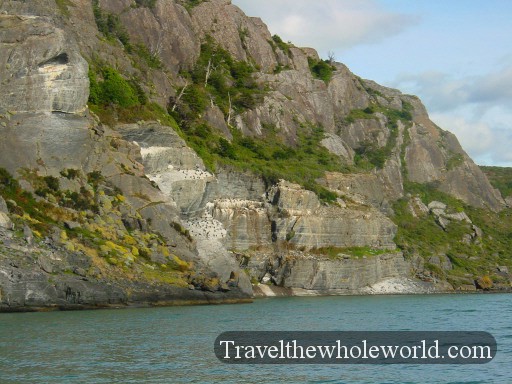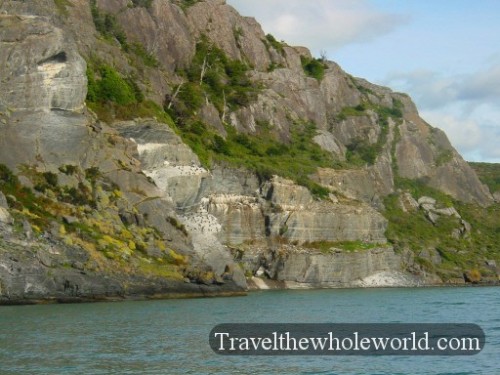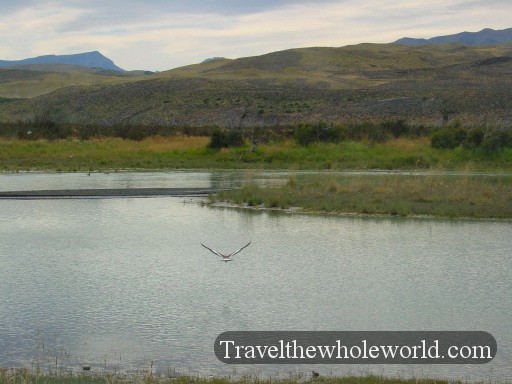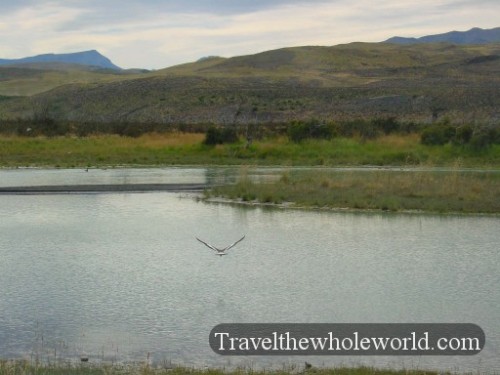 The guanacos are the most famous wildlife in the national park, but this area of the world is also a bird watchers paradise. Unfortunately this trip was several years before I started to care about photography so I don't have any close up shots. The large bird on the left appeared to be some type of heron. On the upper right is a colony of hundreds of cormorants, only seen as black dots in the photo.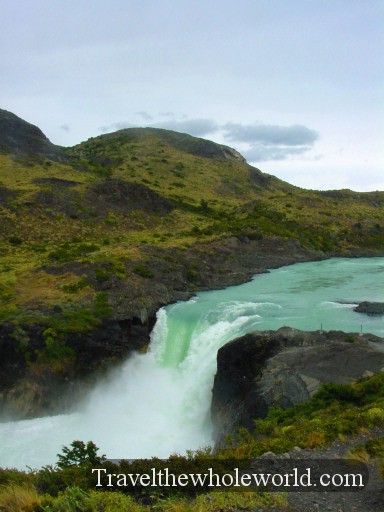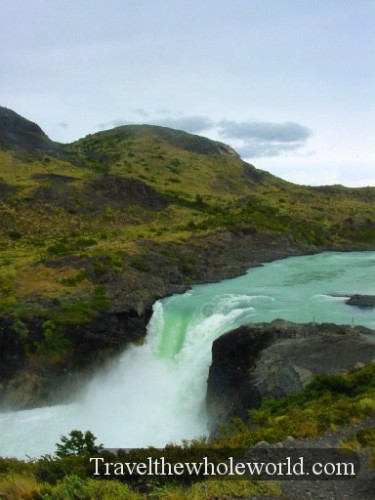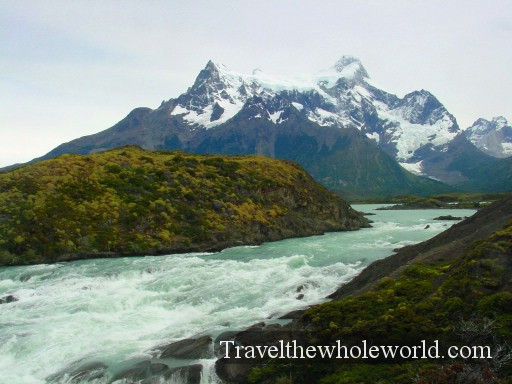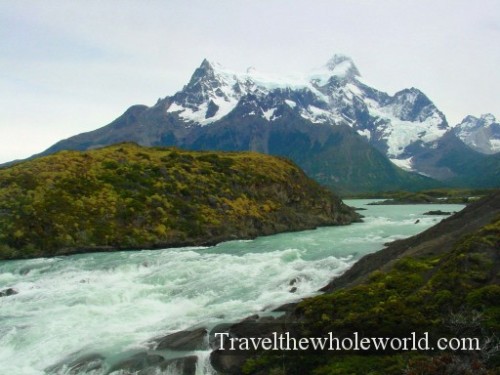 In my previous photo with the guanacos, the mountains in the background are the most famous peaks of Torres Del Paine. The photo above shows some different mountains with a huge glacier at the top. On the left is a turquoise waterfall.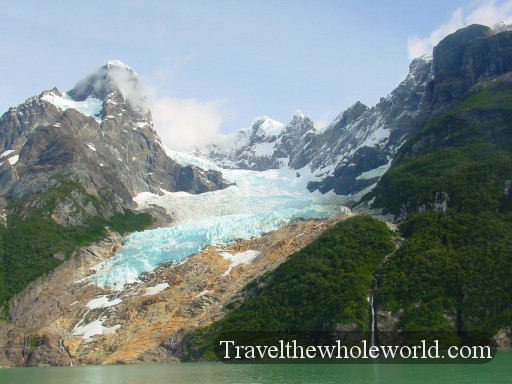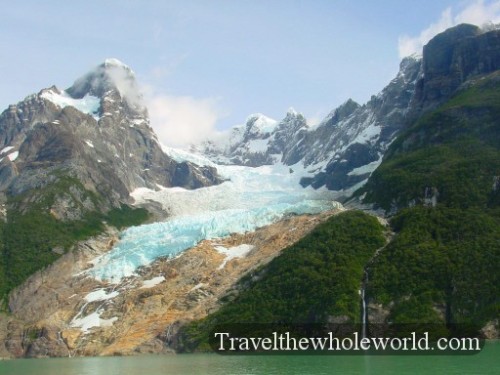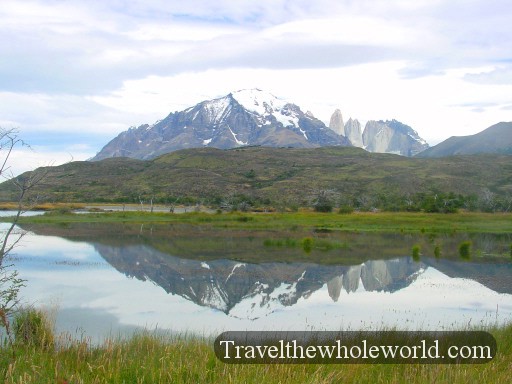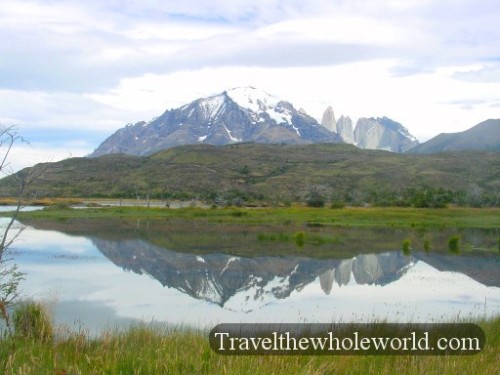 On the upper right is a picture of the Torres Del Paine mountains being reflected in a lake. The other two pictures show another popular glacier to visit in Patagonia. The top picture was taken from the distance, and you can notice that on the glacier itself.