Traveling in Argentina
Argentina is a very popular destination and it stands out from the rest of South America because it has a large European population. This large country and has everything from the highest mountains in the Americas to miles of beaches and rainforests to the sub-antarctic. The capital Buenos Aires is known for its European style culture, theaters and tango dances, plus plenty of nightlife to keep you entertained.
I have made two trips to Argentina, the first time I only took a few photos of the capital even though I stayed here for several days. Buenos Aires is known for its European style, but I had assumed that this was only with the buildings. I was surprised to find many people in Buenos Aires still have strong ties to Europe, meaning you'll come across blondes and redheads who American or European but only speak Spanish! On the right is a large obelisk built in 1936 that celebrated the 400th anniversary of Buenos Aires. On the left a government building called the pink house. Two political parties, one red and one white combine to make pink.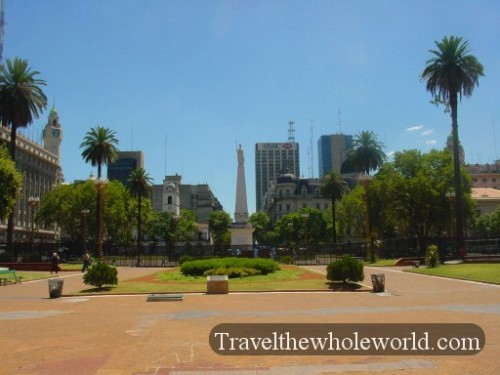 On the left is a photo of a large plaza in Buenos Aires. Plazas are common in South America, and usually major cities have dozens of them every few blocks or so. Most people come here to take a walk, bathe in the sun, or flirt like the couple on the right. Public displays of affection are very common here, its difficult to walk a few blocks with out seeing a couple making out in broad daylight.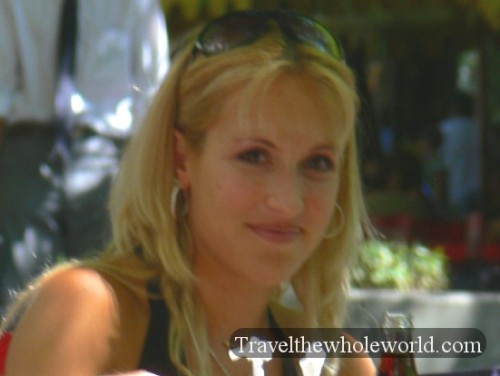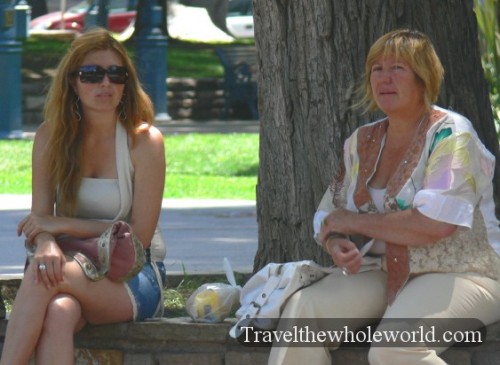 Here are some more photos of people from Argentina. You can see that they can easily pass as Europeans or Americans, and look completely different from people in northern countries such as Peru or Colombia.
Welcome to the city of Mendoza! I came here for the sole purpose of climbing Mt. Aconcagua and expected it to be a small rural village among the mountains. Surprisingly, Mendoza is Argentina's fourth largest city, and is a popular tourist destination. Many people travel here for the wine tasting in the summer and for skiing and snowboarding in the Andes mountains during the winter. Above is a garden with the city's name made out of the grass, and on the right is a photo of the governor's mansion in the city center.
Like most South American cities, Mendoza has several plazas within its borders that are usually decorated with fountains, memorials and monuments. These two pictures are of Plaza Indepencia, and it forms the heart of Mendoza. This is a perfect place to go to enjoy a nice day, and throughout the year Plaza Indepencia hosts several festivals as well as live music.
In almost every restaurant you pass, you'll see people drinking wines with their meals at all hours of the day. Mendoza wine has made it to all parts of the world, and I've actually seen it for sale in the US by chance. Above are some wine bottles for sale in an upscale restaurant. I've never done a wine tour before, but of course if that is one of your interests then Mendoza will be one of the best places to try one in South America. The photo to the right is of one of my dinners, steak with an egg on top served with French fries. These pictures below are both from Mendoza as well, showing an upper class theater located in Independence Plaza, and on the right is a five star hotel that is also found in Independence Plaza.
Above are two photos of the shops and tree lined streets in the downtown areas of Mendoza. Almost all of the streets are lined with trees in the city which I first noticed from the flight as I was about to land. Instead of seeing black streets I saw green lines. On the left shows the main shopping district of Mendoza, where street performers gather and you can find all sorts of stores and cafes. On the right is a ski and snowboard rental shop that is probably closed for the season, even though there are many permanent glaciers and snow fields high up in the mountains.
A few hours drive from Mendoza or anywhere along the western border of Argentina will put you into the Andes Mountains. The Andes mountains are an extremely long chain and are the second highest in the world. The mountains give lots of activities for outdoor and nature enthusiasts such as simple hiking and walking to mountain climbing and white water rafting. Click here for photos from my Cerro Aconcagua climb, South America's highest peak. On the left is a photo of a valley with a river running through it in the dry season. On the right is a photo of a permanent snow covered peak that must be over 15,000 feet or close to 5,000 meters.
Here is the small ski resort of Penitentes in the February. If you visit in their summer which is from June to August, everything here will be covered in snow.
The dog on the left was a wild one I found in Penitentes while hiking with a friend. Since it was such a dry area we figured it was thirst, gave it some water and we continued on our way. The puppy on the right was for sale back in the city.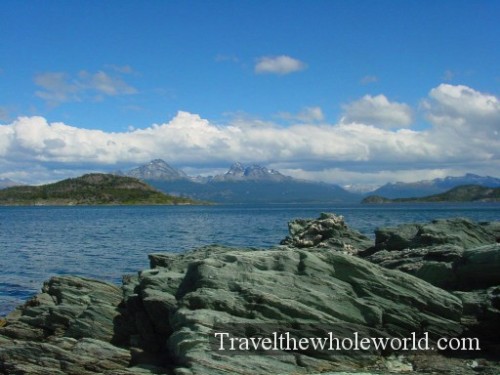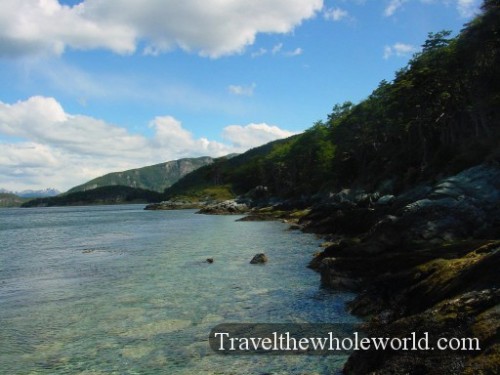 The pictures above are both of the rivers and fjords of the southern most part of Argentina, known as Tierra Del Fuego. In the background is the country Chile on the left picture. This is one of the country's most scenic areas, and it's even home to penguin coloni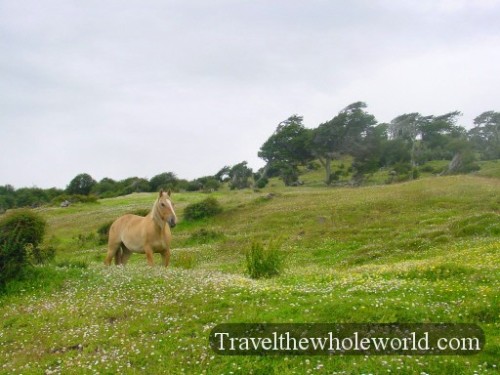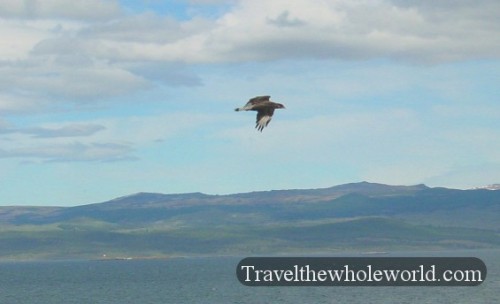 Some photos of wildlife I came across while hiking in Tierra Del Fuego, a feral horse on the left, and a large hawk prowling in the skies.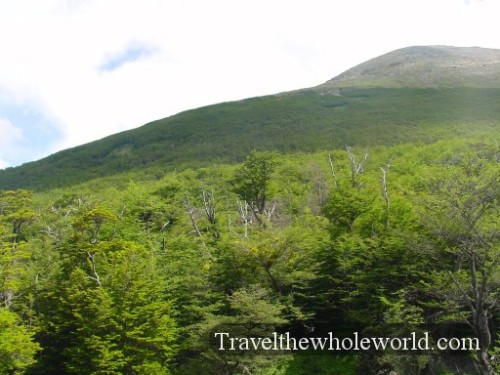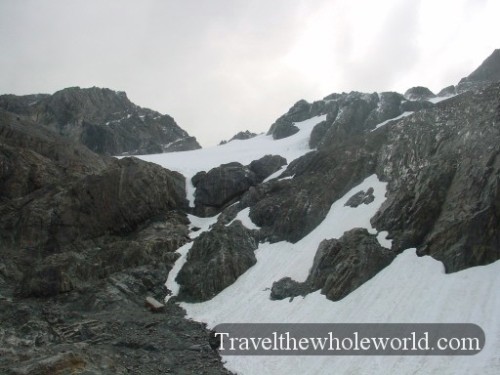 Hiking uphill will take you past through some thick forests that cover the mountainous terrain. I saw a lot of species of birds here including a woodpecker that I missed with my camera. Being this far south, it doesn't take long to reach the first patches of snow and eventually glaciers.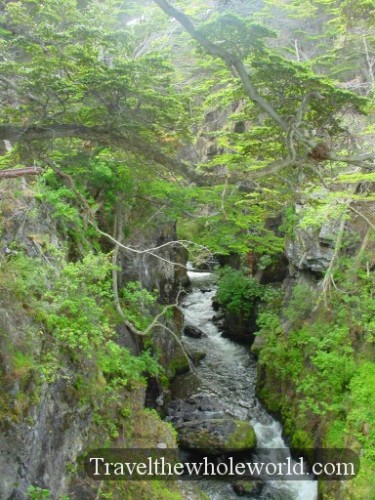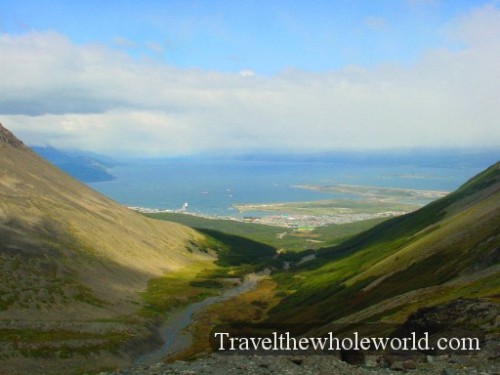 During my first trip, I spent most of my time in the southern part of Argentina. The weather in the southern part is pretty consistent staying around 50F in the summer and about 35F in the winter time at sea level. On the left is a photo of a creek flowing down a narrow valley in the mountains. Below is a photo of the city Ushuaia taken from a mountain I had hiked up. Ushuaia is the southern most city in the world.