Post Mt. Everest, I was desperate to return to the outdoors and get some kind of mountain fix. With no vacation days I figured the best I could do was fly to Colorado on a weekend and do one of their 50 plus 14,000 foot mountains. I ambitiously had my eyes set on Little Bear Peak, often considered to be the most difficult 14'er in Colorado because of its technical summit. To be even more ambitious, I brought two of my friends who had never attempted such a feat before! I told them the only thing they had to worry about was fitness, and I'd deal with the ropes. Our journey began going up the simple Lake Como trail photographed above. We began at 8,000 feet (2,450 meters) with a goal of camping near the base of Little Bear.
We had driven as far as we could and parked our rental truck off to the side of the trail. The trail continued up the mountains on a moderate incline. Somehow jeeps were able to pass some of the rocky terrain which looked absolutely impossible to me. In the photo above you can see some of the terrain that had to be driven over, and this wasn't even the worst of it!
I didn't see how they could do it, but once we arrived to about 11,000 feet (3,350 meters) we saw this jeep. The trick was to use a tow cable to pull themselves over some of the steepest terrain. Despite their motorized vehicles, our slow hiking pace was actually faster overall. The jeeps had passed us in the beginning of the hike and later in the day we had finally caught up to them.
To be honest, I had figured the five or six mile trail would be pretty easy. My plan was to hike it as slow as possible and arrive to Lake Como fully charged and ready to tackle Little Bear in the morning. I had even figured we'd continue to go over rope techniques in the day and maybe arrive so early that boredom might be an issue. The trail was pretty steep, and at altitudes over 11,500 feet (3,500 meters) it took a toll. Luckily I did not feel any altitude at all, but both of my friends did. It took us about eight hours to arrive to the lake. We did so just as the sun was setting on Little Bear Peak photographed above. Despite the hardship to get to camp, the view here was absolutely amazing and the trip was already well worth it.
In the morning we woke up at 6am; I had already decided last night that Little Bear would have been impossible for our group. I instead suggested that we do Ellingwood; one of the easiest 14'ers that was only about two miles from camp and another 2,000 feet (600 meters) in altitude. One of my friends said he felt drunk from the altitude and did not want to leave his tent. My other friend agreed to join so we packed up some basic gear and began our journey. The photo above shows the alpenglow in the Sangre de Christo mountains. Meaning Blood of Christ, this redish tint is exactly what the mountains here were named after!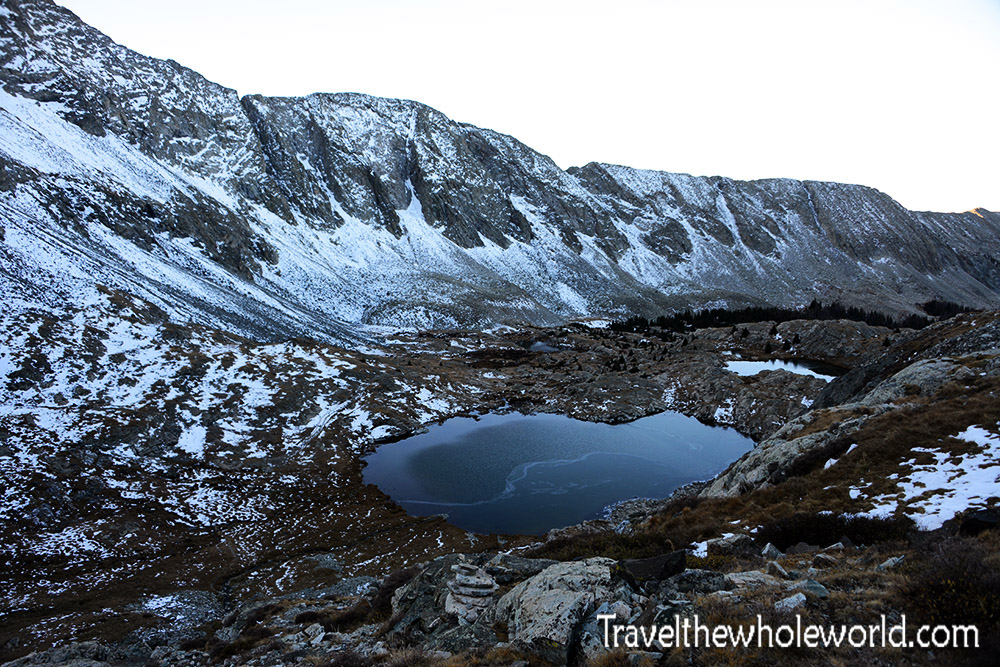 Our hike was a bit uneventful except for the mountain scenery that we passed. The photo above shows one of the two Blue Lakes. Once we left Lake Como, we had almost immediately left the treeline and were in the alpine zone. As you can see we began to see patches of snow everywhere.
As we continued east on our ascent, we could see some good views of the three fourteeners in the area. Our goal is photographed on the left, Ellingwood Point. Below is a photograph of the saddle, with Ellingwood Point again on the left, and the rising slope on the right that goes up to Blanca Peak; the fourth highest mountain in Colorado.
It might not look so snowy with the photo looking ahead of the saddle, but the valley between these peaks is pretty sheltered from the sun. Even in October it was already covered in snow. This was a bit misleading to me, because I had followed the weather reports for the previous month and all of them reported nothing but rain at this altitude. The photo above shows my friend scaling up the mountain with Crater Lake behind him. In the photo below, we begin to make our way up some steep terrain heading to the saddle.
From the saddle, my friend decided it wasn't a good idea for him to continue. He had been feeling the altitude since yesterday, and at 13,300 feet (4,050 meters) it had only gotten worse. We were roughly 700 feet (200 meters) from our goal. My friend wanted to rest anyway, so he decided to stay put and I'd run up to the summit and back. This photo was taken nearly at the summit of Ellingwood Point, the slope on the right is directly from the saddle.
From here, I had only a short hike to the summit. I had mistakenly thought that a rocky outcrop above me was the top of Ellingwood, but as I got closer I could see the true summit was just a bit further. Luckily I had an ice ax, because there were some slightly exposed sections here. The photo below is actually a still shot from my GoPro so it's a bit more dramatic than it was in real life, but regardless you can see there is some exposure here.
At the summit, I had perfect views of Little Bear above and Blanca Peak below. I still fully intend to return here and climb Little Bear and do the traverse to Blanca Peak. This is supposedly one of the hardest challenges to do in all of Colorado, and I definitely look forward to making it a reality one day!
With no one on the summit but me, I was forced to do my first ever summit selfie. At 14,040 feet (4,280 meters), Ellingwood Point is my second 14'er after Pyramid Peak! I'll certainly return to Colorado and do more, but at the moment I'm not yet sure what the third might be.